March 1, 2017 — Ash Wednesday
Sermon Text — Luke 18:31-34
Sermon Audio —
Come back later for the audio of this sermon.
Washing Away the Dust
Grace, mercy and peace be unto you from God our Father and from our Lord and Savior, Jesus Christ.  AMEN!  Our text for this morning's sermon is taken from St. Luke's gospel account the 18th chapter.
And taking the twelve, he said to them, "See, we are going up to Jerusalem, and everything that is written about the Son of Man by the prophets will be accomplished. 32 For he will be delivered over to the Gentiles and will be mocked and shamefully treated and spit upon. 33 And after flogging him, they will kill him, and on the third day he will rise." 34 But they understood none of these things. This saying was hidden from them, and they did not grasp what was said. (Luke 18:31-34 ESV)
So ends our reading.
Beloved in the Lord,
What good is Dust?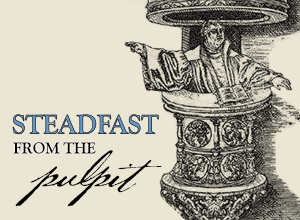 I don't remember how old I was, but I know I wasn't very old when I began to hate dust.  Maybe it was sometime before I went off to school when my mother would wake me early on a Saturday morning, before Looney tunes came on the "idiot box" as she called it, in order to "help" her dust.  That's my earliest recollection at any rate and from then on I hated dust.  I hated to dust.  I hated that dust got up on a Saturday morning.  I hated that dust interrupted my Saturday cartoons.  I hated that I had to do it every weekend.  And it only got worse as the years went on.  Dusting my bedroom transitioned to dusting the living room.  And then after I got my first job with the family business, whenever there was down time, we were told to dust.  I thought I had escaped it by going to work, but no.  I can still hear my grandfather's voice, "if you have time to lean, you have time to clean."  Dusting was, is, a never ending job.  Dust meant more dusting.  Dust meant work, work that never ends, work that never actually keeps things clean.
So what good is dust?  Why do we have ashes on our forehead?  Does it mean we have more work to do?  Or, does it mean that the work that we do is never actually enough to keep us clean?
Our sermon text this morning serves as the starting point for our Lenten journey.  Today isn't so much about us getting dusted as it is about Jesus making His way to Calvary.  Jesus says, "We are going up to Jerusalem."  Jesus is going up to Jerusalem and He invites us along.  That is our path over these next forty days.  That is the path of all who would be His disciples, all who would share in His death and resurrection.
Just a bit of Glory for ourselves
And though we go with Him, that's all we do.  Jesus doesn't say, "we are going to Jerusalem and we will suffer."  No, He says we are going up to Jerusalem and the Son of Man will suffer."  We go with Him, He does the work.  We are passive.  We watch.  We listen.  We are given to believe that what He does He does for us.  He is active.  He is handed over to the gentiles.  He is mocked, insulted, spit upon, flogged, and killed.
So, then what good are these ashes?  What good is all this dust on my forehead?  Well, though Jesus tells us how its going to be, we're not content with that.  You see there isn't much glory in us watching, listening, and believing while He suffers, dies, and rises on the third day.  We are by nature creatures of glory.  We want to see it.  We want to do it.  We want to have it.  And it is in our fallen nature to want to change the script, alter the path, go with Him and help Him.  O, we can't do it without Him, but there must be something we can do to contribute, do our part, etc.
You see beloved we always want a bit of the glory for ourselves.  If you're like me you probably hate dusting as much as I do, and if you're like me and all of Adam's children, you want to be clean and you can't help but think that there must be something for you to do wash off those ashes once and for all forever, even if it's just making a simple decision to let Jesus do it.  But those ashes across your foreheads are actually a sermon impressed upon your flesh.  "Dust you are and to dust you shall return."  Dust means more work, work that never ends, work that is never sufficient.  In other words, no matter how many times you wash your forehead, the Word is still true.  You are dust and to dust you shall return.  There is no hope in your dusting.  There is no life in your works.  There is no lasting glory in whatever you think you can add to Jesus' work.  All your pious attempts to make yourself clean, improve your morality, love more, be better, be good, ultimately fail, because dust you are and to dust you shall return.
We go and Jesus Dies
But that same sermon etched across your crown also preaches Christ and His victory for you.  We are dust that is true, but the cross is His.  Just as Jesus told us beforehand He goes to Calvary to die for us.  He alone is betrayed.  He alone is mocked, spit upon, flogged, condemned, crucified, dead, and buried.  He alone suffers.  That is His glory hidden in solitude!  The glory of God is not that His majesty conquers our enemies with might and power and wonders and signs but that the Son of God is rejected, endures the pangs of the cross, bleeds His holy blood, and dies the death of sinners for sinners!
Look at that cross beloved and behold the symbol of your redemption.  There is no room for you up there!  He dies alone.  But there is plenty of room for you beneath its shadows.  He is uplifted to draw all to Himself.   "All" includes you and me.   No one is left out, for the death He died He died once for all.  Jesus dies for sinners, for those under the curse, those born in Adam's image and dusted with Adam's curse.  Sin and death came to all men because in Adam's sin all of us sinned.  We're all guilty and deserving of death and hell.  But not Jesus.  He is innocent.  He doesn't deserve this.  But He loves you, sinner that you are.  He loves you and "greater love hath no man than this that He lay down His life for His friends."  The savior calls you His friend, you born into sin, you the one cursed with dust, you who were dead in your sins and trespasses.  Surely someone might dare to die for a good person, but this is love that Christ Jesus died for sinners, of whom I am chief.
Glory for Us in the Water
So, then, why invite us to go alone?  Because this is all for us.  Jesus wants us to share in His death and resurrection.  He wants what He does for us to be received by us.  You and I are marked with the curse.  Those ashes on your foreheads preach that loud and clear.  We don't like that sermon.  That's why we will all wash those ashes off sometime today.  But that washing won't last.  And that washing is only on the outside.  The problem is that we have a dusty, dirty heart.  We need to be washed on the inside.  We need a washing that works once and for all forever.  And we can't follow Jesus to the cross in reality.  That event happened two thousand years ago.
So where can we get the cross and finally be washed for good?  We go to the water of God, to baptism where we are immersed in Christ's death and resurrection for us.  As many of as have been baptized have been crucified with Christ.  In that water we are united with Christ in His death and therefore also united with Christ in His resurrection.  And that's not me talking.  That's not wishful thinking or innovative theology, that's simply what scripture says in Romans chapter 6.
Do you not know that all of us who have been baptized into Christ Jesus were baptized into his death? 4 We were buried therefore with him by baptism into death, in order that, just as Christ was raised from the dead by the glory of the Father, we too might walk in newness of life. 5 For if we have been united with him in a death like his, we shall certainly be united with him in a resurrection like his. 6 We know that our old self was crucified with him in order that the body of sin might be brought to nothing, so that we would no longer be enslaved to sin. (Romans 6:3-6 ESV)
And how do I know that such a baptism is enough, that such a washing will last? Again, scripture says, he saved us, not because of works done by us in righteousness, but according to his own mercy, by the washing of regeneration and renewal of the Holy Spirit, 6 whom he poured out on us richly through Jesus Christ our Savior, (Titus 3:5-6 ESV)  God's glory is in the water for you!  This washing works the first time and is good for a lifetime.  For this is one Lord, one Faith, one Baptism, one God and Father of all.
Out of the Ashes
Beloved in the Lord, I don't remember when I washed with Christ's death and resurrection.  I was only 4 months old.  But I know I was.  I have a certificate that says I was.    I have god-parents who were there.  And I have God's promises that what He did way back then is still enough today.  These ashes on my forehead make me a bit uncomfortable.  That's a good thing.  I should never comfortable with my appearance, my piety, my works.  I can't wash myself. I should never forget that important truth about myself.  Nor should you.  Dust you are and to dust you shall return.   But the Lord has invited us to go along with Him to Calvary, to share in His death and resurrection, to receive His glory today, tomorrow, and forever.  He loves me.  He loves you.  Therefore as His Christians we are invited to daily take up our cross, remember our baptism into Christ and trust His word and promises of forgiveness, life, and salvation.  We are His friends.  He has promised us as much.  And as His friends we have a seat at His table, a feast of heaven set before us with His true body and blood, the very body and blood given on the cross and raised from the dead on the third day.  Thanks be God.  AMEN!
The peace of God which surpasses all understanding keep your heart and mind through faith in Christ Jesus.  AMEN!