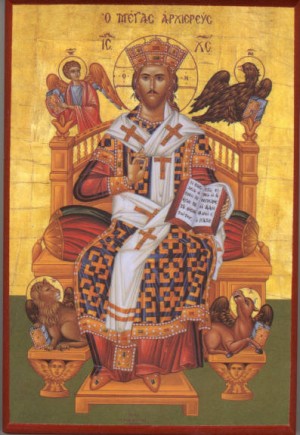 We as poor, miserable sinners are prone to let minor events and conditions dominate our thinking and morale rather than the Gospel.  To cite just a few of these challenger replacement to Christ crucified for us: declining health, relational problems, economic conditions, etc.  What needs to be continually proclaimed to each of us is the major event and condition of all time for all people as expressed in the precious Gospel of Jesus Christ. This Good News trumps all other events and conditions which want to challenge our victory in Christ Jesus crucified for our sins.
For quite some time in my Christian life as a pastor, I at times respond to people's expressed concern about things in their life that will not be determinative for their eternity. I challenge them to consider the true perspective of what truly counts for our thinking and morale.   Just recently this happened again.  I was checking out at the supermarket when the cashier commented on my purchase of a bag of roasted almonds: "Boy these are good.  Wish I could eat them again, but I can't as my cholesterol is high."  To which I replied: "I've heard that almonds are good for one's cholesterol."  For some reason she instantly expressed what sounded like a desperate plea that her real concern is the recent discovery of severe cataracts.  Truly reflexive I instantly commented: "You know the good news is that you don't need good vision to get into heaven!"  Surprised and curious she inquired: "So what does it take to get into heaven?''    "Just faith in the Good News that Jesus Christ died and rose again for your sins," I responded.
This brought me back to reflect that my practice of pointing out that we humans many times are worried, concerned about the wrong priorities in our life.  When greeting parishioners after services this exchange would typically happen: "Good to see you, how are you?"  They would sometimes reply, "Oh, pastor.  My back if killing me!"  "Well then, here this Great News!  You don't need a good back at all to get into heaven."  Can anything separate us from the love of God which is in Christ Jesus our Lord? (Romans 8:39)  Can bad backs or loss of vision or cancer or heart attacks or Alzheimer's or crashing investment markets or death or demonic powers or any other created entity you or others want to name?  Absolutely not says God!
Since God is for us, who or what can be against us?  (Romans 8:31)  Therefore, the pertinent question remains, how do we know that God is for us?  What a remarkable answer God provides in the very next verse 32: "Indeed, he who did not spare his own Son, but handed him over in behalf of us all, how will he not also graciously give all things to us together with him?"  Dr. Mike Middendorf's excellent Romans commentary has a bounty of aid on this,[1] here particularly: "He (Paul) contends in the first half of 8:32 that God has already accomplished the major, harder deed.  How much more, then, can we be certain that he will accomplish the comparatively small things to follow! The major point is that God handed over his own Son for us all.  The minor action yet to come is that he will indeed also "graciously give all things to us together with him" (8:32)."[2]  This "eschatological verdict" of his gracious giving us his righteousness overcomes all challengers as listed in 8:35-39.
Since God is for us in Christ Jesus, we can be certain and confident that the eternity of heaven is ours.  Should not this be our constant soul's focus and encouragement?  Challengers such as concern about vision and other matters that may haunt us and for moments scare the "eternal be jeepers"within us, need not be victorious in taking us away from this love of God in Christ Jesus for us!  Living in a world today as we do with such amazing technological and medical breakthroughs can give us the false impression that having a smooth and trouble free life is what counts most.  God's giving His Son over to suffering, punishment for our sins and death is what counts for all.  Therefore, what truly counts most is to continually be reminded that God in Christ Jesus is for us and will continue to be and nothing, nothing, nothing in all creation can make us defeated!  In fact, we need the continual reminding of 8:37 "we are overwhelmingly victorious through the One who loved us."
Thinking back to my all too short conversation with that supermarket cashier I can only pray that the Spirit would convict her to seek and find a Christian congregation where "God for us in Christ crucified" is faithfully proclaimed and the Sacraments are administered according to Jesus' mandate.  I will be looking to get in her checkout line when I shop in the future and hopefully to share again.  Further I pray for more opportunities to share such Good News for each of us!
[1] Michael P. Middendorf, Concordia Commentary: Romans 1-8, (CPH, St. Louis: 2013), pg. 709ff.
[2] Ibid., 712.