January 8, 2017 — The Baptism of our Lord
Sermon Text — Matthew 3:13-17
Sermon Audio —
Come back later for the audio of this semron.
The Rogue One
Grace, mercy, and peace be unto you from God our Father and from our Lord and Savior, Jesus Christ.  AMEN!  Our text for this morning's sermon is taken from St. Matthew's gospel account the third chapter.
Beloved in the Lord,
A. Jesus comes to John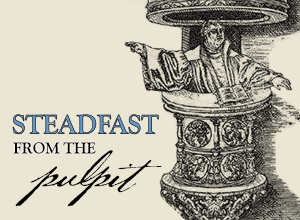 The heavenly descent of the Son of God finds its rest in the river Jordan as Jesus comes from Galilee to John in the wilderness.  "Behold My Servant!" says the Lord through Isaiah's voice. Yes, beloved, behold the One in the water, the One whose sandals we are unworthy to loosen, the One who has come to be Servant for us and for our salvation.  His is the undoing of the devil's work.  Where He goes He goes for us, for you, for the world.  What He does, He does for us, for you, for the world.  He is not there for Himself.  He is about His Father's business.  Thus He is there for us, for you, for the world.  Thus Jesus comes fromGalilee unto the Jordan to John in order to be baptized by Him.
But, why?  Why come to John and be baptized?  Why do what sinners are called to do?  Why be likened with such a class?  Jesus is the righteous One.  Jesus is the Lord, John the servant.  Yet, the word says, "Behold my Servant."  Isaiah isn't speaking of John, not in this text.  Isaiah's finger stretches through 700 years of time and space, echoing through the hearts of the faithful, sounding over the waters, and directing all to Jesus.  "Behold my Servant."  Jesus has come to be Servant, to bend the knee, to gird Himself with lowliness and humility, to do what proud, arrogant hearts don't want Him to do, to suffer, die and rise again for us, for you, for the world.
B. We want to come to Jesus.  We want to be Servant
Jesus comes to John.  But John would rather come to Jesus.  John has things backwards, doesn't understand, can't get it, not yet.  Sinful hearts believe in works righteousness.  "Jesus is Lord!  I must serve Him. I must be servant, not Jesus."  Thus it is with us, thus it is with John.  "John tried to prevent Him saying, 'I have need to be baptized by you, and you come to me?'"  Works righteousness prevents Jesus, holds up one's own works, tries to be the servant, tries to keep Jesus separate, distinct, apart from sinners.
When Jesus is separate, distinct, and apart from sinners, then He is no longer our Emmanuel.  He ceases to be "God with us", and really becomes "God over us."  When Jesus is "God over us" rather than "God with us" hearts are left to despair.  "What must we do?" becomes the eternal question. When there is something to be done, we act as the servant.  And that is what we most prefer.  I know it sounds backwards, but when we are the servant we can't help but believe that we are the ones in control.  "Jesus is Lord, and I must do these things (whatever these things are) for Him." When I'm the one doing things for Jesus then I can determine how often and how well they are done or not done.  I can decide when to do them.  I can choose for myself what's good for me.  As long as I say I'm doing it for Jesus it's okay.
When I'm servant I'm the one doing the giving.  When I'm the one doing the giving I'm not receiving.  And why should I receive anything but praise, my gifts are sufficient, aren't they?  Well . . . . no.  If that we're true there would be no need for Jesus to be Emmanuel.  If that were true there would be no need for Jesus to come to John and be baptized.  My serving, my giving will always fall short.  So will yours. You and I and the world have nothing good to offer Jesus, not even our hearts, as much as we'd like to believe that.  We have nothing to give Him except our sins.
C. He is Baptized for all Righteousness
Jesus comes John to be baptized, to fulfill all righteousness because we have no righteousness in ourselves.  Jesus wishes to be "God with Us."  He is our Emmanuel.  "God with us" means He is with us in everything, even the mire and muck of our sin, our death, and our hell.  There is to be no distance or separation between Jesus and sinners.  That is how God has decided things to be.
So Jesus comes to John, drives through John's stop sign, runs over His misunderstandings of the heart and mind of God and receives Baptism.  He fulfills all righteousness.  Stepping into the water the righteous One steps into a puddle of filth and wretchedness, and death.  He steps into our sins and is immersed in it.  Poured over His head are your dirty thoughts, your lewd comments, your hateful behaviors.  Dripping down His face are all your violent outbursts, your adulterous deeds, your imperfect parenting, your stubborn, stiff necked arrogance, your proud offerings.  His body drips with sin tainted water, your sins, all your sins, all the world's sins. His flesh is tainted with all your infirmities, your frailties, your afflictions your death. There is no water in the world dirtier than the water of Jesus' baptism. In that water Jesus becomes unclean, dirty, and sinner.  He who knew no sin becomes sin that we might become the righteousness of God.  Our sin is lavished upon Him.  And with our sin, so also our death and our hell.
Stepping out of the water, so near and united with sinners, Jesus takes His first steps toward the cross.  For that is the cost of your sins. There, the righteousness of God suffers for the sins of the world.  If He doesn't have your sins, if you still hold them, cling to them, try to make up for them, try to do it yourself, be the servant, then you will suffer for your sins.  You will suffer and you will die the sinner's death and Jesus will always and forever be apart from you.
Therefore Turn! Repent!  Live!  Jesus goes to the cross that you don't have to. He suffers in your place, offers His righteousness on behalf of your faults, stands between you and heaven, with you in the presence of the living God.  He is your advocate, your righteousness, your savior.  He dies, the righteous for the unrighteous.  He is buried that having sanctified your graves death may be but a portal to eternal life.  He rises again on the third day, that death may not hold you, but with His stepping from the grace in victory you too may, on the last day, step out of the tomb alive, risen, resurrected, without sin, never to die again!
B'.     The servant in the Water
Thus, His baptism in the River fulfills all righteousness.  He takes away sin and offers instead perfection, holiness, all that is His.  He cleanses the water, makes it pure, and fresh, and full of life.  He serves humanity in the water.  As servant he gives.  Giving, he redeems.  He gives to you the redemption of your lives, your bodies, and your eternity.  He gives these gifts, these things you can't earn for yourself, he gives these gifts through water and the Word.  His baptism becomes your baptism.  Water is just water without the Word of God.  But with the Word of God the water becomes a holy, divine, life giving water.  It is a water for you wherein you receive from your servant God.  You are baptized by Him.  You are crucified with Him. You are buried with Him.  You are raised with Him.  You are given manifold gifts and holy treasures.  Your sins are washed away.  Your death is drowned.  You hope is renewed.  Your life is regenerated.  The heavens are rent asunder.  The Holy Spirit descends upon you, fills your heart and quickens your heart with faith.  Faith immediately latches to the Word, draws near the Savior, and rejoices in Emmanuel, namely that God is with us in His Son.  And the Father trumpets from heaven, "This is my Son, whom I Love, with whom I am well pleased.  Pleased with His Son, Jesus, He is pleased with all who are clothed with His Son's righteousness.  He is pleased with all who believe and are baptized.
A'.     Jesus comes to us.  He is where we are.  NO Separation
Beloved in the Lord, Jesus comes to John this morning as one who desires to be with sinners.  And so, Jesus comes to you this morning as well.  He comes to be "servant", suffering servant, the servant of the Lord.  He comes to be Emmanuel, God with us.  As "God with us," He is near us.  Let us not be found preventing Him from serving us with heavenly treasures.  Let us not be found stubbornly holding on to our sins and forbidding Jesus from dealing with us according to His grace.  Rather, let us behold the servant of the Lord.  Let us surrender to His Word and allow Him to work His wonders within us.  Clinging to His Word we cling to His Son.  Clinging to His Son there is no separation between us and God.  We are in Christ and Christ is in us.  We are one with the Lord and the Lord is with us.  As surely as we are baptized into Christ He has bound Himself to us with water and the Word.  We ARE one with the Lord and the Lord IS with us.   With Christ in us we are a new creation, risen unto newness of life toward God.  New and risen we are sure and certain.  "No more fearful, guilt ridden, nobody-loves-me, me-against-the-rest, me-against-the-system, me separate, me all alone" (Norman Nagel's Sermons). No more separation.  No more of that, not us, not us Christians, not us who have been united with Christ.
Jesus is baptized this morning.  I am baptized into Jesus.  You are baptized into Jesus.  I am one with the Lord the Lord is with me.  You are one with the Lord.  The Lord is with you.
In the Name of the Father and of the X Son and of the Holy Spirit.  AMEN!
The peace of God which surpasses all understanding keep your heart and mind through faith in Christ Jesus.  AMEN!