December 24, 2016 — Christmas Eve
Sermon Text — Luke 2:1-20
Sermon Audio —
Coming Home for Christmas
Grace, mercy, and peace be unto you from God our Father and from our Lord and Savior, Jesus Christ.  AMEN!  Our text for this evening's sermon is taken from St. Luke's gospel account the 2nd chapter.
Beloved in the Lord,
Home for the Holidays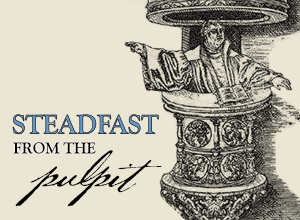 The decree has gone out!  Caesar has spoken.  All must be registered.  All must be taxed.  Therefore all must go home.  So says St. Luke as he records the events of the first Christmas.  So Joseph and Mary leave their home in Nazareth to journey home to Bethlehem because Joseph was the house and lineage of David.  Christmas is about going home.  If there's one thing on all of our minds every year at this time its "home."  Going home can be taxing.  Though many of us gladly bear the cost many also suffer.  We remember what home was like when we were children; the wonder of the season, singing carols, the gathering with aunts and uncles and cousins we see every year.  We remember bouncing around the back seat of the car on the way to grandmas house, the bright lights in the neighborhood, the  the cookies, the toys, the new underwear and ugly sweaters.  We remember the Christmases before the divorce.  And we long to be children again.
But we grew up.  We left home.  We started our own families with our own traditions.  We remember what it was like when we had children; all the anticipation of Christmas Eve, all the peals of joy on Christmas morning as wrapping paper went flying through the air.  We remember the giggles of toddlers, the laughter of grandparents, the flash of cameras, the family meal and so on.  We remember what home was like when our home was full, before the kids grew up and moved out, before grandpa got sick, or grandma started to forget things.  We long to be the family we once were.  If there's one thing on all of our minds this evening, its home, the homes we have, the homes we visit, the homes we once were.
Fear Not?  What do You have to be Afraid of?
At first glance of our text this evening it seems like no one was home for that first Christmas.  Mary and Joseph left home for Bethlehem.  And there wasn't any home for them there.  The time came for her to give birth.  Babies were to be born at home.  But not Jesus.  There was no fox's hole, no bird's nest, not even an aunt or uncle's home for Him.  He's born in a stable surrounded by the beasts of the field.  No relatives to rejoice.   No comforting amenities.  No fire to keep warm.  Just Mary and Joseph and a manger of hay.
The Shepherds weren't home but were keeping watch over their flocks by night.  And the Angels also left their heavenly home to sing to them.  The first word out of the Angel's mouth was "fear not".  Fitting don't you think?  Think about it for a moment.  When are you most afraid?  When you're not at home.  Home is supposed to be the one place where you're safe, where all is well, where people love one another and you can rest from your labors.
Our world today is so backwards.  Many are afraid to go home, not because it's not safe, though that may be the case for some, but because the love of men has grown cold and home is no longer a place for rest.  Families are broken.  Going home hurts because love has been lost.  O, the tree is still up, presents are still there, cookies are on the counter, but mom and dad don't get along any more, brothers and sisters fight and say things they regret but are too proud to apologize for, the warmth of the season barely gets above freezing if at all.  Estranged families are compelled by the season to get together, but such gatherings are endured rather than celebrated.
Many are afraid to go home because going home is too taxing, too hard, too painful.  Sin has gotten wedged between loved ones.  We've done it and its been done to us.  Forgiveness and reconciliation are words we long to hear but never ask for, nor do we give it.  I blame Adam.  He brought sin into the world and bringing sin into the world he brought sin to me and to you.  And because of sin, death looms in the shadows of every family gathering.  Who isn't here this year?  Who won't be here next year.  The wages of sin is far more taxing than a broken home or hurting hearts, its death.  And if there's one thing we fear more than anything its death.  Death even comes to our homes.  No home is truly safe from sin or death, not mine, and not yours.
A Savior is Born who is Christ the Lord
But the Angel's word rings true nonetheless.  "Fear not!"  Why? "for behold, I bring you glad tidings which shall be for all people," he says.   All people means you and me.  There is good news for all people.  There is good news for you and me.  "Unto you is born this day in the city of David, a Savior who is Christ the Lord."  The Lord our God has not abandoned us in our brokenness.  He has not despised us in our sin.  Rather than avoid us He has drawn near.  The Son of God has left His home in heaven to dwell in our midst.  God has become flesh, become one of us to be for us our way home.  Salvation isn't up there in the heavens, nor is it within us, in our hearts or in our works.  No salvation is born.  The savior is born.  God has given a baby, new life, THE LIFE, the creator of all life, wrapped in flesh and blood for you and me.  Our God has become our brother to still anxious hearts, heal wounded souls, to give as a gift the forgiveness of sin and reconciliation we secretly long for and desperately need.
There in the stable is God incarnate.  There in Bethlehem God gives bread for the eternal life.   There in the manger lies one without the stain of sin, one who was conceived by the Holy Spirit and born of the Virgin Mary, born like you and me, born outside of His home to bring us home to heaven.  O, the wonder of it all.  It makes no sense.  It goes against all reason.  Questions flood the heart and mind.  How could this be?  Why would this happen?  For me?  A fallen sinner from a broken race?  That's why we need this Angel's Word engraved on our hearts.  It is unbelievable!  Without this word we would carry on like it never happened, we would pay this child no attention.
But it's true!   The Angel's Word is God's Word for you and me!  Unto you is born a Savior from sin and sin's wages.  God is flesh and blood to purchase forgiveness and reconciliation with His life, death, and resurrection.  For the one who lies in the manger will hang on a cross.  The One who is wrapped in swaddling clothes will be adorned with a shroud.  The One surrounded by ox and ass will be encompassed by dogs.  The one who is born will die.  Nails, spear shall pierce Him through the cross be born for me for you!  He shall go to war for you against all of your enemies.  Sin, death, devil and hell will do their best to bring Him into the grave and they will succeed because Mary's child is God's lamb.  And this lamb takes away the sin of the world, your sin and my sin.  Going home to heaven bears a heavy tax, one which you and I cannot pay.  So He pays it for you.  The sons of the kingdom pay no taxes.  For those who are in Christ Jesus all is paid in full.  It is finished.  And on the third day the last hurdle for all who want to go home is cleared.  Christ is risen!  Not even death can get in His way.
The Peace of the Lord be With You
Jesus is home.  Where Jesus is there is your home.  Where Jesus is there is peace.  When fear is gone all that's left is peace, peace with God and peace with one another.  Christmas is all about going home.  In other words it's all about coming to Jesus.  That's why the shepherds made haste unto Bethlehem to see this thing, to behold this Word, wrapped in swaddling clothes.  And that's why we Christians gather tonight.  We gather with brothers and sisters, broken, hurting, sinful creatures like ourselves, to worship the Christ child.  All of the promises of God are wrapped up in this child.  Come to the Christ Child, not to offer Him gifts, for He is no Caesar.  Coming home to Jesus is not supposed to be a burden.  He asks nothing of you but desires to give you everything, even Himself.  Leave your burdens in the field, set aside your grudges, surrender your stubbornness, lay down your trophies, and come to Jesus, come home.  Here in this stable He is kind and gentle.  There is nothing to fear here.  All is well.  All is safe.  The Savior is here for you.  Your savior has come bearing gifts of life, mercy, and salvation.  In Him is your life.  In Him is your salvation.  In Him is your heart made warm kindled with the fire of His love.  Apart from Him is only darkness and death.  In Him is light and life.  He makes the stars to alter their course.  He gives angles to sing and welcomes to His side the lowliest of men, women, and children.  He will welcome you.  He will forgive you.  He will make all things well with you.  Giving Jesus God has given you peace.
I'll be Home for Christmas
Beloved in the Lord, no one is compelled to come home, to come to Jesus, but everyone is invited.  Fear Not!  Believe the Word. Be reconciled to God through this Holy child.  Soften your hearts with the warmth of love.  Draw near and worship Him with faith.  Come home to your God.  It is not enough to believe that Mary had a little lamb.  You must believe that this lamb has taken away the sins of the world.  You must believe that He has taken away your sins.  Only then may you enter into His presence, only then can you truly come home.  Will you be home for Christmas?  Or will unbelief  harden your heart?  Will worship the Christ child?  Or will your heart be full of nostalgia?  Will ponder the grace of God for you?  Or will you think on packages under the tree?  Will you come home, only to leave again?  Or will you take your place at His banquet.  He has a place for you.  He has room for you.  In His house there are many rooms.  In His house all may find rest.  Come home beloved and then go home to your families.  Be reconciled to God and then be reconciled to one another.  Let the love of Christ dwell within you richly.  You will not be disappointed.  Unto you is born this day . . . a Savior, who is Christ the Lord.  Merry Christmas.  AMEN!
The peace of God which surpasses all understanding keep your heart and mind through faith in Christ Jesus.  AMEN!