December 11, 2016 — Advent III
Sermon Text — Matthew 11:2-14
Sermon Audio —
Come back later for the audio of this sermon.
Facing Mortality
Grace, mercy, and peace be unto you from God our Father and from our Lord and Savior, Jesus Christ.  AMEN!  Our text for this morning's sermon is taken from St. Matthew's gospel account the 11th chapter.
Beloved in the Lord,
Life in the Dungeon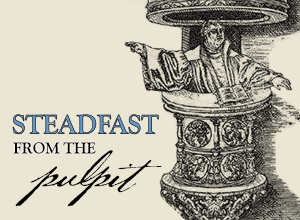 John is prison.  The Lord's prophet is in the dungeon.  Darkness encompasses all around him.  The Light's warmth is far from him.  His cell has become his tomb. He lives, yet he is destined to die.  His king has fettered his ankles so as to bind his tongue.  For John has committed no crime against humanity.  He has not stolen.  He has not murdered.  His hasn't rebelled.  No hand was lifted up against another.  No, John is in prison for preaching about marriage, Herod's marriage.  And if there's one thing fallen humanity cannot bear both then and now, is someone pointing out the sin of sexual immorality.  One can point to the Lamb of God who takes away the sin of the world night and day, but call an adulterer or a homosexual to repent, preach against divorce, uphold God's institution for marriage, and that will get you slandered as a bigot.  Believe what the Bible says and you could lose your livelihood.  Refuse to bake a cake, take some pictures, arrange some flowers, you could face fines for discrimination.  Dare to point out that the emperor has no clothes, that sexual immorality is sin, hurtful, and dehumanizing and well, to prison you go.
John is in prison because he cared enough to call his king to repentance.  Prison changes a man.  For good or for ill, sitting behind iron bars in a stone cold room works on a man's mind.  But one doesn't have to be locked up to suffer such torment.  A hospital room will do the same.  One doesn't have to hear the king's sentence to be anxious.  A doctor's voice can pierce the heart.  Whether the word is "guilty" or "cancer" even the most pious saints must wrestle with their mortality.
Seeking for Certainty
Facing death frightens our Old Adam.  When Old Adam is scared he doubts.  The one idol we all carry about us all our days is our flesh and when our flesh fails so does our false god.  This is true for John who sits in prison.  And this is true for you and me.  It is our fallen nature at work.  And our fallen nature drives us to seek after assurances.  John sits in prison and is flooded with doubts.  Yes, baptized the Christ.  Yes, he saw the Spirit descend upon Him like a dove.  Yes, he pointed to Jesus as the Lamb of God who takes away the sins of the world.  But what has all of that gotten him?  He's in prison.  And he's going to die.  He doubts.  Is Jesus the Coming One or should John look for another?  That's John question to Jesus.  Isn't the coming One supposed to liberate the captives?  Why is John still in prison?  Isn't Jesus the King of kings?  Why does Herod still sit on the throne?  Is Jesus the Coming One, or not?  In other words, is Jesus going to save me or do I need to look for another?
John wouldn't ask these questions if he were still out in the wilderness, if he weren't suffering in prison.  And you do likewise.  So long as things are going smooth why wrestle with your mortality.  We go out of our way to avoid facing death.  Death is bad news and we want to be happy.  We only want to hear about things that make us happy.  We only want to see things that make us happy.  We only want to talk about things and feel things that make us happy.  Everything we pursue in this life is geared toward our happiness.  Do what makes you happy, we're told.  It's your constitutional right to pursue happiness!
But what does that mean? What does it mean to be happy? The world will gladly tell you that being happy is doing what you want, when you want. Being happy is having that trophy wife, or that rich husband.  Being happy is having 2 kids, four cars, a 5 bedroom house, and a 6 figure income, credit cards with no limits, and hot tubs that seat 10.    As one group once sang, ". . . all we just wanna be big rock stars where the girls come easy and the drugs come cheap."  That's what makes old Adam happy.  And that's why the average life span of a rock star is 45 years.  Serving your Old Adam leads to death.  Pursuing this sort of happiness leads to despair, anxiety, depression, anger, suicide, hopelessness, . . . and hell.
Suffering brings us back to reality.  Whether it's the prison cell or the hospital room, the king's decree or the doctor's news all is used by our God to work repentance and faith, to pull us out of our rock star dream and compel us to deal with our mortality and so also our God.  Such a struggle with the brokenness of this world sheds the light on our idols, most especially the one idol we all treasure, our health.  It forces us to ask the question, who will save me from this wretched body of death?  Who is the true God?  Is it Jesus?  Is He the Coming One or should we look for assurance of life somewhere else?
Your God Comes
We should note well and take to heart Jesus' words to John and his disciples. "Go and tell John what you see and what you hear.  The blind see, the lame walk; the lepers are cleansed and the deaf hear, the dead are raised up and the poor have the gospel preached to them."  Jesus quotes Isaiah 35.  He applies the prophetic word to their doubts and assures them that in Him God has indeed come.  These mighty works of Jesus are the sign of the King's advent.  These things are happening because Jesus is doing them.  Jesus is doing them because God has come down to our midst!  Your God has come and He has come to save you.  Isaiah said it would happen 700 years before Jesus.  And now, Jesus is doing them in fulfillment of God's promises.  Look around and behold your God's wondrous works!  He's come to undo the consequences of sin.  He's come to bring healing, not just for the body but also for the soul.  He's come to deal with the reality of this broken and cursed world by taking that brokenness upon Himself, becoming a curse for us.
Truly the wages of sin is death.  Those wages manifest themselves as we suffer in body and soul.  No idol on earth can change this.  You cannot change this.  But in Jesus your God has come down to save you.  In Jesus there is deliverance from these wages.  With every healing, every cleansing, every resurrection, Jesus is taking not just that person's brokenness upon Himself, but all of humanity's, even John's, even yours.  Taking it He sets out to deal with it rightly.  Dealing with it He bears it for you.  Bearing it He crucifies it.  He alone is acquainted with your grief.  He alone is despised in your place. He alone bears your griefs and carries your sorrows.  He alone is pierced for your transgressions.  He alone is crushed for your iniquities.  And upon Him alone is the chastisement that brings your peace.  By His wounds you are healed.  His labors are the restoration of your humanity.  His suffering and death is the medicine for your immortality.  His cross is your salvation.  His condemnation is your justification.  And His resurrection is the certainty your soul longs for.
This makes no sense and go against all reason.  Many are offended and stumble because of Jesus.  The story of the cross is foolishness to those who are perishing, all those who languish under the idolatry of their own strength and merits, who trust in their flesh and wonder why their gods fail them.  But this is the gospel of our God.  Heaven has broken through hell's defenses.  The King of kings advances His dominion with every miracle wrought, every word preached, and every soul saved.  The stronger man has come.   He is Jesus the Messiah and He is binding the strong man with a Word and plundering the house as He sets the captives free.
Back to the Scriptures
Here is your blessed assurance, beloved.  Here in His Word is the source of all peace and comfort.  For the Word reveals Jesus.  The Word points to Jesus.  The Word delivers Jesus.  The Word is all about Jesus for you as through His word sinners are delivered from their sins.  Hearts are cleansed of their uncleanness.  Spirits are refreshed and regenerated and souls are born again, born from above, born of God in water and the Holy Spirit.  Your God has graciously and freely promised to save through His Word and through His Word alone.  Apart from the Word is only a person's emotions, pious intentions, wishful desires, and imaginative spirituality.  None of which save, all of which feed Old Adam's delusions.   This is why so many have brought rock bands into the church.  We all just wanna be big rock stars and we all just want to believe that God thinks that is a good thing.  Where God's Word and sacraments are absent, so is God.
That's why Jesus directs John, and us back to the Word.  While the Lord is free to deliver His Spirit when and where He wills, He has bound us to the Word.  For in His Word is where He wishes to be found.  In His Word is where He delights to meet you.  In the waters of Baptism He cleanses with His Word.  In the Ministry He absolves with His Word. In the bread and wine He gives remission of sins with His Word.  Everything for your salvation hinges on the Word of God because everything in God's Word hinges on Jesus.
Peace in the Midst of Death
Beloved in the Lord, it may not be John's circumstances which you are called to endure, but we all must face our mortality.  Sin's wages abound in our lives and in our flesh.  You know it.  You feel it.  Don't stumble over your afflictions.  Don't let suffering overcome your heart with anxiety.  Don't doubt that Jesus is your redeemer.  Weather the storm with faith in His Word.  Cling to the Word spoken to you in your baptism, feast on His resurrected body and blood.  Allow the Spirit to work God's forgiveness in your heart.  Gather with your fellow Christians.  Listen with open ears, see with open eyes!  The good news is being preached to you this morning.  The captives are being set free!  Heaven's King has broken into our world to rescue us from the perils of our sin.  No prison can hold you.  No king can condemn you.  No hospital room can steal away your joy.  No doctor can frighten you.  Not even death and the grave can withstand the might of His Word.   Nothing can separate you from the love God in Christ Jesus.  He promises to bring health and healing to all who believe on His Name when He returns on the last day.  Be strong!  Do not fear!  Your God has come.  He is Jesus.  AMEN!
The peace of God which surpasses all understanding keep your heart and mind through faith in Christ Jesus.  AMEN!