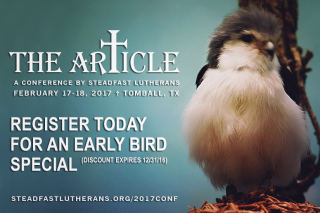 We only have a few days left on our "early bird" discounts for our conference coming to Tomball, Texas on February 17-18.  Not only will there be great food, drinks, and speakers – but if you register before the new year you can save money on coming.  As an added benefit, all those who registered early will be entered into a drawing for a couple great books on Justification.  There may some more drawings coming as well.
Our conference this year will give us a great overview of Justification (Rev. Rolf Preus) and then also some very specific application as it pertains to missions (Rev. James May of Lutherans in Africa) and also our hymnody (Rev. Mark Preus).  Added to this, Rev. Brian Kachelmeier will be helping us understand the relationship between Justification and Sanctification just in case anyone has noticed an ongoing debate on that matter.
On top of this, Pastor Hull will be leading the worship services and the good folks at Zion will once again be filling us with much meaty goodness.