November 13, 2016 — Proper 28
Sermon Text — Luke 21:5-35
Sermon Audio —
Change is Coming
November 13, 2016
Grace, mercy, and peace be unto you from God our Father and from our Lord and Savior, Jesus Christ.  AMEN!  Our text for this morning's sermon is taken from St. Luke's gospel account the 21st chapter.
Beloved in the Lord,
Man's Nature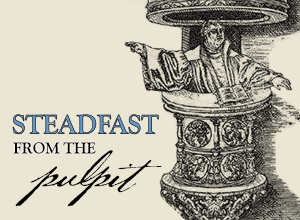 Sometimes the disciples just didn't get it.  Luke tells us that while sitting with Jesus "some spoke of the temple, how it was adorned with beautiful stones and donations."  Really?  The eternal Son of the Living God is dwelling in your midst, speaking with you, teaching you, manifesting the Kingdom of God in the flesh for you, and all you can do is marvel at the works of men, all you can do is admire the beauty and grandeur of stones?  But this is man's fallen nature isn't it?  This is what we do.  This is how we think.  This is the sort of thing we get excited about.
Humanity is always more excited about the things we do, say, build, and establish rather than the words and works of God in our midst.  We much prefer our glory to God's humility, our accomplishments to God's grace.  As God's creation bearing God's image we build things.  IN our fallenness we turn those things into idols.  Every building erected, every institution established, every government formed, every culture fashioned, every social stone stacked one upon another our fallen human nature perverts, corrupts, and calls our fellow man to marvel at such things.  And what does our Lord say . . . "Not one stone shall be left upon another that shall not be thrown down."  You see humanity will not surrender his idols but will constantly double down to hold them up.  That's what we do.  We try harder.  We work more.  We tire ourselves and grow weary throwing money and resources into their preservation.  We fight and argue and hurt and harm, sometimes in protest, other times in war, all in an attempt to maintain our way of life, all in refusal to change, a stubborn refusal to repent.  Look at our nation today.  Look at our election process.  We are nation divided and that cannot stand.  We know it and so we voted.  We voted for a change.  But we did not repent.  No, rather than turn to our Lord seeking after His kingdom in Word and Sacrament, we turned to the law, to another man, one who reflects us as a people more than we wish to admit.  Donald is not David, nor is he a son of David.
Falling Idols
It's for this reason Jesus says, "Take heed, and do not be deceived."  He warns His disciples, and therefore you and me as well, that there will be an end to our idols.  Every stone shall be cast down.  Every idol shall be broken.  For you see, idols don't fade away into distant memory.  Humanity will not give up so easily.  Your sinful nature will not surrender so easily.  The temptation to trust in the strength of men, the wisdom of politicians, the decisions of judges and lawyers will always be about us.  Yet, these cannot stand.  They have no support, no foundation, but rest upon the sinking sand of our fallen, depraved, and corrupt nature.  They will fall under the weight of our false worship.
That we are not deceived Jesus tells us the signs of such a fall.  These are not only red flags that pop up to reveal their inadequacies but they are symptoms of a spirituality severed from the Word and works of Christ.  What are these signs?  False prophets with false spiritualities.  The prosperity gospel is nothing new, it's not uniquely American, but can be traced to the day of Jeremiah.  They cry "peace, peace, and yet there is no peace."  Why, because there is no true gospel in their words.  Don't be deceived.  Any preacher who tickles your fancy or scratches your itching ear is false.  Then there will be wars and rumors of wars.  Political upheavals.  Any nation that doesn't take God's word seriously will certainly not take their constitution seriously.  Social disorder can be the only result. Those who do take God's Word seriously will be betrayed by family and friends alike.  They will be called traitors, haters, racists and bigots, homophobes and hypocrites, even atheists because they do not bow before the golden image of progress.  All such idols will fail and fall.   But humanity will try again, and not even a sign in the heavens will convince people otherwise.
Cause for Christ
Do  not be deceived.  Do not go after them.  Do not be terrified.  These things  must happen, these things must come pass.  For all is an occasion for you to give testimony that the truth of God's Word remains, that Christ is risen and is seated at the right of God.  As His dear Christians you are not to despair when you see these things happening.  Look at the crowds reacting to the election.  Look at the protests, the anger and the anguish, the despairing and the brokenhearted.  The hearts of men fail them from fear and the expectation of those things which are coming.  This ought not be so with you!  Your hope is not seated in the oval office or on the supreme court.  But our King has come, welcomed to shouts of Hosanna to the Son of David, and though He was crucified on Friday and all seemed lost He is risen for you and all humanity, risen to set the captives free from the bondage of their idols, free from the perils of their sins, free from death and hell.  Jesus is the stone the builders rejected but now is the chief cornerstone of our salvation.  There will be an end to this sinful world, beloved, but before there is such an end, there must be an end to sin.  The end to sin begins and ends with Jesus.  HE is the end to sin, yours, mine, and ours.  Taking the world's idolatry upon Himself, suffering the signs of sin's wages in His flesh, Jesus crucifies sin in His death and crushes the works of man by suffering the works of man on the cross.  All that is opposed to God is put to death in God's death on the cross.  All that is good, right and salutary is risen in Christ's resurrection on the third day.  Apart from Jesus sin has dominion.  In Jesus, covered with His blood, sin is drowned.  Long ago the Lord destroyed the earth with a flood, saving only Noah and his family.  But that flood did not change the heart and mind of humanity.  Sin was punished but sin was not vanquished.  The baptism with which Jesus was baptized with has finally conquered sin's strength and therefore taken away the grave's power.  For the sting of death is sin and the power of sin is the law both of which have been sufficiently dealt with by Christ Jesus our Lord.
Baptized with Christ
You who have been baptized into Christ share the baptism with which He Himself was baptized.  Your sin has been washed away in a lavish flood of righteousness.  All who are baptized into Christ have been clothed with Christ.  You are a new creation.  The old is gone the new dwells within you by the power of His Holy Spirit.  This is how the Lord loves you. For love covers over a multitude of sins.  And that crimson water, that Red Sea is full of the death and resurrection of Christ for you.  You died with Christ and you are risen with Christ, risen to live a new life unto God your heavenly Father.
Therefore when you see these things happening all around you, when the earth shakes and the waters rage, when the powers that be come crumbling down, do not despair.  Do  not be ashamed.  Do not be terrified.  But lift up your heads and rejoice.  Your salvation draws near.  Know that the kingdom of God is near.  The Lord has not turned His back on His redeemed but is present in His Word.  Heaven and earth will pass away.  Human institutions will fail and fall.  The works of man will disappoint and even disgust, but the Word of the Lord endures.  Take heed beloved!  Here is your strength.   Here is your hope.  Here is your life and your salvation.   Your God comes to you to deliver you.   He does not come as the world wishes but as you and I have need.  He comes today in gentleness and mercy, comes to forgive and restore, to bind up what is torn, build up what is broken, heal what hurts, console those who mourn, comfort those who are discouraged, and raise up the downtrodden.  He comes today in power, but also in humility.  Marvel O people at the grace and mercy of our God and let not your hearts be troubled.  Trust in the Lord your God.  So long as you have His Word you have His heart.
The day is Coming
Beloved in the Lord, the day is coming.  The end is near.  The signs are all around us.  The world despairs but you have hope.  You have Christ Jesus.  Therefore let your life be one of testimony to the truth.  Do not let your hearts be weighed down with the idols of this world.  Do not let your hearts grow weary nor go about in drunkenness, carousing, and the cares of this life and that day come upon you unexpectedly.  No, beloved, examine yourselves in the light of God's Word.  Put not your trust in princes, nor in the sons of men.  It is not strength that makes America great.  It is not the works of man that one should marvel over.  It is the humility of our God in Christ Jesus that is cause for our joy.  It is the hope of eternal life that carries us along in days of trial.  It is the certainty of the forgiveness of sins, the resurrection of the body and the life everlasting that gives us courage in the face of social, political, and cosmic upheaval.  Christ is risen!  Christ still reigns.  And Christ shall come again.  AMEN!  Come Lord Jesus.
The peace of God which surpasses all understanding keep your hearts and minds through faith in Christ Jesus.  AMEN!