November 20, 2016 — Christ the King Sunday
Sermon Text — Luke 23:27-43
Sermon Audio —
Grace, mercy, and peace be unto you from God our Father and from our Lord and Savior, Jesus Christ.  AMEN!  Our text for this morning's sermon is taken from St. Luke's gospel account the 23rd chapter.
Beloved in the Lord,
Golgotha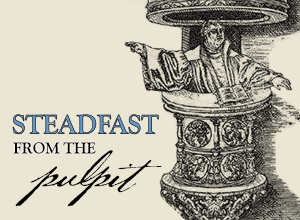 The Savior has taken up His cross for you.  Will follow Him?  The Savior walks into death for you?  Do you grieve for Him?  "Do not weep for Me," He says, "Weep for yourselves and or your children."  Behold the Man who would be your king.  He stammers through the streets of Jerusalem bearing a burden that is not His own.  He is condemned, a condemned King, because humanity would have no king but Caesar and those in Caesar's likeness.  For all politics is the exercise of power and humanity covets power, worships power.  But, it is not Caesar's throne Jesus desires, for Caesar sits on a throne of lies.  It is not the armies of Rome with whom our King battles.  His is not a kingdom of power as the world desires.  His is a kingdom of grace.  No, our King is not of this world, nor is His Kingdom.  If it were His disciples would fight for Him.  No one fights for Jesus.  Not here.  Not now.  The Kingdom of God is not won with swords and spears and soldiers and chariots.  No!  the Kingdom of God is fought with Words – "Father, forgive them, for they know not what they do." Performative Words!  Words that do what they say and give what they promise even in death, even in the death of our King.
Behold your king, beloved.  He takes up His cross for you.  Will you follow Him?  He makes His way to Golgotha for you.  The King of righteousness, our High Priest in the order of Melchizedek, is crucified.  As He did in life so also He does in death.  He hangs with sinners.  He is with sinners to the very end, with them even in death, even death on a cross.  Jesus is the King of Sinners.  Sinners follow Him.  Will you follow Him?  Will Jesus be your King?  Or have you no king but Caesar?
What to do with the Cross???
Humanity doesn't know what to do with the cross of Christ because humanity doesn't want to be sinner.  The cross is for sinners.  Jesus' death is for sinners.  But humanity prefers other ways, ways less troubling, ways less humiliating.  More often than not we prefer Caesar and his policies, to Jesus' words and ways.  This is how we are in our fallenness.  While we surely will admit that we're not perfect, we also go to great lengths to prove we're not that bad.    Rather than confessing ourselves as sinners we dress ourselves as righteous.  We put on masks to cover on the outside what we truly are on the inside.  Adam and Eve used fig leaves but we're much to pious for that.  WE hide behind our love, our intentions, our good wishes and tolerant attitudes.  We hide behind our masks and stare at one another hoping no one sees our true selves, yet at the same time peering at our neighbor's mask always trying to discern their faults.  And we suspect they are doing the same.
Fear of judgment governs every aspect of our lives.  Any judgement is denounced as unloving.  Any criticism reverts us to the fetal position.  Any rebuke or correction offends us.  Any rejection for who we are terrifies the soul.  As Luther once said, after the fall man is afraid of every rustling leaf in the garden, fearing the footsteps of the Lord, fearing the words, "what have you done?" refusing the hear the truth.
Behold the crowds in our text, the rulers, the criminal on the left.  Hear how they cry against the Lord.  "He saved others; let Him save Himself if He is the Christ, the Chosen of God."  "Save yourself and us."  But the save Himself would mean to be like the self-righteous who do anything to avoid judgment.  Make no mistake, death is the final judgment.  Their words echo their heart and their theology.  They seek the preservation of their masks, the saving of their pious veneers, the justification of their sins but not the justification of sinners.  These hate the sinner but love the sin.  Jesus is King of sinners not the self-righteous.  There is no paradise for those who would be their own Caesar.  There is no heaven for those who would save themselves.
This the King of the Jews
Jesus is the King of the Jews.  He is the king of sinners.  He takes up His cross and is numbered with the transgressors.  The kings of the world go to great lengths to avoid the judgment of men, but not Jesus.  He is judged as sinner for sinners.  "He who knew no sin became sin that we might become the righteousness of God."  Where Jesus goes there goes my sin.  Thus Jesus is unmasked before the nations.  He is stripped naked for all to see.  The shame that is ours, that we too often try so hard to cover over, He bears.  Like a lamb led to slaughter our King is silent before His accusers.  He makes no excuse.  He offers no justifications.  He does not save Himself for Jesus is all about saving others, saving sinners, saving you.  This is the King of the Jews.  He loves His people even when His people love Caesar.  He loves you, even when you run to the bushes and hide.  That's why He goes to Golgotha, that's why He is crucified.  To be both just and justifier Jesus assumes your place and rather than ascend a gilded throne of lies, He ascends a wooden throne of truth.  Your king reigns from a tree!
Your king suffers the curse of death and wrestles its strength into the earth.
Your king bears your punishment, stealing away the power of sin.
Your king is mocked that you who follow after Him are not ashamed.
Your king forgives sinners rather than let sinners justify themselves.
Your king prays for sinners.  Like Jacob of old He Pins His Heart to the Father's ear that His family may enter the Promised Land in peace.
Your king is also your God and in His death God dies.  And in His resurrection God raises up all of humanity.  Your King has done this for you.  Your King has done this for sinners.  Will you be a sinner and follow your King?
Remember Me a Real Sinner
It is the cross that undoes all of our fallacies.  For the story of the cross if foolishness to those who are perishing, those who seek their own justification.  But to us who are being saved it is the power of God and the wisdom of God.  For "God chose what is foolish in the world to shame the wise; God chose what is weak in the world to shame the strong;  God chose what is low and despised in the world, even things that are not, to bring to nothing things that are,  so that no one might boast in the presence of God. (1Co 1:27-29 ESV).  Pride is the work of the self-righteous.  Humility is the fruit of the cross.  There is no room for pride while standing in the shadow of the cross.  Thus the criminal on the right prays, "remember me, Jesus, when you come into your Kingdom."  He confesses to be sinner and sees in Jesus the savior of sinners.  The cross of Christ crucifies sin and saves the sinner.    "We suffer justly the due reward of our deeds; but this man has done nothing wrong."  We are guilty but Jesus dies.  Jesus dies for sinners.  If you will not be a sinner you will not be saved.
Thus the call to repent is the call to all humanity to remove our masks and be honest with ourselves and with our God.  Only in the light of Christ crucified do we see our true selves.  Only in the light of Christ crucified do we see our true God.  For our God and King delights in mercy.  His joy is to forgive.  His promise is to save.  His heart is for you.  Behold your King!   He offers you His life in the waters of baptism.  He sets before you a heavenly feast in the sacrament of His supper.  He has come to give not to take, to save, not to judge, to call sinners out of the bushes and into His marvelous life.
Repent, beloved and cling to the gospel by faith.  Your king is risen and comes today with gifts in hand.  Take off your mask and do not be afraid to be called sinner.  For every sinner who calls on the name of the Lord will be saved.  Every sinner who trusts in the Lord will be justified.  Every sinner who believes will be reckoned as righteous.
Paradise Gifted
"Today you will be with Me in Paradise."  These are the words of Jesus to sinners.  These are words of absolution.  And these words are for you, today.  Today is the day of salvation.  Therefore do not harden your hearts as so many have done and continue to do even now.  Do not plug up your ears to His Word but gather round about Your King and listen with open ears to your Savior as He reigns.  Your King rules with grace.  Our God reigns in mercy.  He is gentle and kind, the sort of King you need, the sort of King you can love and adore.  Thus He gives you paradise because He gives you Himself.  Apart from Jesus there is only the masks we wear to impress one another.  But in Jesus we can be honest with God and with one another.  We can love God and our neighbor because He first loved us.  We can forgive because we are forgiven.  Today your King comes.  Will you follow Him?  Will you be sinner?  Will you be penitent?  Will you believe?  Jesus is the king of sinners.  Behold your king.  AMEN!
The peace of God which surpasses all understanding keep your heart and mind through faith in Christ Jesus.  AMEN!