"Changing Kingdoms" (Colossians 1:13-20)
Perhaps you recall, earlier this year there were a number of celebrities who said they would move out of the country if a certain candidate got elected. They were all going to move to Canada if he got in. They were willing to change their citizenship from one nation to another, because things would be so bad. Well, come November, that candidate did win, and so you would think there would be planeloads of celebrities evacuating the country and heading to Toronto. But somehow that didn't happen. They're still here. I guess their promise to leave and change nations wasn't that serious.
Have you ever thought about moving to another country and changing your citizenship? It would be a big step, a big change. Imagine what our forefathers and foremothers went through when they decided to get on the boat and come over here from Europe. But they figured they were moving to a better place and a better life, so they went ahead and did it. But changing nations is a pretty big deal and not undertaken lightly.
Yes, so how about you? But do you realize you have already changed your citizenship? You already have moved from one nation, if you will, to another. You have moved from a really bad situation to one infinitely better. And the amazing thing is, you didn't do a thing to earn it or deserve it or to make it happen. And so our theme this morning: "Changing Kingdoms."
Changing kingdoms. Our theme picks up on a portion of today's Epistle reading, from Colossians chapter 1, where St. Paul writes: "He has delivered us from the domain of darkness and transferred us to the kingdom of his beloved Son, in whom we have redemption, the forgiveness of sins."
You see, you have already changed kingdoms. Your situation has gone from worst to best. And it is God who has done it for you. Let's explore this.
"He has delivered us from the domain of darkness," Paul writes. And the "He" is God. He is the one who has done it, not you. Only God can save you and rescue you from the plight you were in. You could only dig yourself deeper into the hole you were in.
And that hole is described here as the "domain of darkness." That's the situation you were born into. You were a subject in the domain of darkness. You were under its sway, unable to escape. Jesus says, "Flesh gives birth to flesh," and that's as high as you could rise. You were born of sinful flesh, that old Adamic sinful nature, handed down from our parents, and you could do no better than that. Whether your sinful nature shows itself up in blatant shame and vice or in refined pride and arrogance, you and I were born with this sinful nature that manifests itself in countless sins of thought, word, and deed, and ends in death and damnation. That's the domain of darkness you were born into and a slave of.
The domain of darkness is the devil's domain. The old evil foe, the prince of this world, he is the strong man ruling this domain. It is a dirty, sleazy, proud, and foolish domain, all at the same time. The tempter will woo you with attractive lies, to pull you away from God and keep you trapped in his hellish kingdom. And most people don't even notice it.
And then there's the world, with its seductive siren song. Peer pressure, the media and the entertainment industry, advertising, social media, cultural norms, educational indoctrination, governmental laws that depart from God's law–all this is the wisdom of the world that is, in reality, deadly foolishness.
The domain of darkness. The devil, the world, and our own sinful flesh. That was our starting point, and we could do nothing to get out. In another letter, St. Paul sums it up like this: "And you were dead in the trespasses and sins in which you once walked, following the course of this world, following the prince of the power of the air, the spirit that is now at work in the sons of disobedience–among whom we all once lived in the passions of our flesh, carrying out the desires of the body and the mind, and were by nature children of wrath, like the rest of mankind." Good luck getting out of that!
Well, good luck couldn't do it, but God's love could–and did! Listen again to our text from Colossians: "He has delivered us from the domain of darkness and transferred us to the kingdom of his beloved Son, in whom we have redemption, the forgiveness of sins." That's how the changing of kingdoms takes place, when God moves us from one kingdom to another. From the domain of darkness to the kingdom of his beloved Son.
This kingdom is a much better place to live. It's the kingdom of God's beloved Son. That is our Lord and Savior Jesus Christ. Remember how at Jesus' baptism the Father said, "This is my beloved Son, in whom I am well pleased." Again at Jesus' transfiguration, the same voice of the Father, "This is my beloved Son." It is Christ's kingdom that we are talking about here.
The kingdom of God's beloved Son. Why is this a better place to live? Paul tells us: "The kingdom of his beloved Son, in whom we have redemption, the forgiveness of sins." In this kingdom of Christ you have redemption. That's a powerful word that speaks of liberation, of being set free from the chains that bound you. You have been liberated from the domain of darkness. But that freedom came at a cost. It was the death of Jesus Christ that set you free from the domain of death and the devil and darkness. When darkness covered the land that day, that Good Friday when Jesus died for your sins and the sins of the whole world, Christ's holy blood purchased your redemption. His death, the death of God's one and only Son, broke the back of the devil and paid the price your sins deserved. Now you are cleansed. Now you are free. In him we have redemption, the forgiveness of sins.
In him in Christ. Tell us more, Paul, about who this Christ, this beloved Son of the Father, is: "He is the image of the invisible God, the firstborn of all creation. For by him all things were created, in heaven and on earth, visible and invisible, whether thrones or dominions or rulers or authorities–all things were created through him and for him. And he is before all things, and in him all things hold together."
Now we see why Christ's dying on the cross is so powerful, so all-availing: He is the very Son of God from eternity! God in the flesh, true God and true man, the Son of God incarnate! When the Son of God dies for the sins of the world, that carries a lot of weight, to say the least!
More, Paul, more! More about Jesus: "And he is the head of the body, the church. He is the beginning, the firstborn from the dead, that in everything he might be preeminent. For in him all the fullness of God was pleased to dwell, and through him to reconcile to himself all things, whether on earth or in heaven, making peace by the blood of his cross."
Christ is the firstborn from the dead. Death could not hold him. Jesus rose from the dead, and all those who trust in him, who are connected to him–we will rise also! Death cannot hold us! Dear friends, you are baptized into Christ. You have been joined to Jesus in those life-giving waters. That's where you were transferred into the new kingdom. In baptism, you were brought into Christ's kingdom, and his is a kingdom that will never end. Your citizenship now is in heaven.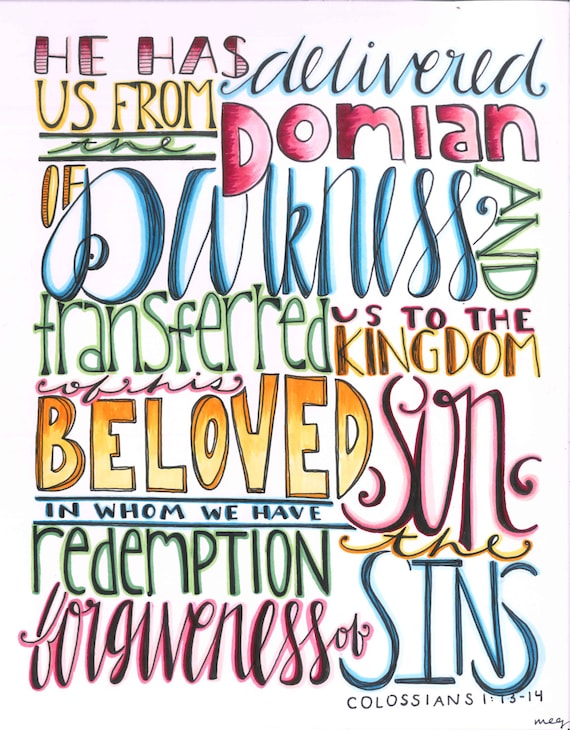 Peace with God; the gift of the Holy Spirit to renew and refresh your faith; Christ with us to lead the way; sins forgiven; new life now; life together in the church, God's family; eternal life forever; joy unspeakable and full of glory; a future with a sure hope to give you strength and courage and joy even now–what a treasure! All this, and always more–these are the benefits we have because God has transferred us to the kingdom of his beloved Son.
Changing kingdoms. I am so glad that God has delivered us out of the domain of darkness and brought us into the kingdom of his Son! There's no other place I'd rather be!
I love Your kingdom, Lord,
The place of Your abode,
The Church our blest Redeemer saved
With His own precious blood. (LSB 651:1)