October 30, 2016 — Reformation  Sunday
Sermon Text — John 8:31-36
Sermon Audio —
Come back later for the audio of this sermon.
Asserting Freedom in the Word
Grace, mercy, and peace be unto you from God our Father and from our Lord and Savior, Jesus Christ!  AMEN!  Our sermon text for this Reformation Sunday is taken from St. John's gospel account the 8th chapter.
Beloved in the Lord,
Making Assertions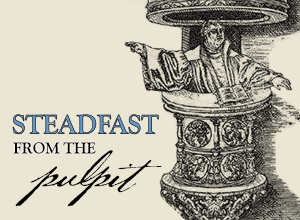 Four hundred ninety nine years ago when Martin Luther nailed his 95 theses to the church doors in Wittenberg he wasn't just making a statement.  He wasn't just stating an opinion or putting forth some pious idea about how things should be in the church.  No!  Luther was making an assertion the first of which read, "when our Lord and Savior Jesus Christ said, 'repent' He willed that the whole life of the Christian be one of repentance."   He was following the Savior's pattern.  For when Jesus said, "If you abide in my Word, you are My disciples indeed.  And you shall know the truth and the truth shall make you free."  Jesus made an assertion.  That's what truth does. That's what truth is.  Truth is an assertion of reality in the face of its denial.  Jesus was asserting the truth of His Word and the power of the gospel to set captives free and He was asserting that truth in the face of those who would justify themselves.
When Luther nailed his 95 Theses he was making an assertion of the Word of God in the face of those who would justify themselves with their works of penance.  Jesus didn't say "do penance" as Jerome translated in the vulgate so long ago, but Jesus said, "Repent, for the Kingdom of heaven is at hand."  In asserting the truth of God's Word in the face of its denial Luther ignited the Reformation of Western Christianity.  Though some may dispute whether it was a "reformation" or a "restoration" there is no disputing that Luther's assertions challenged the common understanding and the Roman teaching of how a person is justified before God.
Slaves to Sin
The Roman church didn't like Luther's assertions any more than the Jews in our text liked Jesus' assertions.  Nor does our world today.  You see in our fallenness, we like to assert ourselves.  We are by nature slaves to sin. We are bound, heart and head, hand and foot to the law of unrighteousness.  What does this mean, this means we are sinners by nature and as sinners we do sin.  All who sin are slaves to sin. There is no one who does not sin, no one who does right, no one who is righteous.  All have sinned and fallen short of the glory of God.  Yet, asserting ourselves we try to justify ourselves before God.  We want to offer God something, some good works, some warm feelings, some pious intentions.  And we want to be affirmed, congratulated, praised for it, both by God and by our neighbors.  We want parades celebrating our struggle to be ourselves.  We want governments to endorse our behavior.  We want parents to accept us and all the skeletons in our closet.
And we don't want anyone to challenge us. We don't want anyone to assert anything differing.  We don't want to hear about our sin or our impending death.   And we certainly don't want anyone telling us that we need to change, you know . . . repent.  Such an assertion in this day and age offends us, makes us uncomfortable, chases us away, so much so that today many of our college campuses offer "safe spaces" so that their students don't have hear such assertions.
And this isn't just "those people" out there.  This is how our human nature reacts to God's assertion that we cannot save ourselves, that we need to repent and believe the gospel.  Why else do many who call themselves Christians not come to church, or don't come regularly?  Why else do many of our own members stay home and deny their need for God's mercy delivered in the means of grace?  Why else do few, if any, ever come to private confession?  We don't want to hear about our need to repent.  We certainly don't want to hear it from other sinners.  We want our relationship with the Lord to be just between Him and ourselves, our own personal Jesus, a "me and Jesus only" spirituality.  But such a desire is from our fallen nature.  That's not how the Lord operates.  There is no such relationship with the Lord.  The Lord works through means in His Church making use of fallen sinners to assert the truth of His Word.  He will not allow you to assert yourself, your works, your intentions, your emotions, your anything before Him.  To do so would be to allow a slave a place in His mansion.  And a slave does not abide in the house forever.  The Jews needed to repent and believe the gospel.  Rome needed to repent and believe the gospel.  You need to repent and believe the gospel. There is no other way.
The Liberation of the Son
Its for this reason that Jesus asserts His word.  Asserting His Word He  is asserting Himself.  He is the eternal Son of the Father, the exact icon of God made flesh.  Whoever sees Jesus sees the Father and apart from Jesus and His Word there is no way to the Father.  As the Son Jesus and His Word are the power of God unto salvation.  Jesus is the gospel made flesh.  The Gospel is the Word and promises of Jesus.  There is no gospel without Jesus' Words and Works.  In our fallenness we are always wanting to include our words and works but this is a return to the Law, a return to slavery.  We need to be set free.  We need to be liberated from our sins.  Only the Son can set us free.  Only the Son has power to liberate sinners.
This power is exercised in the words and Works of Jesus alone.  He alone was conceived by the Holy Spirit, born of the virgin Mary without any spot, stain, or blemish of sin, original or actual.  He alone fulfilled all righteousness, lived according to God's Word, was perfect in every way.  By His Word lepers were cleansed and demons exorcised.   By His Word lame legs came to life and darkened eyes were enlightened.  By His Word ears were opened and tongues were loosed.  But the greatest assertion of the Son's power to liberate came not in mighty works or miracles but in humble submission to His Father's will.  In humility Jesus surrendered Himself into the hands of sinners.  Though He was a Son, He became a slave and by His weakness He has overcome all that would have dominion over us. In suffering Jesus purchased for us paradise.  In death Jesus destroyed the power of death.  For the sting of death is sin and the power of sin is the Law.  Thus by His resurrection from the dead Jesus has become the victor for which all the redeemed Hail His Name.
Freedom comes through Absolution
It is the Word of Jesus that delivers His works to human hearts through their ears.  This Word is proclaimed in His Church.  If the Church gets the Word wrong they get Jesus wrong.  If hearers get Jesus wrong they don't get the gospel but some other news.  That's why Jesus says "If you abide in my word  . . . the truth will set you free."  That's why Luther made his 95 assertions.  That's why the Church remembers the reformation and that's why we are here this morning.  We are here to lend our ears to God's Word, to God's gospel.  Jesus' word is all about setting captives free, liberating slaves, and renewing sinners.  Luther's reformation was all about repentance and faith, a return to the Word and promises of God in the face of humanity's spiritual innovations.
This Word is most clearly spoken in absolution.  Yes, repentance includes confession.  We must never forget who we are by nature.  That's why we Christians assert the judgments of God's Law.  As Luther says, "we must never endeavor to obtain such purity (which shall never happen in this life) that we no longer find ourselves as sinners."  As long as we have breath, as long as this heart beats, we are sinners in need of God's mercy for Christ's sake.  But the call to repentance is also a call to believe the gospel, those sweet words of consolation that the almighty, holy and righteous God has atoned for your sins through the death and resurrection of His Son.  By God's law we despair of ourselves.  And by God's gospel we are set free, absolved, forgiven all our sins.  For the wages of sin is death, but the gift of God is eternal life through Christ Jesus our Lord.  Gifts aren't earned, merited, or deserved, they are received.  God's gifts of salvation are received by faith alone in Christ alone. Receiving the Word of Jesus you receive a new status.  No longer are you slaves but now you are sons and if sons, heirs of eternal life according to the promise.
Freedom is maintained by Receiving His Word
So when Jesus says, "if you abide in my Word" He is calling His disciples to continue receiving His Word.  To neglect God's Word is to lose God's Word.  To lose the Word is to lose Jesus and the sonship He has bestowed upon you by grace.  To lose Jesus is to become again a slave.  For the human heart without Jesus will always seek to fill the void with idols.  And the most common idol is self.
Therefore beloved, the call to abide in Jesus' Word is a call away from self, to deny yourself and reject the most ancient of heresies, namely that you can be like God choosing for self what is right and wrong, good and evil.  And to follow Jesus' Word is to daily take up His cross.  Remember your baptism in Christ's death and resurrection.  Remember that you are not a slave to sin but are a son of the Most High God.  In the world you will suffer weakness of body and soul.  You will grow weary and faint because of the brokenness of this life and the depravity of our culture.  Long established institutions will fail you even persecute you.  Yet in our weakness the Lord's Word remains strong.  In our fallenness the Gospel stands as our only comfort.  Even in death the Lord has promised life to those who believe in His Son.  Therefore abide in the Word of Jesus.  Hold firm.  Remain steadfast.  Double down on Him who has proven Himself time again to be for you.  In the Word you . . . are . . . FREE!  AMEN!
The peace of God which surpasses all understanding keep your hearts and minds through faith in Christ Jesus.  AMEN!