Proper 23, October 9, 2016
Sermon Text — Luke 17:11-19
Sermon Audio —
Grace, mercy, and peace be unto you from God our Father and from our Lord and Savior, Jesus Christ.  AMEN!  Our text for this morning's sermon is taken from St. Luke's gospel account the 17th chapter.
Beloved in the Lord,
God Locates Himself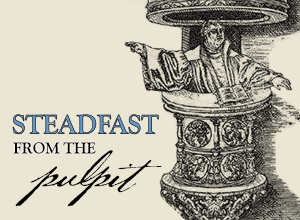 "And it came to pass as He went to Jerusalem He passed through Samaria and Galilee."  Jesus is on the move.  He has been ever since His descent from the Mount of Transfiguration.  He's heading south, making His way to Jerusalem.  The bridegroom is coming.  This is His advent.  He is flanked by His attendants, friends of the bridegroom who delight in His voice, while He cries out to the highways and byways, to the crowds and multitudes, the scribes and Pharisees, to Jew and Gentile, sinner and tax collector in order to fill the wedding hall.  Thus our Savior's steps are marked by love and the desire for your salvation.  So your God is on the move to redeem the world from sin, death, devil and hell.
Where Jesus goes God goes.  For Jesus is God made flesh.  Jesus is not a part of God.  He's not a side of God.  He's not a picture of God, but God of God and light of light, very God of very God, begotten of the Father from eternity and born of the virgin Mary.  In Jesus the God whom heaven and earth cannot contain much less a building built with the hands of men, in Jesus God has located Himself in space and time for you and me and for the world.  He is accessible.  He approachable.  He is vulnerable.  And this morning He's in the midst of Samaria and Galilee where He is met by 10 lepers in need of healing.  And He is here where He is met by sinners like your me in need of divine mercy, forgiveness, life and salvation
Meeting God in Jesus (Ten Lepers on the Road)
Though standing afar off, these Lepers will not let Jesus pass by.  Nor should you.  Listen as they call on the name of the Lord lifting up their voices to the incarnate Word Himself – "Jesus, Master have mercy on us!"  Lepers were not just sick.  They did not just suffer the frailty of the flesh.  But as lepers they were unclean.  You may not have leprosy but you certainly have sin.  You are "by nature sinful and unclean.  You have sinned in thought, word and deed, by what you have done and by what you have left undone."  We know the consequence of our sins.  Sin separates us from God and from our neighbor.  So we stand afar off afraid to draw near, afraid to be vulnerable, afraid to be hurt, afraid to be shamed or shunned.  Like these lepers we often huddle together with others in their sin.  Misery loves company because poor miserable sinners are lonely.  And the company of sinners does not give rest to the weary.  To the Jewish world a leper is already dead, zombies, cursed.  Such is our lot when left in our sin.  Like these lepers we need God in Christ to draw near but not pass us by.  So, like these lepers, let us lift up our kyrie and call on the name of the Lord, trusting that all who call on the Name of the Lord shall be saved.
He draws near not in judgment or condemnation, as though His advent was for our execution, but He draws near to save, to offer Himself, to speak His Word, quicken hearts, strengthen weak knees, and lift up those who are ashamed.  Jesus has come to bring pleasure eternal.  Behold how gently He deals with these lepers.  He sees them.  He sees their condition.  He sees the group and He sees them as individuals.  Seeing them He speaks to them.  He gives them a Word.  In faith they cry out to Jesus and to strengthen their faith He gives them more for their faith.  "Go, show yourselves to the priests."  Lepers don't go to priests unless they were no longer lepers.  His command is full of promise.  This is not the Law but the Gospel.  His command to go to the priests is no different than the call to believe, it is no different than setting a beggar at a banquet table and telling him to feast.  Jesus has set the Word before these men in order to create, sustain, and encourage their faith.  He has come for sinners and all who suffer the uncleanness of our sins.  He's not just for pious Jews but also sinners and tax collectors, not just for healthy rebels but for those sick in body and soul.  If Jesus is for lepers He is also for you and me f or we also are unclean and in need of His healing Word.
Returning to Jesus
The men depart and along the way they are healed.  Jesus' Word does what it says.  His word is not like our word.  Jesus' Word is perfomative.  His Word gives what it promises and does what it says.  His Word is living and active giving and sharing Himself with those who hear and believe.  Jesus is the Word made flesh, God incarnate.  Where Jesus goes there goes our God and where He goes He is always going for us not against us.  Nine men saw they were healed and kept going in obedience to Jesus.  We do not know what happened to them, if any of them returned to Jesus after going to the temple, but we do know what happened to one man.  One man, a Samaritan, returned to Jesus.  He returned to Jesus and with a loud voice glorified God – not the God out there, or the God in the temple, though surely God was out there and in the temple – but the God standing before Him in the flesh.  The Samaritan returned to Jesus and fell on His face in worship and adoration and gave thanks.  He was no longer cursed, no longer dead, no longer unclean, no longer afar off.
So it is with our Savior. He gives us His Word and promises, not to judge or condemn, not scatter or isolate, but to forgive and heal, to draw near and fellowship.  The work of His Word culminates in the cross. For being lifted up Jesus desires to draw all to Himself.  On the cross all of our sins and uncleanness is atoned for.  Jesus is the propitiation for our sins, the blood covering we need to be made whole and holy.  Without the shedding of blood there is no forgiveness, but with the shedding of blood, the blood of the God incarnate, God reconciles Himself to you and all people.  Jesus is hung on the tree taken your curse upon Himself.  For cursed is the man who hangs on the tree.  Jesus endures the forsakenness of God.  "My God, My God, why have you forsaken me?"  He is alone and therefore alone He suffers for you.  On the cross the pangs of death and hell pierce Him through, the righteous wrath of God is rained down upon Him, and the merits of our works is put to death.  In Jesus God dies your death and kills your sin.  In Jesus' death the frailty of your flesh is consumed by His passion.  And in Jesus' resurrection the day of your resurrection is made certain. For His is the firstfruits from the dead, the first of a great and magnificent harvest yet to come on the last day!
Meeting Jesus in His Word
The Samaritan got it.  He believed and He returned. So where are the nine?  Jesus doesn't fault the others for their going but for their failure to draw near to Him and thereby glorify God.  Think on these things beloved!  What love the Father has lavished upon us in the giving of His Son!  Has the savior not baptized you?  Has He not forgiven you all your sins?  Does He not set before your hearts a rich and lavish meal for your feast on in His Word?  Man does not live by bread alone but by every Word that proceeds from the mouth of God!  Does He not offer you to eat of His body and drink of His blood?  These words and promises of God are given you as a gift, to woo your heart nearer to Him and to each other, that in Jesus you are met by God, the God who loved you and gave Himself up for you, to forgive you, strengthen you and encourage you today, tomorrow and forevermore!
Why then do you wander about your days as though His Words were like the words of men?  Why do you disengage from the world and your vocation stopping up your ears to His heavenly voice only the heed the words of others?  Why do you grow anxious from the words of men, feasting on the words of politicians, philosophers, academics, and pseudo scientists?  Why do you despise preaching and His Word with your absence or inattention to His divine service?  Return to the Lord your God in Jesus His Son!  Call upon the name of the Lord today, tomorrow, and forever.  Believe what He has promised and draw near.  The Savior is here for you.  Let no day pass you by apart from Jesus.  Read, learn, mark and inwardly digest this manna from heaven.  For the Word of God is food for the soul. Only by eating it, hearing it, taking it to heart do we receive strength.  So also, only by trusting and trustfully acting on that Word will faith grow and increase.  For the Word is not given for faith alone, but for faith and for action.  The wise man builds His house upon the Rock. So also the faithful live, work, do, act, by faith.  Faith expresses itself in love. The Savior's Words are given to draw sinners near to the Savior.  It is given as a gift without any merit or worthiness in us, but it is given for us receive and therefor to worship and glorify God.  Having received and worshipped in faith, having been made whole by the Words of Jesus we, like this lone Samaritan, are given to arise and go with Jesus wherever Jesus leads us.  For wherever Jesus goes there goes God and we are bidden to go with Him.
Returning to Jesus, the Giver of good gifts
Therefore Beloved, draw near and taste that the Lord is good for you today.  He is the giver of good gifts, gifts that deliver Himself to you through means like water, words, bread and wine.  Though these be less than exciting, they are nevertheless living and active sharper than any two edged sword, able to pierce through bone and sinew, able to do what they promise and give what they say.  Return to Jesus for more of His Word. Return to Jesus for more of Jesus.  He is where God is for you and for eternity.  Where Jesus is there is heaven.  Thus here is heaven on earth.  AMEN!
The peace of God which surpasses all understanding keep your heart and mind through faith in Christ Jesus.  AMEN!