"An Eternal Gospel to Reclaim and Proclaim" (Revelation 14:6-7; Romans 3:19-28)
It was 499 years ago tomorrow, on October 31, 1517, that Martin Luther nailed Ninety-Five Theses to the door of the Castle Church in Wittenberg, thus beginning the movement known as the Reformation. We are the heirs of that heritage, and so it is that on the last Sunday in October every year we observe Reformation Day in our churches. We are grateful to God for raising up his servant Luther to bring the clear truth of the gospel to light and to prominence once again. And we want to learn from the Reformation of the need to always be vigilant in guarding the doctrine and practice of the church, so that we remain faithful and steadfast in the truth of God's Word. For the gospel of Christ that the church is entrusted to proclaim–this is the only saving word there is, and God wants all men everywhere to hear and receive it. Thus our theme on this Reformation Day: "An Eternal Gospel to Reclaim and Proclaim."
An eternal gospel to reclaim. An eternal gospel to proclaim. This picks up on the language of our first reading this morning, from the Book of Revelation, chapter 14, where it says: "Then I saw another angel flying directly overhead, with an eternal gospel to proclaim." This text from Revelation has long been appointed as a reading for Reformation Day, because in a certain sense Martin Luther was like that angel: a "messenger" used by God to sound forth the eternal gospel, loud and clear, at a time when the sound had grown muffled and unclear. Luther restored the proclamation of the gospel of Christ to its rightful prominence. Luther emphasized what the Bible teaches and what we just sang in our hymn:
Salvation unto us has come
By God's free grace and favor;
Good works cannot avert our doom,
They help and save us never.
Faith looks to Jesus Christ alone,
Who did for all the world atone;
He is our one Redeemer.
So we thank God for Luther and the Reformation and the gifts of the past. But at the same time we realize there is still need for an ongoing Reformation in our day also. The church is semper reformanda, "always to be reformed." That's because error always has a way of creeping in, into the church's doctrine and practice. So the Lutheran Reformation is an ongoing affair. It didn't stop with the days of Luther. It calls for our alertness and diligence and our prayers that God would continue to reform his church, even now.
Why is this so important? Because the church has "an eternal gospel to proclaim." Think of it: An eternal gospel to proclaim! It is eternal: It comes from God and does not change. It is gospel: good news, the only good news that can truly cheer a sinner's heart and give a person real hope. And it is to be proclaimed: The church has been entrusted with the task, the mission, of preaching this message to every nation and tribe and language and people. An eternal gospel to proclaim. And to proclaim it, we first need to reclaim it, just like Luther did.
An eternal gospel to reclaim. Luther had to reclaim it in his day, because it had gotten lost and obscured and buried under a mountain of messed-up medieval malpractice. The Roman pope and those under him had misled the church for centuries. In place of the pure biblical teaching that man is saved by grace through faith, apart from works of the law, there had grown an entire system that taught otherwise. Built on the authority of the Pope, this system taught that one must try to earn a righteousness of one's own, other than through, or in addition to, the righteousness of Christ bestowed as a gift. In this way, the law was muffling the gospel. And not just God's law but also the necessity of keeping man-made commands coming from Rome. The situation was bleak and caused people to look elsewhere than to Christ alone for their righteousness and their salvation. The hymn we sang described it like this:
It was a false, misleading dream
That God His Law had given
That sinners could themselves redeem
And by their works gain heaven.
This false teaching of earning your way into heaven had crept into the practices of the church. Private confession had been turned into a torture: forced compulsion, coupled with the uncertainty of whether you had enumerated all of your sins, topped off by the priest giving you works of satisfaction to perform instead of the freeing word of absolution. The mass had been turned on its head: The big thing had become the sacrifice the priest was making, rather than the sacrament God was giving, and the people were just uninstructed spectators. Rather than looking to Christ alone, people were directed to other sources or mediators of salvation: The invocation of the saints and the Blessed Virgin Mary was seen as a better way to pray than simply coming to our dear Father through his Son, Jesus Christ. The extra merits of the saints were thought to be transferable to our account, to offset our bad behavior. Indulgences could be purchased, taking time off from purgatory for oneself or one's departed loved ones. Relics could be viewed, with the promise of more time taken off–likewise, pilgrimages could be made. The performance of religious acts of devotion contributed toward one's own salvation under the Roman system. The forgiveness of sins, freely and fully for Christ's sake–that had gotten lost. And so, given this sad situation, Luther saw there was an eternal gospel to reclaim.
Luther himself had been misled by the false teaching. As a young man, he went off to the monastery, thinking that a religious vocation would be the way to appease God or make a deal with God. Brother Martin put himself under a lot of pressure, but he increasingly realized he could never measure up. He could never love God the way he ought. He was unable to rid himself of his inner sinfulness, no matter how hard he tried.
How about you? Do you realize you have not loved God as you ought? What about loving your neighbor? Have you always done that? No, you haven't. You have not kept God's commandments from a pure heart. And so the law convicts you. If your conscience tells you that you are a sinner, your conscience is right. You have sinned and fall short of the glory of God. There is no hope for you down that road.
But there is good news for you, as there was for Luther. As he read and studied the Bible, over time gradually the light began to dawn for Luther. He would read, for example, in Romans 3, as we heard a few minutes ago: "For by works of the law no human being will be justified in his sight. . . . For all have sinned and fall short of the glory of God, and are justified by his grace as a gift, through the redemption that is in Christ Jesus. . . . For we hold that one is justified by faith apart from works of the law."
Here was the eternal gospel! Here was the good news that Luther needed! Here was what the church needed to hear, loud and clear. There was an eternal gospel to reclaim, the only message that gives all glory to Christ and comfort to terrified consciences. It was time to reclaim it from error and the morass of misleading practices. Reclaim it, and then proclaim it. An eternal gospel to reclaim. An eternal gospel to proclaim.
So that is what Luther set out to do, and soon many others were joining him. He posted those Ninety-five Theses questioning the sale of indulgences, on October 31, 1517. In the years that followed, he engaged in debate. He wrote essays that were published and read by thousands. Luther confessed the faith bravely, in spite of the opposition of both Pope and Emperor.
Luther was busy not only reclaiming the truth from error but also positively proclaiming the gospel, preaching and teaching it and reforming churchly practices in line with the gospel. Private confession was retained but reformed, putting the emphasis back on the freeing word of the absolution. The mass, the Divine Service, was retained and reformed, so that the big thing would be God coming to us with his life-giving gifts of Word and Sacrament. Luther began writing hymns, which both expressed and inculcated the gospel teaching. To remedy the poor religious instruction of the people, Luther wrote his Small Catechism, and with it, the Large Catechism. A new and much healthier system was emerging in the Lutheran churches. There was an eternal gospel to proclaim. We here today are the recipients and beneficiaries of that rich heritage. And we have the privilege and the assignment to carry it forward.
But the church is always only one generation away from losing its hold on the faith. That is the risk in our day. Our churches–Lutheran churches, at least in name–are at risk of losing their good heritage. So many congregations have junked the liturgy and jettisoned our hymnody. They have sold their birthright for a mess of contemporary pottage–a thin gruel indeed. How-to messages and self-help formulas are offered in place of preaching Christ crucified for the forgiveness of sins. The religious instruction of the people is at a low point. There is widespread biblical illiteracy, combined with a neglect of learning the catechism. Yes, we have an eternal gospel to reclaim and proclaim in our day, even in our own church body. And in our own congregation. Would that every one of our members were active and eager in growing in the grace and knowledge of our Lord Jesus Christ and in working together to support and extend our ministry!
So let's get at it! God will bless this ongoing Reformation, for it is in accord with his will. God wants his word to be preached and taught–to be heard and believed, to be learned and sung and shared–in our church, in our community, and all around the world. There is an eternal gospel to reclaim and to proclaim!
I said at the outset that it was 499 years ago, on October 31, 1517, that Luther nailed those Ninety-five Theses on the church door. Well, you don't have to be a math major to figure out that next year, 2017, will be the 500th anniversary of the Reformation, and that is going to be a very big deal. You'll be hearing a lot more about this in the weeks and months to come. But let us use this 500th anniversary year, not just to celebrate the past, but also to invigorate the present and to set a course for the future, all under God's grace.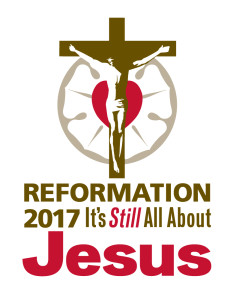 It's still all about Jesus! The righteousness of God comes through faith in Jesus Christ. This righteousness, your right standing with God, which you need to be saved from eternal death and for eternal life–this righteousness is yours as a gift. You are justified, declared righteous, by God's grace as a gift, through the redemption that is in Christ Jesus. God put him forward as the atoning sacrifice for your sins, when Christ shed his blood on the cross for you. You cannot earn your own salvation, in any shape, manner, or form. Christ has done it all for you.
This is the eternal gospel, my friends. Let's learn it, love it, and live it! Like Luther, and as at the time of the Reformation, we have an eternal gospel to reclaim, a godly heritage to recover and restore. And, like Luther and the Reformation, we have an eternal gospel to proclaim, a joyous message of forgiveness, life, and salvation in Christ, which will sustain us in times of trouble and will enliven us to share this good news with others. An eternal gospel to reclaim. An eternal gospel to proclaim. An eternal gospel that saves you and me and all sinners who trust in Christ. This is what the Reformation is all about. Happy Reformation Day!