September 4, 2016 — Proper 18
Sermon Text — Luke 14:25-35
Audio —
Grace, mercy, and peace be unto you from God our Father and from our Lord and Savior Jesus Christ.  AMEN!  Our text for this morning's (evening's) sermon is taken from St. Luke's gospel account the 14th chapter.
Beloved in the Lord,
Life and Good, Death and Evil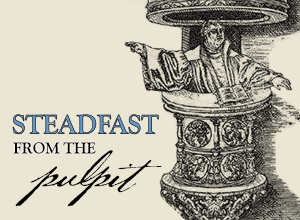 God's Children are His baptized children.  Israel was baptized in the Red Sea, you were baptized in water and the word.  God's children are His baptized children.  As His baptized children the Lord sets before you life and death, good and evil, not to tempt you – for the Lord tempts no one but to teach you that there is always a way from God and in the end that way leads to eternal death.  Jesus is the only way to God and wherever Jesus goes there is life and there is all good.  In the waters of Baptism is life because Jesus is in the waters of baptism.  All is good in Jairus' home because Jesus comes to Jairus' home.  There is life and there is all good in this place not because we are here, but because Jesus is here with His life-giving gifts.
So with the multitudes in our gospel text we go where Jesus goes for wherever Jesus goes there is life and there is good as we live in a world surrounded by death and evil.  Following Jesus we learn the way to God and the way of God.  His way leads through death and grave to eternal life.  His way is good.  You have been baptized into His way.  Landyn has been baptized into His way, thus the baptized  of God are disciples of Jesus. There are no disciples that are not baptized.  It is God's will that His baptized follow Jesus that following Jesus faith in Jesus is strengthened and love toward one another is nurtured.  Following Jesus leads to eternal life.  That is the good way set before you this morning (evening).
Hating and Loving Out of Order (hearts turned away so that you do not hear)
But there is another way, a way in which we are tempted by the devil, the world and our own sinful nature.  It is the way that we would love to walk for it is the way that we would walk by sight.  A picture is worth a 1000 words, but whose words are they?  Walking by sight means walking by our own words, our own understanding, our own perceptions and interpretations.  We walk this way or that way because it looks good, is attractive to the eyes, pleases the senses, stimulates the mind, invigorates the flesh, in other words, because it makes us feel alive, it seems right.
Jesus calls us out in our text this morning (evening) when He says, "if anyone comes to me and does not hate, father and mother, wife and children, brothers and sisters, even his own life also, he cannot be my disciple."  Our contemporary ears are scandalized by such words.  Followers of Jesus are called to hate?  And worse than that we are called to hate that which God has commanded us in His Holy Law to love and honor?  But think and these things beloved.  Our text this morning (evening) is not about our coming to our parents but our coming to Jesus, following Jesus, being Jesus' disciple.  Of all those in our life who would we most likely be tempted to love more than Jesus?  Who would we most likely put before Jesus and His way?  Family and loved ones can quickly become idols in whom we see life and all good.  Today Jesus sets before you Himself and your loved ones.  Who alone leads to eternal life?  Who will you follow?  Who will you love above all others?  Who is your source of all joy and happiness?  Truly families are good and from families comes new life, the next generation but these do not lead to life they rather flow from it.  "For every good and perfect gifts comes down from above, from the Father of lights with whom there is no variation or shadow due to change."  Disciples of Jesus are to be followers of Jesus, not followers of the world, not followers of our families, friends, neighbors, or whatever vocation has been given to us but all that we are is to be following Jesus.  So the question put before us today is:  Are we following Jesus?  Does our vocation as parent or child, husband or wife, friend or neighbor, employer or employee flow from our following Jesus or is our following Jesus dependent on how such following fits in which our relationships?  When it comes to being a disciple of Jesus there is no equating the love we have for others with the love we owe Him.  Where we have failed in this regard we are called to repent.  Where we have wandered off we are called to return.  Where we have set down our cross, stopped building the tower, disengaged from the battle against sin, death, and devil, we must repent.
Coming After Him to Share what is His
To be His baptized children means to be His disciples.  To be His disciples means follow where He leads, as He leads, when He leads, no matter the temptations to do otherwise.  To follow Jesus as His disciple is to share in the Jesus' life.  His life was given you under water and the word.  That's what made you His disciple.  That's what made you His dearly loved child.  Under that water you were crucified with Christ and you were raised with Christ.  The Holy Spirit was generously poured into your heart and you were quicken to faith and new life in Him.  His life, the life given on the cross was given to you.  Your sins and death, what you have earned and what you deserve for eternity, were taken by Him.  What was old was made new.  What was sinner was made righteous. What was dead was made alive.  A great and mighty miracle was wrought beneath that water.  A wondrous deed was done by God's Spirit filled Word.  And it all happened so quickly, so uneventfully, so gently that it is easy forget what happened and so also who you are in Christ.
Its for this reason that we are called to be His disciples, to continually be coming to Him to share in His Words, His life, His mercy, love and forgiveness.  Thus being a disciple of Jesus is not a single event but a lifelong endeavor, it's not a few minutes or hours a week, but a daily drowning of the old under those waters and a daily rising again to new life.  Being a disciple of Jesus means being where Jesus is:  during the week that means serving your neighbor with the love and life of Jesus through your vocation.  And most importantly that means regular attendance in the Lord's House receiving that love and life of Jesus through Word and sacrament.  Life is spent during the week.  And life is renewed by God's Word of Christ crucified for you.  Thus the whole life of the believer is one lived in Christ, receiving from Christ His life and love and then living that life for others.
Building a Tower that Overcomes the Devil (Christian life in battle)
This is not something that you can just sit idly by assuming that it will happen all on its own.  This is not something you can do apart from Christ's Word and sacraments.  Jesus likens such a new life to the building of a great tower and the waging of a seemingly unwinnable war.  The task is too big.  The battle too fierce.  The temptation is quit and go with the flow, to make terms of peace with the enemy.  Too many who would be called Christian are content with such lazy discipleship putting worldly joys and the comforts of this life before faithfulness to Christ.  To be made a disciple is truly by God's grace and God's grace alone.  Salvation does not necessitate works on our part but is given as a gift solely for the sake of Christ alone.  But discipleship does involve work; building a tower and waging a war.  In no way does our Lord advise us against such labors but in fact sets before us the Christian life of discipleship in our text.  Jesus wants disciples.  Jesus wants builders and soldiers; that is those who upon hearing His Words and believing them put them into practice and through your vocation engage the enemies of humanity, namely sin, death, devil and hell.
This is not easy.  Oft times it is uncomfortable and inconvenient.  Loved ones will pull in different directions.  Neighbors will ridicule you.  Co-workers will judge you.  Families will be divided.  Circumstances will pressure you.  Your own wants and desires will work against you.  Your flesh will grow weary.  Your soul will grow faint.  It will be easier to follow them that it will be to follow Jesus.  The easy path will look better.  The broad path will seem more exciting.   Everyone will tell you that "this way" is the right way.  Following Jesus is bearing a cross because Jesus is leading you away from sin and death.  Jesus is leading the only way to the Father.  Jesus is the only way that leads to life eternal.
Life and Good, Death and Evil.  
Beloved in the Lord, today our God has set before us the way to life and all good.  That way is led by His Son.  Where Jesus is there is life and all goodness.  Today Jesus is here, in our midst, leading the way.  We can't see Him, not the way the world would see Him, yet we follow Him.  We walk by faith and not by sight.  The one we follow gives us His Word and His supper for the journey.  Our ears know His voice.  Our hearts burn within us as He forgives our failures, binds our wounds, strengthens weak knees, and quickens unto newness of life.  We can't see Him, not the way the world would see Him, but He is here for our good, for our life.  Without Him we are lost.  Apart from Him we are dead.  Where He is not there is no good. Therefore let us not be deceived by the devil, the world and our flesh, but let us listen to the Savior and heed His words, build that tower, fight the good fight of faith.  In Him we are more than conquerors.  In Him we cannot fail.  In Him we have eternal life and the final victory.  God grant such a life of discipleship for each of us today,tomorrow, and forevermore.  AMEN!
The peace of God which surpasses all understanding keep your heart and mind through faith in Christ Jesus.  AMEN!