Proper 17 — August 28, 2016
Sermon Text — Luke 14:1-14
Sermon Audio —
Grace, mercy and peace be unto you from God our Father and from our Lord and Savior, Jesus Christ!  AMEN!  Our text for this morning's (evening's) sermon is taken from St. Luke's gospel account the 14th chapter.
A. They Were Watching Him
Beloved in the Lord,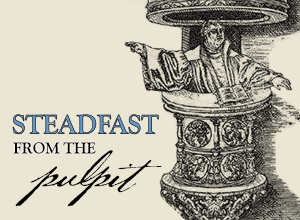 They were watching Him, but their eyes couldn't see His heart.  There were listening, but their ears were deaf to His Word.  It is the Sabbath and the teacher has been invited to a ruler of the Pharisees house for the traditional "Sabbath meal".  They were watching Him closely.  "Jesus was not invited as a friend, but how He might be sized up, trapped, used."  They were watching Him closely when all of a sudden in walks a man with dropsy.  We would call it edema today.  He was bloated.  His flesh full of water.  His status "unclean."
Why was he there?  Who invited him?  Well, the traditional show of piety was to have the door open for the stranger and the poor, which was fine, so long as some fool of a stranger or person in need didn't take this too seriously and actually come in.  The door was open, but no one really was offering any love or compassion, any food or sustenance.  The gospel calls our host a Pharisee, but you can also call him a Calvinist.  For either way, the door isn't really open to everyone, only the elect, only those invited.  The deceitfulness and hypocrisy of such people is made plainly evident by our Lord.  For this is not the Way of Jesus.
What would Jesus do?  They were watching Him closely, watching the so called Messiah's actions.  Would He heal on the Sabbath? Would He refrain from compassion?  Would He show himself to be a friend of the "unclean" or one who transgresses the Sabbath?  Either way, they were watching closely.
Is John Calvin right? Is God's grace really only for a few?  Or can we trust the Word.  Is Jesus for all? Is Jesus for infants?  Is Jesus for me?  Let us watch Him closely.  Heed His Word.  Hear His Heart and behold with the eyes of faith the Truth of God's salvation.
B. They were Silent, dumbfounded by the hypocrisy of their sin
What does Jesus do?  Seizing the moment to teach those "watching closely", the Teacher begs the question, "is it lawful to heal on the Sabbath?"  These assembled professors of the Law were speechless.  They were silent.  There were trapped, trapped in their own hypocrisy, not just in there actions, but also in their hearts.  For while everyone there was bantering over where they were going to sit, while their proud hearts all wanted the seat of honor, in walks a man of low estate.  He was unclean and in need. . . not so much of food, but of respect, compassion, love, and mercy.
These great and pious members of Jewish society, these teachers and lawyers, rulers and men of social persuasion didn't know the meaning of the commandment: "Remember the Sabbath day by keeping it holy" nor did they understand the second table of the Law:  "Love your neighbor as yourself."
How often do our hearts do the same?  How often do we withhold such things from our fellow man; respect for our neighbors, honor for those over us in authority, compassion for those less fortunate; the poor, the sick and infirm, those struggling with temptation and sin, those trapped in the clutches of an alternative, yet suicidal, lifestyle.  The world urges us to tolerate everyone. And Laws have been passed to enforce such behavior.  But this is not the way of our God.  Watch Jesus.  Watch Him closely.  What does He do?  How does He love?  Whom does He receive?  Are any ever left out?  Is anyone ever turned away?  His example reveals the heights of humanity as well as the depths of God's love for all; all races, all classes, all ages, all people, all sinners.
Watch Him closely, beloved.  What does Jesus do?  He heals the man on the Sabbath!  He does what the false piety of these Pharisees would not permit.  And dumbfounded by their hypocrisy they were silent, as also are we.  For we too have had our hearts shackled by false piety and pride, prejudice and hypocrisy.  The Word of God's gracious heart preached to us all too often has not been permitted to manifest itself on behalf of our neighbor.  And silence is all we can muster before the teacher's great love for all people.
C. The Lord of the Sabbath and a Marriage Feast
However, beloved, watch Jesus closely.  His lesson this morning (evening) is not about piety, nor is about humility.  It's not about social graces, nor is it about "how to give an awesome party for all the cool people in your life."  Watch Jesus closely.  Listen to His Word.  Behold His actions.  This morning is all about His heart, God's Heart.  For Divine love compelled Jesus to receive this "unclean" man.  Divine Love compelled Jesus to teach the Pharisees gathered around a meal.  Watch closely. For this morning (evening) is all about the grace of God.  The Pharisees got it wrong, therefore they also got the Sabbath wrong and the whole second table of the Law.
But not Jesus.  He gets it right.  He always gets it right.  And He gets it right for you.  For He is the Lord of the Sabbath and He cannot be trapped, at least not trapped anywhere He doesn't really want to be.  Trap Him in His Word and Sacraments and you will surely delight His heart.  Try to trap Him in sin and you will always fail.
In our text this morning, Jesus traps the Pharisees and us.  And He forces us to examine our heart in light of the goodness of His own.   Watch closely as He shows us His heart, not to condemn us, but to save us.  For the grace of God is for everyone.  The door is open and there within the walls of His church is a gracious Lord who has girded Himself with humility, having been stripped, crucified, dead, buried and then gloriously resurrected.
Today He stands ever ready to wash the unclean, to baptize them into His death and resurrection, forgiving all sin and raising them up unto newness of life.  Today He stands speaking kind words of absolution to penitent sinners.  For ours is a Savior who cradles sinful mortals with pierced hands and washes them with holy blood.  He is a Savior who tenderly speaks His heart to hearts that are despairing of sin saying,  "I forgive you."  And He is a Savior who spreads before us a table full of heavenly delicacies.  This beloved is the grace of God outpoured, proclaimed, distributed to any who come through His door, the narrow door, in repentance and faith.  And, contrary to these Pharisees, contrary to Calvin, it really and truly is open, open to all races, all classes, all ages, all people, all sinners.
B'.     Rejoicing in the Lord's House
Are you poor, lame, or sick?  Rejoice, Jesus is for you!  Are you suffering, despairing, or hiding?  Rejoice, Jesus is for you!  Are you struggling, laboring, growing weary with the daily grind?  Rejoice, Jesus is for you!  Whatever your circumstance, whatever your station in life, whatever sins beset you, whatever past haunts you, whoever you are, Rejoice, give thanks and sing!  Jesus is for you!  Jesus is a friend of sinners and He eats with them.  The happiness of being at the table with Jesus is a foretaste of the feast to which we are all invited.  Jesus is for you and He is for all.  Let us rejoice aloud with all the saints in heaven and on earth when it is said unto us, "Come, let us go unto the house of the Lord."  For in the house of the Lord He is good and most gracious.  His glory manifests itself in mercy and He forgives sins, my sins, your sins, everyone who believes the gospel.  His Word comforts hearts and His Sacraments nourish souls.
Take Him at His Word and come, come often, come and watch closely, listen intently, eat and drink frequently.  This is what it means to "Remember the Sabbath day by keeping it holy."  It means to receive from the Lord's bounty with trust and respond with rejoicing.  It means repentance and faith, confession and absolution, prayer and praise, hearing and singing, feasting and reveling in the Love of God outpoured for the world!
A'.     They were watching closely  
Beloved, Jesus was not invited to the Pharisee's feast as a friend.  They, who were trying to trap Him, instead were themselves trapped.  Jesus, however, invites you as a friend.  "Greater love hath no man than this that He lay down His life for His friends.  I have called you friends."   He is not trying to trap you, but to set you free, free from pride, false piety, selfishness and arrogance, free from prejudice and the clutches of a cold heart.  Setting you free with His forgiveness you are empowered to love, respect, honor, and serve your neighbor as Christ has served you.  You can open the door of your heart and love instead of tolerate, be compassionate instead of uncaring, a friend rather than a stranger.    Watch Jesus closely.  Watch what He does.  See His heart in action.  Believe His Grace is for you and for all. Come through the open door.  AMEN!
The peace of God which surpasses all understanding keep your heart and mind through faith in Christ Jesus.  AMEN!