Sermon Text — John 20:19-23
Installation of Pastor David Dodge at St. John's Lutheran Church in Port Hope MI.
July 31, 2016
In the Name ✞ of Jesus. AMEN!
Beloved in the Lord, dear servants of Christ's Church, David, my brother in Christ and friend,
Our Problem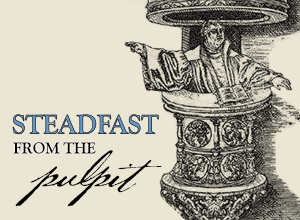 We have a problem. I know, not what you want to hear this afternoon as we gather to celebrate your installation, but the Spirit compels me to say something. We definitely have a problem here. No, it's got nothing to do with the parsonage, or the fact that there's several millennials in the parking lot looking for pokemon. It's not about tonight's meal – there should be enough for everyone. It's not about the church's finances, her ministry, worship style, or the demographics of her members. It's certainly not about her past, present, or future. It's the same problem the disciples had in our text. It's what puts us behind locked doors, keeps us from friends and family, turns us inside out, makes us anxious, and causes us to hide. I know . . . no one wants to hear about it. And after we've all gone today, they still won't want to hear about . . . but someone's gotta say it. David, you're a sinner. Beloved in the Lord, this man before you is a sinner, and so are you, so am I, so are they.
The disciples were afraid and hiding for fear of the Jews, not because of the Jews, but because of death. Death had taken Jesus and if death can take such a miracle worker from their midst, death can easily take them. The wages of sin is death and no one wants to die, no one wants to suffer, no one wants to be uncomfortable, but at the same time no one likes to repent. These men in our text should have known better. They had Jesus' own words while He was with them, that Jesus was going to be betrayed, put to death and on the third day rise from the dead. But they didn't understand. They had the testimony of the women who went to the tomb early in the morning finding the stone rolled away. But such words were idle tales to them. Several of them even saw for themselves, Peter and John ran to the tomb and found it just as the women had said – and rather than go and meet Jesus in Galilee as they were instructed they remain in Jerusalem, remained in their unbelief, remained behind locked doors bound to their fear, their sin, and death. This is a problem. This is not only their problem, it's our problem, it's your problem. We have a sin and death problem.
His Office of the Ministry
What's the answer to such a damning problem? What's the answer to your problem? It's what we all learned in Sunday school. The answer is Jesus. The answer to sin is always Jesus. And what does Jesus do to remedy this problem. The Sunday school answer is that Jesus dies and rises again. And that is most certainly true but that's not the answer we get in our text. Jesus did die. And Jesus did rise. Just because Jesus makes His way through locked doors and shows up alive doesn't necessarily mean good news for these disciples. They all pledged themselves to Him. They all said they would never deny Him or betray Him. And what happened? They all ran away. They all abandoned Him . . . because they were afraid to die with Him. They all were cowards. So when Jesus shows up in that upper room the disciples fear only gets worse. What if He's mad? What if He's come to take vengeance? What if He's come to scold them, wag his finger at them, judge them, condemn them? The heart of everyone in that room is no doubt filled with uncertainty. That's what sin and unbelief does – it fills the heart with uncertainty which leads to fear and hiding from God and from our neighbor.
Jesus doesn't want that for these men. Jesus doesn't want that for you, David. He doesn't want that for His people, or any person for that matter. Jesus doesn't come with fists clenched and vengeance in His hands but He shows them the print of the nails, hands open with the marks of His love for all to behold. And just so there's no confusion He speaks peace. He gives forgiveness. He applies what He's done in dying and rising to their hearts through the Word.
In other words He exercises His holy office of the ministry. That's right. It's His office. It's not the pope's office governed by a single bishop in Rome. It's not the people's office who often think anyone can be a minister. It's not even the church's office to do with or without as she pleases. It's His office. And through this office timid and sinful hearts are to receive what He's purchased with His holy precious blood and His innocent suffering and death.
His Work
David, like the disciples in our text, you have been ordained into this office. Today, you are installed in this place to exercise this office publicly for the good Christ's people. Your task, as you well know, is exercise Christ's Holy office with faithfulness and to adorn this office with a godly life. You are to set before this flock the marks of Christ's passion and the peace which surpasses all understanding. You are to hear confession and give forgiveness. You are to seek the lost, instruct both young and old alike, visit the sick, rebuke the proud and encourage the broken hearted. You are to cleanse the unclean with Water and the Word, feed those who hunger for righteousness with the bread of life, give those who thirst to drink from Christ's cup blessing. In all these things you are to preach Christ and Him crucified for each and every one who crosses the threshold of those doors, who darkens your office with their sins, who longs to find rest in the house of the Lord. By reason of your ordination and installation you are to be Christ's servant in this place for Christ's people. Remember, it is Christ's office. You are Christ's servant.
On the other hand you are NOT to seek out new ways of doing church thereby causing the faithful to stumble. You are NOT to confuse God's Law and God's gospel which burdens Christ's sheep with the idea that there is something they not only can but should offer to God for their salvation. You are NOT to chase after every new fad that comes from the church growth gurus, or even district or synodical officials and is peddled on the shelves of many so called "Christian" bookstores. You are NOT to give in to the whims of a fickle flock who might desire something other than Christ's Word and Sacraments. You are NOT installed today in order to enact or create some new vision for Christ's church. You are not pope, you are not lord. It's not your office. It's not the church's office. Remember, it's Christ's office. You are His servant and are given to do His Work in this place showing forth His heart to His people.
The Mouth and the Voice
Dear flock, our Lord has given you this man to fill His office in your midst. He is the mouth of Christ for you. The office he holds is a divine office because it is Christ's office. Therefore, hear this man as you would hear Christ for He brings you Christ's Word. Look not to the man himself, but look to the office he exercises. For when your pastor deals with you according to Christ's word and office, when he terrifies you with God's law, when He comforts, rebukes, admonishes and absolves according to Christ's Word and gospel you should receive it with faith not because Dave Dodge says so, but because Christ says so. For this office has the promises of God, for Jesus says, "As the Father has sent me I am sending you. Whosoever sins you forgive they are forgiven. And whosoever sins you retain they are retained." And again He says of His servants, "whoever hears you hears Me and whoever hears Me hears the One who sent Me."
Therefore do not grumble or complain about his preaching style any more than you would grumble or complain about Christ. Do not ask him to conform to the world's way of doing things but allow yourself to be transformed by the renewing of your minds through the preaching of Christ crucified. For through this office, held by this man, Christ Himself is working to save you. When the pastor baptizes, it is Christ taking the children into His arms. When the pastor is preaching it is Christ Himself breathing His Holy Spirit upon you. When you go to confession it is Christ hearing and Christ forgiving. When you come to this altar, though it is David's hands you see, it is Christ' body and blood you receive for the forgiveness of your sins. Your pastor is not here to give you himself, he's here to give you Christ. Remember, it is Christ's office, not David's, not yours, but Christ's office for you.
The Peace of Christ
Beloved in the Lord, we certainly have a sin problem. This sin is messy, uncomfortable and damning if left hiding in our own personal upper rooms. The answer to our sin problem is Jesus. The answer is always Jesus. And where is Jesus found? How does He get to me? How do I get to have Him? In order that we may obtain the faith that saves us from sin our God has instituted the office of the ministry that is the Word and the Sacraments. Your eternal salvation is bound up with this office because through this office Christ does His holy work on you and in you. He seeks out sinners and He forgives sin. Your pastor is here, as a called and ordained servant of Christ and by His authority, to meet your sin problem with the marks of Christ's passion and the Words of His peace. You are here to receive it from Him as from Christ Himself. Do not doubt it but run to get it. Do not hide from it, but come out of your upper rooms and lend your ears to the Savior's Word of peace. Don't reject it, add to it, try to change it, or make it more comfortable to your ears, but receive it, believe it, honor it, and then share it with those around you. For Christ has not come as your judge but to be your savior. For Christ has not come to leave you in your sins but to forgive you. And, Christ has not come for you alone, but for all people even those who have yet to hear Him. In the Name of the Father and of the Son and of the Holy Spirit. AMEN!
The peace of God which surpasses all understanding keep your heart and mind through faith in Christ Jesus. AMEN!