July 17, 2016 — Proper 11
Sermon Text — Luke 10:38-42
Sermon Audio —
Come back later for the audio of this sermon.
Choosing the Good Portion
Grace, mercy and peace be unto you from God our Father and from our Lord and Savior Jesus Christ. AMEN! Our text for this morning's (evening's) sermon is taken from St. Luke's gospel account the 10th chapter.
Beloved in the Lord,
To Rest or To Teach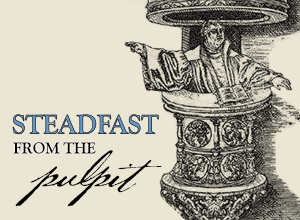 Jesus' journey continues. We, with the disciples follow along. He is with us and we are with Him. The road is weary. The world is contrary. The burden is heavy. The time for rest has come. Foxes have holes and the birds of the air have nests but the Son of Man has no place to lay His head. Martha welcomes Jesus to her home. Customarily, she is the hostess and Jesus and his disciples are the honored guests. Martha's home can be any home, your home, even this home, where the Lord would reside for the night, the week, or the season. Martha's house can even be a picture of this house, this place where Jesus promises to be, where the disciples gather and the Lord sits upon His well-deserved throne.
As hostess Martha sets out to serve. That's what the mistress of the house is given to do when honored guests arrive. That's what Martha intends to do for Jesus and His twelve. There's work to be done! Food to be prepared. Drink to be offered. Comforts to be tended to. As Abraham and Sarah labored to be hospitable for three men come to their tent, so Martha with love and devotion diligently conducts her domestic duties. Everything must be the best! Everything must go right! Everything must be done with attention to detail. Jesus has come to the house. Anything less than faithful service would be a great offense to her guests, to Jesus.
Wrong Assumptions lead to bad distractions
We, like Martha tend to receive the Lord's presence in our home and in our church the same way. Though we conduct ourselves in sincerity and seek to serve our Lord in everything we do, we often do when we should resting and we rest when we should be doing. For we do for Jesus but cease doing for our neighbor. We, like Martha become distracted and anxious with many things, pulled in many and various directions, allow the world, the devil, and our own sinful inclinations to get the best of us, to establish our priorities, to define what it means to welcome the savior and serve God. Martha had every intention of being a good hostess for Jesus, the best hostess she could be. But that is where Martha goes wrong. And that is where we often go wrong.
Listen to Martha as her "serving" gets the best of her heart. "Lord, do you not care that my sister has left me to serve alone? Tell her then to help me." Though she no doubt is doing everything out of love for Jesus she turns on her sister. Mary isn't helping. Mary is listening. Martha wants to listen but there's work to be done first. That is the problem with our Old Adam. We always want to get our work done before taking time to listen to the Lord. But . . . there's always more work to be done, always someone to help, always jobs to do, dishes to wash, children to feed, homework to accomplish, overtime is often demanded. There's places we need to go, people we need to visit, shopping that needs to be done, time to spend with family, time spent doing something for someone somewhere. Like Martha, we become pulled in many and varies directions, always pulled somewhere other than to the feet of Jesus. Thus we don't actually rest, we don't have time to rest. We get tired, worn out, weary from our serving and then we begin to resent those around us. Our "work first rest later" attitude gets the best of our heart. We turn against our neighbor, even calling on Jesus to justify our assumptions.
The One Needful Thing
Jesus calls Martha and us to repent. "Martha, Martha, you are anxious about many things." The Lord knows our heart better than we know our hearts. He tells us plainly, gently but plainly what's really going on. We have become anxious about less needful things. One thing is needful – that is to sit at the feet of Jesus and to listen. Martha needed to stop doing and start listening to Jesus. Jesus has not come to her home to be served but to serve, the Son of Man has not come to be served but to serve and to give His life as a ransom for many, for her and for you. This giving of His life flows from His heart for you and culminates with the giving of His life on the cross. "For God so loved the world that He gave His only-begotten Son." "This is love, not that we loved God but that He loved us first and sent His Son to be a propitiation for us." "For while we were still yet sinners Christ Jesus died."
But the cross does not end His life giving heart, the cross puts to death the devil, the world, and our own sinful nature so that risen from the dead Jesus continually gives His life through the preaching of His Word. His Word connects His heart to our heart. His Word shares His life, gives His life, communicates His life to ours and thus gives us rest.
The works of God that we are to be doing is to believe in Him whom the Father has sent. We are to believe that the one whom the Father has sent, Jesus His only-begotten Son, has done the work needful for our salvation. That the death and resurrection of Jesus has atoned for our sin and now sets us at peace with our Father in heaven, that He who knows the number of hairs on our heads, and doesn't allow the passing of a single sparrow without His knowledge, has also adorned us with a righteousness that exceeds the lilies of the field and endures for eternity.
Choosing the Good Portion
To welcome Jesus is to receive Jesus. To receive Jesus is to believe this Word and thus also receive the One who sent Him. This is the one needful thing! This is the good portion. This is the bread of life for Jesus is the bread of life. Man does not live by bread alone, nor by the sweat of his brow or the strength and merits of his works. Man lives by every Word that proceeds from the mouth of God. The Words proceeding from the mouth of God are given for life, your life, eternal life, an abundance of life because such words give the Life, death, and resurrection of Jesus Christ! This is God's Work. This is Divine Service! This is what it means to rest. This is observing the Sabbath day and keeping it holy. For we should fear and love God so that we do not despise preaching and His Word but hold it sacred and gladly hear and learn it.
Mary has chosen the good portion. Mary made a choice to not work in the presence of Jesus but to let Jesus do His Work for her and in her through the hearing of His Word. Much of your anxiety is not only because of your sin, death, devil and hell, but because you choose the wrong portion. While you cannot do anything to save yourself, while you cannot choose Jesus, nor can you by your own reason or strength believe in Jesus Christ your Lord, all of God's Works are given as gifts to be received, YOU CAN CHOOSE COME TO CHURCH! You can choose to attend bible study. You can choose to be where Jesus has promised to be delivering His gifts. You can choose to read your bibles. You can choose to spend time in prayer. You can choose to set aside time for daily devotions. You can decide to say grace at meals. You can be echo Joshua who said "chose you this day whom you shall serve. As for me and my house we shall serve the Lord." To serve the Lord is to be hearing His Word for there is no greater or more splendid work than the receiving and hearing of the Word of God.
Never Taken Away
Beloved in the Lord, let these word ring true not only in your hearts but also in your homes. For what is proclaimed here in this house is to be taught in the home and confessed in the world. When Martha welcomed Jesus into her home Jesus entered in order to teach. Martha assumed to be host and Jesus the guest. Her assumptions led to distractions which turned her against her sister. She chose poorly. Mary recognized the Savior's presence was for her and that His presence was given to her through His Word. Martha was not the host of this meal, Jesus was. Wherever Jesus is there He is giving Himself through Word and Sacrament, there He is working the works of God in hearts that hear and believe, there He is as servant. This church is such a place, but this need not be the only place for the Lord desires to enter your homes and dwell there not as an honored guest to be served but as a gracious God who serves His children with words of life and salvation. Therefore, let there be a home altar that mimics this altar. Let there be time set aside daily that flows from this holy time. Let God's Word echo in the home even as it thunders in this house. Let there be times of prayer and devotion and singing with one another in psalms, hymns and spiritual songs. Let the Word of God dwell in you richly
Think on these things beloved, of all that you possess in this life, what do you have that will not be taken away from you? Family, friends, jobs, possessions, health and wealth? No, all of these will pass away. Jesus says, "Heaven and earth will pass away but My Words shall never pass away." The one needful thing lasts. The good portion is never taken away. The Word of the Lord endures forever as do those who believe it. AMEN!
The peace of God which surpasses all understanding keep your heart and mind through faith in Christ Jesus. AMEN!