Sermon Text: Luke 10:1-20 [7th Sunday after Pentecost]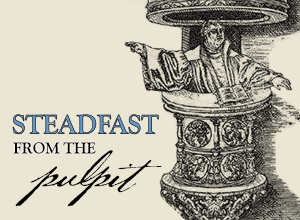 In our Gospel lesson this morning, we see Jesus appointing the "seventy-two."  These men, who went out two-by-two, were what we today call "evangelists" or "missionaries."  Their job was not to serve existing disciples of Jesus with the Word and Sacraments, but to "boldly go where no disciple has gone before."  The job of the seventy-two was basically to be "salesmen for Jesus." Their job was different from the twelve apostles, who were to accompany Jesus every day from the beginning of his ministry until his ascension and thereafter to serve as eye-witnesses of his work, his teaching, and his resurrection.  Their job was also different from pastors, who were appointed by the apostles to serve in one location, not travel from town to town.
Jesus gave the "seventy-two" specific instructions.  They couldn't carry a moneybag, wallet, or purse.  They couldn't carry a knapsack with a change of clothes, blanket, or other necessities.  They went barefoot.  They were to travel without interruption from one village to the next.  When they entered the town, they were to announce their business with the words "The kingdom of God has come near to you!"
If there was a Jew or God-fearing Gentile who was waiting for the kingdom of God, then they were ask that person to feed and lodge them during their stay in that village.  They were not to complain about the food or lodging, but take whatever was given.  If there was no person who would show them basic hospitality, then they were not to stay there, but shake off the dust from their feet and testify "The kingdom of God came near to you today!"
If the people of a village accepted the evangelists that came to them, then they were to heal their sick and cast out demons in the name of Jesus.  This prepared the people of that village for Jesus' own visit, maybe several days or several months later.  Jesus would then heal the rest of their sick and cast out demons the evangelists could not exorcize.  Jesus would always teach the people about the kingdom of God, and if they accepted his teaching, would bless them and return to visit them on his travels through the region. This was the beginning of congregations in those towns and villages in Judea, Samaria, Galilee, and the surrounding region.
The work of the "seventy-two" was continued in the era of the apostolic church after Pentecost.  The book of Acts records the travels of Philip the Evangelist (Acts 8:4-8, 26-40), the Apostle Peter (Acts 9:32-11:18), and especially the Apostle Paul, who traveled in tandem either with Barnabas or Silas. The apostles, for their part, commissioned evangelists and missionaries to take the Gospel to the uttermost parts of the earth.
It has been almost two thousand years since the "seventy-two" first went out to preach the Gospel, heal the sick, and cast out demons.  As of the beginning of the twenty-first century, the Gospel has been heard and congregations started in every nation of the world.  But that does not mean that everyone has heard the Gospel.  There are still numerous ethnic groups that are isolated by language or class from the groups that missionaries have reached.  There are also nations whose leaders have persecuted Christians, leaving them with little or no church standing today.  It is to such people that Christian missionaries are sent today by our Lutheran Church-Missouri Synod1, and by many other church-bodies.  On our church bulletin board, you can see a map of where our Missouri Synod missionaries work,2 and also read newsletters from Rev. Alan Ludwig in Siberia3 and Dr. Michel Paul in Taiwan.4
Do each one of you have a call to "evangelize" like the "seventy-two" did?  Not directly and not as they did.  Your "call" is to serve in your various vocations as husband or wife, father or mother, son or daughter, student, employer, employee, neighbor, and citizen.  Some of our young people may someday decide to become missionaries or full-time church-workers, and then they will be called directly by the church instead of by Jesus.  We Lutherans believe that Jesus gave the church authority to issue such calls.  So we do so in his stead, and in the confidence that he will bless their work wherever they go, so long as they are faithful to their calling.
Does this congregation as a group have a call to "evangelize" its community?  Yes.  Reaching out and bringing in people from the community into the congregation has been the job of congregations ever since they were started by Jesus and the apostles.  A congregation that does not reach out and bring in people from the community will eventually die when its last old member dies.  This is not rocket science, just common sense.
How do Christian congregations reach out and bring in people into the congregation?  First, by personal evangelism, i.e., when you talk about Jesus and the Gospel to the people you know.  Such people as your spouse, your relatives, your neighbors, your classmates, your friends, and co-workers.  This is the essential activity of any outreach program in a congregation.
Second, outreach happens by religious education.  For Roman Catholics and Missouri Synod Lutherans, parochial school education at all grade levels, including college, is a major way in which they reach out to the community and to the next generation.  Even though we have not been members of the association for over fifteen years, you can as an individual support Evansville Lutheran School5 with your donations, your prayers, your moral support, and by recommending to parents that they send their children to ELS.
Third, outreach happens through cooperative work with our sister congregations, such as is done globally and nationally through the Lutheran Church-Missouri Synod and locally through the Lutheran Mission Action Council of Evansville, or LMAC.6  LMAC's newsletter is posted on our church bulletin board and talks about their many activities, including the food pantry, counseling services, and ministry to people with developmental disabilities.  The most significant work of LMAC is the Chinese-American congregation started by Pastor Michael Paul and continued by Pastor Tich Luu.  You can as an individual support the work of LMAC with your donations, your prayers, your moral support, and by recommending to Chinese-Americans that they join that congregation.
Fourth, outreach happens when a local congregation decides that it wants to be formally active in the work of evangelism.  Committees are appointed, various activities are started, and lay evangelists receive training so that they can go out into the community and reach people for Christ.
Finally, although it seems obvious, outreach happens when the government permits it.  We Christians in America have been blessed by God to have the freedom to not only worship without government interference, but also to evangelize and reach-out without government interference.  But this latter freedom is slipping away, little by little.  There are people in this country who want to limit our religious freedom and shut-down the proclamation of the Gospel and the teaching of Scriptures.
Our synodical president, Matthew Harrison, was one of the national religious leaders who boldly stood up against the Obama administration's HHS mandate in February 2012.7  The HHS mandate, which was a type of law, required that all religious organizations that were not houses of worship had to pay for the abortions of their employees, or be heavily fined by the government. This mandate discriminated against religious organizations that are opposed to abortion on demand.  Institutions like Christian schools, hospitals and charities–which educate the young, care for the sick, and feed the hungry—were not considered sufficiently religious by the Obama administration to qualify for the HHS mandate's narrow "religious exemption."  The U.S. Supreme Court recently exempted the "Little Sisters of the Poor" charity from the HHS mandate, so Christians won this battle–for now.
The most recent threat to our freedom to evangelize and reach-out without government interference is Senate Bill 1146 in the legislature of the state of California.  This directly affects our Concordia University at Irvine in California.8 It discriminates against religious organizations that uphold the Bible's condemnation of homosexuality.  The bill allows faculty, staff, and students to sue religious colleges and universities, seeking monetary damages and injunctive relief, if the person believes he or she has been denied equal rights or opportunities on the basis of gender identity, gender expression, or sexual orientation at a religious institution.  This bill will force religious colleges and universities to either agree with the gay-lesbian political agenda or go out of business.  It is too early to tell what the final form of that bill will be and how it will be received by the Supreme Court if contested by churches in America.
If you care about evangelism, missions, and outreach here in America, you should be concerned about whom you elect to represent you in government.  "Bible-believing" Christians like us should be wary of candidates for office who have a record of discriminating against religious organizations that uphold the authority of Scriptures, or candidates for office who go on record with discriminatory statements against conservative Christians and Bible-believers.  If you let such politicians get the upper hand, evangelism, missions, and outreach in accordance with Scripture will eventually be silenced in this "land of liberty."
On this weekend of our national independence, may our Lord hear our prayers, so that the Gospel may go forth with freedom in this land and in every land until the Kingdom of God is finally established when He returns.  In Jesus' name.  Amen.
NOTES
1. See: http://www.lcms.org/mission-and-outreach
2. See: https://www.lcms.org/resources/worldmap
3. See: http://www.lcms.org/ludwig
4. See: http://www.lcms.org/paul
5. See: http://www.evansvillelutheranschool.com
6. See: http://www.lmac-evansville.org
7. See the following reports and resources on the HHS mandate:
8. See the following reports and resources on California SB 1146: