June 12, 2016 — Proper 6
Sermon Text — Luke 7:36-50
Sermon Audio —
Grace, mercy, and peace be unto you from God our Father and from our Lord and Savior, Jesus Christ.  AMEN!  Our text for this morning's sermon is taken from ST. Luke's gospel account the 7th chapter.
Beloved in the Lord,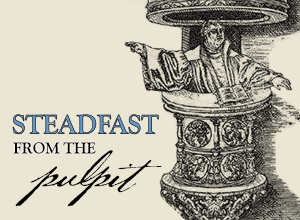 Man likes to Measure
Way back when the Motown group the Contours sang,
Some fellas look at the eyes
Some fellas look at the nose
Some fellas look at the size
Some fellas look at the clothes
I don't care if her eyes are red
I don't care if her nose is long
I don't care if she's underfed
I don't care if her clothes are worn
First I look at the purse!
Man likes to measure things.  Not just men, but women and children too.  It's in our fallen nature to measure, to compete, to judge.  After all Protagoras said it first, "Man is the measure of all things."  In other words, Man sizes everything up, compares and contrasts, makes a determination and decides for himself what is good, what is moral, what is bad, who is sinner.
Simon, a Pharisee, has invited Jesus to an after synagogue meal.  He's not necessarily looking for fellowship or for an opportunity to hear more of Jesus' words.  The meal is an opportunity to make a measurement, to size up Jesus, determine if He's really a prophet, to decide for himself the value of this Man from Nazareth.
Simon invited Jesus.  Simon did not invite this long haired weepy woman who obviously is a sinner.  Simon has already measured her.  She doesn't add up – at least not when compared with himself.  She doesn't deserve to be there.  She doesn't deserve fellowship, to eat and drink with the worthy ones.  The woman is a sinner.  And sinners don't eat meals with prophets, rabbis, or really pious Pharisees.  She's out of her place.
Measuring:  Ourselves, our Neighbor and Jesus
We're all like this woman.  Not because Simon says so but because God says so and our conscience says so.  We know it.  We feel it.  Our lives are out of place.  We're broken. We're hurting. We irrational at times. We're emotional at times.  We put on a proud face to the world covering over a despairing heart.  We want to measure up to everyone's expectations.  We want to be affirmed. We want to be encouraged. We want someone to tell us we're doing good, to praise us for our efforts or even just our intentions.  We're all like this woman but we don't want to be.  We want to be like Simon.  We want to be in place.  We want our lives in order.  We want a seat at the table because someone has recognized our value, our works, or efforts.
In truth we all want the wrong things.  Our text this morning rebukes Simon and everyone like him.  Jesus has no good  for Simon.  Simon doesn't measure up. Simon in the one who's out of place because Simon is being dishonest.  He's looking at his neighbor and measuring Jesus rather than looking at Jesus and loving his neighbor.  Simon sees Jesus and this sinful woman in comparison to himself.  "If this man were a prophet" he's not which is obvious now, "If he were a prophet, He would know what sort of woman is touching Him."  Pharisees don't eat with sinners. Prophets don't let sinful women touch them, not even their feet.  This Jesus can't be a prophet, let alone the Messiah.  If He were a prophet He would be showing more attention to me, looking at me, listening to me rather than allowing Himself to be distracted from me with this sinful woman.  Simon is a very proud man.  We shouldn't want to be like Simon – a person who denies His debt to God and to his neighbor.
Paid in Full:  A Debtor's Gospel
Jesus doesn't want anyone to be like Simon.  And Jesus doesn't necessarily want anyone to be like this woman whom Simon measures up.  To reach out to Simon, sinners, and this sinful woman Jesus tells the parable of the two debtors.  Simon and this woman, you and me, we all have a debt to God.  But our God is a God who forgives our debts.  Jesus is a Messiah who cancels our debts.  Simon is dishonest.  He denies his debt.  "If we say we have no sin we deceive ourselves and the truth is not in us."
Jesus on the other hand is not only honest but real.  He deals with reality.  And the reality is that we have nothing with which to repay God our debt.  As scripture teaches, "no one is justified by the works of the law."  This is reality.  And because this is reality Jesus doesn't leave us to ourselves.  Jesus doesn't let us remain covered with our fig leaves. Jesus doesn't even let us remain in the bushes hiding from and therefore from life.  Our God, the God of the Bible, the God of Abraham, Isaac and Jacob is the God of the living, the God who seeks after sinners, draws near to sinners, eats with sinners and forgives sinners their sins.  It's for this reason The Son became flesh and it's for this reason Jesus suffered and died.  For on the cross God measures all sinners and finding us guilty, even damnable, He punishes our sin, calls our debts, even damns us all the while punishing and damning Jesus.  Therefore when Jesus cries out "tetelesthai" IT IS FINISHED He announces to the world, to Simon, this sinful woman, and to all sinners that our debts have been PAID IN FULL.  There is nothing more to add.  The blood of atonement has been spilled.  There is nothing more to do, the righteousness demanded by God's law has been fulfilled.  There is nothing more for us to give.  Jesus has given His life.  That's right!  Jesus has given everything, His whole life, all His good works, all His lifeblood to win your salvation.  TETELESTHAI!  It is finished.  This one Greek word is the debtor's Gospel!  The Crucified Word made flesh is God's Word to sinners, to you and me and all people.  It's done.  It's over.  'Nough said!
And having paid the debt, having suffered the punishment, having wrestled the wages of our works into the grave our Lord left them buried forever when He rose on the third day.  Where God's word once called for justice, now resurrected never to die again, God's Word brings peace.
Forgiving
Jesus has good words for sinners.  "Your sins are forgiven."  What better words could we hope for?  What purer words could He speak?  What more does this sinful wish from Jesus?  "Blessed is the man whose transgression is forgiven, whose sin is covered.  Blessed is the man to whom the Lord does not impute iniquity."   To receive the forgiveness of sin one cannot be like Simon but rather like the sinful woman.  She makes no pretenses.  She holds no delusions either about herself or about Jesus.  She's heard God's heart.  And God's heart is one of mercy.  "I desire mercy not sacrifice says the Lord."  God delights in showing mercy to sinners and only sinners.  For us sinners we find justification in Christ not in the works of the law, not in the things we say or do or feel but only in Christ.  Seeking to justified by Christ we find ourselves to be sinners.  We confess reality.  More than that, we believe it.
Indeed beloved, confess the truth and do not deny that you are a debtor to God, that you have a debt with which you have nothing to repay.  For "if we confess our sins God who is faithful and just will forgive our sins and cleanse us from all unrighteousness." Your life is a mess.  My life is a mess.  We are all full of sin and like this sinful woman are in dire need of Christ's gracious words, words with which He longs to bathe you in baptism, speak to you in absolution,  and feed and nourish you in the blessed supper.  All of these give the forgiveness of sins.  All of these flow from His Works on the cross and give the resurrection.  All of these give life and give it abundantly because they give Jesus Himself.
Love Keeps no Records
Beloved in the Lord, it is the hearing, receiving and believing these Words which set us in the right place before our Savior and before our neighbor.  Without these words ringing in our ears and working in our hearts we default in our debt to God and our neighbor.  Hearts grow cold and eyes grow dim.  But we who believe these words begin to see rightly because we see Jesus for us and not against us.  The heart that sees Jesus rightly we begin to see their neighbor in a new light.  Love from God will warm the heart and eyes will be open to the least of these His brethren.  Rather than turned away from our neighbor we will be drawn to them, to love them with the love which we received from Christ and serve them even as He has served us.  It is the unbelieving world that looks at the purse, measures, judges, and condemns based on size, talents and treasures.  Christians look to Christ not for affirmation but for mercy.  Christ is with His bride, the Church.  His Christians are bowed low weeping in repentance and anointing His feet with the fragrance of faith, kissing Him in the sacrament.  Let us who would be called Christian therefore repay love for our debts, charity for gift, grace for wealth.  He to whom more is given loves much more.  Go in peace.  Your faith has saved you.  AMEN!
The peace of God which surpasses all understanding keep your heart and mind through faith in Christ Jesus.  AMEN!