June 19, 2016 — Proper 7
Sermon Text — Luke 8:26-39
Audio —
Jesus is Between Us
Grace, mercy, and peace be unto you from God our Father and from our Lord and Savior, Jesus Christ.  AMEN! Our text for this morning's sermon is taken from St. Luke's gospel account the 8th chapter.
Beloved in the Lord,
A.      Man from the Tombs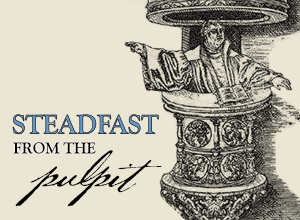 Stepping out of the boat Jesus is met by a man from the tombs.  He is a man unlike others, though very much like all.  He is possessed by the devil, under the rule of a legion of demons.  He is naked and his strength can break chains.  He is a man unlike many others.  But this man is also a gentile.  He is unclean to the Jews.  He is unclean because of unbelief.  He is unclean because of sin.  Together with his legion this man is the epitome of all men apart from God.  He is the most unclean, living in an unclean place, with an unclean people, surrounded by unclean animals.  He is a man unlike others but he is also very much like all people.
He is the man from the tombs.  Like all who are apart from the true God, this man lives in death.  Death surrounds him. Death is everything he sees, everything he smells, everything he thinks, everything he speaks.  He is an enemy of God and his neighbor.  He is a picture of the gentiles, a picture of humanity, therefore also a picture of you apart from Christ.
How many men, husbands, fathers, live like this man from the tombs?  How many set their hearts upon sin?  The wages of sin is death, and when the heart is set upon sin, the heart is then set upon death.  Most of societies ills are the result of our men living like this man neglecting the righteousness of God.  Divorce, adultery, abandonment, child abuse, abortion, sexuality promiscuity, teen pregnancy, prostitution, drugs, alcohol, laziness, greed, theft all can be traced to the failures of the head of creation.  To be sure women also have their role in sin and these social ills, but if our men stepped out of the tombs and sought to do right, much of these would be non existent.  The fact is, too many of our men have been trouncing about the tombs, and too many of our women have been with them, dated them, married them, indulged themselves with them.  What about you guys?  Been in the tombs lately?  What about you girls?  Is this the kind of guy you want?
B.       "What's between Man and Jesus"
Darting from the tombs to the feet of Jesus this demon possessed man begs for mercy – though not the mercy we would expect.  "What's between me and you Jesus, Son of the Most High God?  I beg you, do not torment me."  The time for torment is not yet.  The demons, knowing full well who Jesus is and why He has come, plead for mercy, but not salvation.  They only wish to be spared the tormenting presence of Christ.
They ask a good question.  "What is between me and you Jesus?"  It is a question humanity asks all the time.  It's a question most men ask when their wives want them to go to church.  "What's between me and Jesus?"  Why do I have to go to Church?  What do I need Jesus for?"   It's as though coming to church were torture, as though being in God's presence were tormenting.
The answer of course is that there is something between us and Jesus and that's why we don't want to be too near Him.  That something is called sin.  We are blind, dead, and enemies of God.  So who wants to be close to their enemy?  Our Old Adam is constantly fighting, wrestling, doing everything he can to convince us to stay home, sleep in, or even work on Sundays, you know occupy our time with other things.  The last thing Old Adam wants is to be near Jesus.  That would be tortuous.  Because Jesus has come to kill the Old Adam and give new life in Himself.  Jesus has come to change us and we don't want to change. We're comfortable with who we are, our lives, our status, our sin.  At least we tell ourselves we're comfortable with these things.
But life is anything but comfortable.  There's much around us to tell us that we're broken.  We get sick.  Marriages fail.  Loved ones rebel.  Friends betray us.  The pressures and stress of the world are heavy on our shoulders.  We sin and sin happens to us.   There's little peace, little joy, little happiness.  Some of us even wish we were dead already.
Beloved, the tempter doesn't need to possess us in order to keep us in the tombs.  We were born there. The tombs, the unclean life, the desire for sin, that's all natural to us.  It's our fallen natural state and we keep going back to it.  We need to be rescued.  Our men, need to be rescued.
C.      THE Exorcism – Baptism
That rescue is found in Jesus.  Jesus isn't like any man.  The men of the village tried to bind the demon possessed man.  Humanity always tries to bind the sinner with the law. But the Law is always broken.  Old Adam is too strong.  Jesus hasn't come to bind but to loosen.  He's come to set the captives free.  You see, all who are apart from Christ are already bound. They are bound to sin, bound to death, bound to the power and strength of the devil.  They are not free men, but slaves.  Yet, man in his arrogance believes that apart from God he is free, free to do as he wants, free to make himself happy with sin, free to be his own god, religion is only one of man's shackles needing to be broken.
It is not religion that needs to be broken.  It's not God who needs to be cast out.  It is sin.  To cast out sin, Jesus must take it, and take it all.  He must take it unto Himself and bear it outside the city walls.  He must take it and kill it.  Taking it and killing it, He dies.  He enters the tomb for this man, for this village, for all men, for all people.  He enters the tomb with our sin, with our death, with the power and might of the devil, and he rises out of it.  He steps from the grave like stepping from the boat.  He is alive, resurrected, victorious.  Everywhere He goes, He goes to set the captives free with the forgiveness of sins.
What happens in our text is a foreshadowing of what happens in Baptism.  The demons are cast out and enter the swine.  The swine run off the cliff and drown in the water.  This is a great picture of the forgiveness given you in the waters of you baptism.  The demons which held you tight were cast out.  "Depart you unclean spirit and make room for the Holy Spirit."  They were cast out and Old Adam was drowned.  The sins that plagued you were washed away. The death that bound you was broken.  The devil which held you was cast out.
B'.     The Man at Jesus' Feet – the Posture of Discipleship
Now, you are to be like this man.  All men are to be like this man.  Ladies this is kind of man you want for a husband, to be the father of your children, etc.  You want a man whose met Jesus Christ, had his sins forgiven, and now is found sitting at the feet of Jesus.  You want this kind of man before you get married.  You want this kind of man even before you start dating.  Ladies you shouldn't date someone who is not a Christian.  You shouldn't date someone who doesn't come to church with you.  And you shouldn't think you will be the one to change things.
Now everyone, look at our text, look where the once demon possessed man is now sitting, look at the change in His character since the beginning of our text. First he was in the tombs, then he was questioning God's presence in his life.  Now, set free from sin, death, and devil, he assumes the posture of discipleship.
Men of God, this is where you are to be – at the feet of Jesus. This is the kind of man Jesus wants you to be – a disciple, one who learns God's Word, and is found no longer in the tombs, no longer living a life of sin but found in the Word, in the Church, in the Life, Mercy, and Forgiveness that Christ has purchased for you with His holy precious blood and his innocent suffering and death.  For when you men are found at the feet of Jesus, so too will the women and children.  When fathers come to church, more often than not, so too will the women and children.  When families gather in the Lord's house, there is godly change happening in that home.  Sin is being forgiven, love is being nurtured.  Husbands are being kind to their wives.  Wives are content with their station.  Children are reared in the fear and knowledge of God. Thus, fathers tend to the love of God and to the love of their household.  This is what changes communities!  This is what changes a nation.  When the men of God follow the Word of God great things begin to happen and there is peace and joy not just in the house, but also in the streets!
A'.     Man Sent Home as Evangelist
Beloved in  the Lord, note again the man's situation.  He wants to go with Jesus.  Don't we all?  But Jesus isn't done with Him.  He sends him home.  "Return to your own house and tell what great things God has done for you."  Jesus sends him home.  Disciples are first sent home to tell the great things God has done.  Evangelism begins in the home.  Discipleship continues in the home.  The man is not sent back to the tombs, he's not even sent back to the village.  He's sent home.  Men of God, fathers, sons, husbands – you are to go back to your homes with the Word of God in your heart and on your lips.  Father's you are the shepherd of your house in the home.  You teach them, you pray with them, you lead them in the worship of the true God.  You put the love of God into action towards your wife and children.  You are faithful even when others are not.  And when you fail, when you sin, when you stupidly return to the tombs, repent.  Repent and return to the feet of Jesus.  He is kind and He is merciful.  He is steadfast in love and delights in drawing sinners nearer to Himself.  Then He sends you right back home to tell the great and mighty things God has done for you.
Beloved in the Lord, this morning, Jesus steps out of the boat and is immediately met by a man from the tombs.  This morning He is met by us.  May His Word have His way with us, even as it did so long ago with the man from the tombs, that we may no longer be found unclean, but clean, forgiven, regenerate, and assuming the posture of discipleship.  AMEN!
The peace of God which surpasses all human understanding keep your hearts and minds through faith in Christ Jesus.   AMEN!