June 4, 2016 — Proper 5
Sermon Text — Luke 7:11-17
Sermon Audio —
Grace, mercy and peace be unto you from God our Father and from our Lord and Savior Jesus Christ!  Our text for this morning's (Evening's) sermon is taken from St. Luke's gospel account the 7th chapter.
A. The Lord of Life
Beloved in the Lord,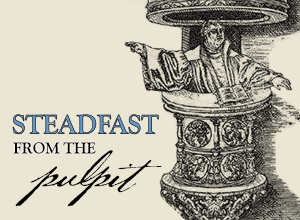 The Way to our salvation takes us through a city called Nain. With each footstep in this land of thorns and thistles the God of our Creation blazes us a trail back to paradise.  The dust of the earth trembles and Satan's legions quake in the bushes.  For here in the flesh is the remedy for our illness, the cure for our disease.  He is the Last Adam, the New Adam, the perfect Adam, the only-begotten of His Father.  And He is here for this widow, for her son, for the crowds  . . . and for you.  He is the God who has power over life and death for He is the Lord of Life and the destroyer of death.  Bearing the sword of His Word from its holy sheath the Son of God sets out to war against the grim reaper.
Today this battle ensues as Jesus makes His way to Nain and confronts the dirge of death's parade.  Life meets death face to face.  The angels stand at attention!  The Saints follow with curiosity.  Demons ready themselves for war.  Death shackles the hearts of its captives with despair and grief.
In Levitical purity does Jesus pass by on the other side of the Road?  NO! In priestly devotion does He avoid risking contact with death's corruption?  NO!  Our Savior does not shy away, for the way of salvation passes through the city of Nain.  And today the Resurrection visits her inhabitants in the flesh, even as He visits you!  Today the widow's tears shall be wiped away by the hand of God and all weeping shall cease! For the Son of God has compassion on His creation!  He is moved with pity, love, mercy, and power towards the abode of death.  Divine love compels Him to act for her and for you.  Therefore this funeral procession must stop!  This dirge must be silent!  This parade of death's trophies must come to an end for our God is a God of life and not death . . .  never death!
B. What the World has to offer
As the two stand opposite each other we must ponder what the world has to offer this poor widow.  For what it offers this widow, it offers you and is more than glad to share from the bounty of it's the spoils.  Therefore, behold the widow.  She weeps as they carry her son's body.  Death has stolen all hope of life and not even the multitudes behind her could come to her aid.  To take her son out and bury him in the ground is the only advice the world can give her.  No doctor, king, or emperor could help now.  No riches could buy his health.  No social program or government health care system could bring comfort or consolation.  No words from this world could bring her son back.  She is left to herself, her heart bearing the fetters of grief and despair.  Though she is surrounded by a great crowd of witnesses, she is essentially left alone.
Thus beloved, we must behold in our text how great and mighty is death's grip upon this world, even upon us! For we too shall join this great funeral procession as the strength of sin works death in the flesh of our loved ones even as it does us.  Do not think yourself immune to such things, the bible is quite clear ; "For all have sinned and fallen short of the glory of God."  "The soul that sins shall die."  "And the wages of sin is death." "There is none who have done good, no not a one!"  We are after all Adam's children and His curse is upon us.  Nevertheless our sinful nature attempts to battle death's hordes on its own.  We look to our words and our works for comfort, peace, and hope.  Gazing at the coffin, "He looks good," we say.  "He was a good man.  He was always there.  And we laugh and tell jokes and we lie.  We lie to ourselves. He doesn't look good, he looks dead.  He may have been a good man by our standards but not always and not perfectly.  He was always there?  Always there for who?  Himself?  Yes, we lie about sin and about death in order to ease the pain.  We lie in an attempt to erase the memory of the truth.  "Death comes to all  . . . men, women, and children . . . for all have sinned," those who look good, do good, and are supposedly always there.  And in the end what are we left with?  We are essentially left like the widow in our text, surrounded by a great crowd, sins chained to our heart, tears strolling down our cheek as we sing of death's darkening cloud while walking a lonely walk to the grave.  Will anyone intervene? Will anyone stop us? Will anyone have compassion and save us?
C. Christ Stops Death's Parade
Yes, beloved! There is one and only one who hears our plea!   He is the Christ, Jesus of Nazareth, the only begotten of His Father, God of God and light of light, begotten not made!  Give ear to His heavenly Words. Words of men hold no power over sin and death, devil and hell, but the Word incarnate now proclaimed to you stops death in its tracks and forbids its continuing advent!  Yes, give ear to the word of Jesus, who stretches out His holy arm, touches death's throne taking death into His flesh that through His death on the cross death itself is destroyed.   He touches death's throne and speaks holy words, words of power and might, Words rooted in the death and resurrection of His flesh, "Young man, I say unto you arise!"  Though this widow's son is dead and his hearing stopped  . . . as soon as Christ speaks to him he hears.  As soon as the Savior calls, He is quickened.  Christ's Word is so powerful that even death itself must bow in submission to Him who is the Resurrection and the Life!  Truly, truly therefore he who hears the Word of God will never taste death!  For Our God is a God who chooses life and never death as He treads His way to Paradise through the land of thorns and thistles.
Today the Savior wields a two edged sword from His mouth and pierces through bone and sinew cutting straight to the heart of souls such as our own.  Adorned with Jewels from the cross His Word breaks the shackles which bind our sin and He sets our hearts free through the forgiveness of our sins.
B'. What Christ's Word has to offer
These mighty Words bid our eyes to cease their watery flow and our heart to surrender its song of sorrow.  For when the word of Christ's cross is given, the heart that beleives is fastened to Christ Himself.  Then we who were once destined for the grave and eternal death are redeemed by Him who seized death by the throat and throttled hell with His Resurrection from the dead!  Now through this same word, sinners are transformed into saints.  Those who were once participants in death's march, join the parade of Christ as they cleave to His Word.  Cleaving to His Word they are united to the communion of Saints and journey through death into Paradise.
No longer are we alone!  For we have joined the multitude of saints spanning the centuries.
No longer are we despairing!  For we have received comfort and consolation from Him whom demons fear and before whom Death must yield.
No longer are we without hope, but now our hope rests secure in our valiant redeemer, the Lord of Sabaoth, the firstfruits of the resurrection, the God of our salvation!  For I know that my redeemer lives and because He lives I can face today, tomorrow, and even death.
I have joy instead of sorrow,
peace in place of unrest,
confidence rather than doubt!  Not even the hordes of hell may pilfer these treasures which Christ my Savior graciously gives me in His Word and blessed Sacraments!
A.     God of the Living
Therefore beloved, let us learn to say with doctor Luther, "Death, what is the worst you can do to me?  You have frightening teeth, you bare them and you terrify me, and I do not die gladly.  But I don't want to consider only what you can do, and how, as you, like the executioner draw the sword; but I want to ponder and perceive how our Lord God will intervene, even though you strangle me.  He does not fear you, nor is He awed by your raging and ravaging ways, but He says, "Death I shall be the death of you; grave, I shall be your destruction.  You may kill my Christians but I will raise them up!"  In Him will I hope and in Him will I take comfort!  For my God is the God of the living!  God grant that each of us learn these words in the heart.  AMEN
The peace of God which surpasses all human understanding keep your heart and mind through faith in Christ Jesus.  AMEN!