May 15, 2016 — Pentecost Sunday
Sermon Text — John 14: 23-31
Audio —
God's Promises for the Broken
Grace, mercy, and peace be unto you from God our Father and from our Lord and Savior Jesus Christ.  AMEN!  Our text for this morning's sermon is taken from St. John's gospel account the 14th chapter.
Beloved in the Lord,
Love makes Promises and Keeps Promises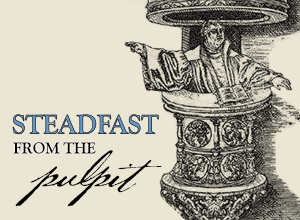 All of God's commandments to His people can be summed up in one divine word:  Love.  "You shall love the Lord your God with all your heart, strength, mind, and soul."  And "You shall love your neighbor as yourself."  Love always has an object – God and your neighbor – and therefore love is not concerned with self but with the object of one's love – again God and your neighbor.  Jesus says, "If anyone loves Me, he will keep my word."  Jesus connects love with His Word.  Love is not silent but love speaks to His beloved.  Jesus loves you so Jesus speaks to you through His written Word.  His words give testimony to His deeds.  His deeds reflect the love of His heart.  What Jesus says and what Jesus does are given to His people – those who are to love Him in return and so also love their neighbor.  And because Jesus loves you and gives you His Word He promises the Father's love and presence as together they make their home with all who Love Jesus and Keep His Word.
Love is all about the Word and promises of God.  All who love Jesus are to receive the Word and promises of God and keep these Word and promises of God near and dear to their heart by faith as well as doing these Word and promises of God for their neighbor.  There is no faith in Jesus without Love for Jesus and His Words.  And there is no love for Jesus and His Words without "keeping" and "doing" these Words of Jesus for our neighbor.  "Faith expresses itself in love."  Faith works out salvation" and "Faith without works is dead."  Those aren't my words those are God's Words.  Love makes promises and keeps them.  This is most certainly true of God and if we are to be followers of Jesus and hope to be saved it ought to be true of you and me as God's promises work in our hearts to live life in newness unto God and our neighbor.
Broken Promises, Broken Hearts, Broken Lives, Broken Loves
Parents make promises when they bring their children to baptism; to raise them in the fear and knowledge of the Lord that they too live in God's promises, that they also share in Jesus and His love.  Husbands make promises to their wives and wives to their husbands that receiving together God's Word and promises they share in the Father's love for them and for one another especially in the raising of their children, that the Triune God makes His home among them and the Christian home be one of love.  Our confirmands make promises today to follow Jesus and keep His Word even unto death.  The promises once pledged by their parents are taken up as their own.  The faith is handed down from one generation to the next.  God's Word shared by mothers and fathers with sons and daughters bears fruit today, tomorrow, and we pray forever more.
But we live in a fallen world as fallen creatures.  We do not love God and our neighbor as we ought.  We break our promises.  Jesus says, "He who does not love me does not keep my words: and the word which hear is not Mine but the Father who sent me."  It is not love that separates husband from wife, parents from children, or members from Christ's Church.  No!  It is sin.  Love binds and unites and bears fruit.  Sin separates, divorces, severs and destroys.  Broken promises lead to broken hearts, broken lives and broken loves, the greatest symptom of which is broken homes with broken children who never learn to love as God loves.  I contend that the greatest reason so many of our youth abandon the faith is because they were first abandoned by their parents.  Promises made before God and our neighbor were broken.  Jesus' Word was denied in the home.  One cannot deny God's Word and expect there to be no consequences.  We know this in our heart of hearts but yet still make every attempt to justify ourselves, explain it away, make excuses, blame others.  This is nothing new, in fact its very old, as old as Adam in the garden blaming Eve.  "The woman you gave me . . ."  it's her fault not mine.  We're all like Adam.  We all need to confess what we have done or not done.  WE need to repent.
Unworthy but Loved
For unlike ourselves God keeps His promises.  That's what love does.  Even when we are unfaithful God remains faithful because He cannot deny Himself.  He cannot deny His heart.  And such was the love of His heart which moved our heavenly Father to send His only-begotten Son.  Try as we might to ignore our sin the consequences remain.  Work as we suppose to fix it the results are the same.  We fail.  Sinners will always fail to do what God alone can do, namely love perfectly.  God is love and because God loves you He speaks to you.  He makes promises to you.  He sends you His Word, not to condemn you forever but to reconcile you to Himself.  We don't deserve His love.  No one deserves God's love. IN fact we deserve quite the opposite.  But this is love, that God send forth His Son to be for us a propitiation, a covering over, washing away of our sins.  God doesn't force Himself on us but rather shares His heart by giving His Son.  Giving Jesus the Father gives a sacrifice for sin, all sin, every sin, every broken promise, every unfulfilled word, every keeping and doing of God's Word every failure to love God and our neighbor.  He gives the cross.  There is love's cost!  There on the cross is love made flesh taking the place of sinners, receiving the just punishment of God's wrath against sin, all sin, my sin and your sin.  There is God's love for you!  And what wondrous love this is that God would surrender His Son, His only Son whom He loves, into death even death on the cross to save you.  How great is the love of the God that has been lavished upon the world?  How marvelous the deeds of our God that He should go to such great lengths to redeem us from the perils of our brokenness!  We are not worthy of such deeds, we don't deserve Christ and His cross, but we are loved nonetheless.   And this love in Christ, though put to death on Friday conquered death on Sunday.  Though hatred and brokenness consumed Jesus on the cross, it was love that raised Him on the third day; the Father's love for His Son, and the Son's love for you so that the Father and the Son, together with the Spirit should make their home amidst sinners. "Though father and mother forsake me, the Lord will take me in."
Bound in the Spirit to God's Promises
This "taking me in" begins with Baptism.  Our confirmands were brought in to the Lord's home by baptism.  You are brought into the Lord's mansion by baptism.  Here in the Lord's home the Spirit teaches you all things.  Having been bound to Christ under those Holy Waters by Spirit you reminded of what love means.  Teaching you all things in this home the Spirit calls to remembrance the Love of God for sinners, for you and me, as He daily and richly forgives you your sins.  The remedy for sin is not your works, not even your love, but the Love of God poured out for you through the preaching of the Word, the remembering of your baptism, the receiving of absolution, and feasting on the body and blood of your savior.  Repentance is merely a turning away from your sin, a surrendering from all the attempts to justify yourself or blame others and remembering what God, in Christ Jesus has done for you.
Here, in Christ's church you are loved with God's love.  Yes, your "old ways" are rebuked by God's Law and at times that can feel the opposite of love.  But even the preaching of God's law is done in love because Love does not delight in wickedness or brokenness but seeks to heal and bind up the wounds we often ignore or hide.  God's commandments bring our brokenness into the light so that God's grace and promises can be delivered to you through His mercy and forgiveness.  God's law serves God's gospel so that God's love can serve you with the benefits of Jesus' death and resurrection.
Here, in Christ's church, being loved with God's love, we sinners are taught by the Spirit what love means, what love is, and what love does.  We are bound up to Christ and to one another.  And such binding brings us together to share in our sufferings and sorrows as well as our times of joy and gladness.  Where sin and brokenness separate and isolate / God's love and mercy forgives and binds up.  The wounded find healing.  The broken find restoration.  The orphan finds a gracious Father, the sinner finds a merciful God.
Home with the Father
Beloved in the Lord, what are you without Christ and His love?  You know the answer all too well.  Without Christ and His love you are lost and you are broken.  The Savior speaks to you this morning because Jesus loves you.  Love speaks and love makes promises.  Jesus promises that those love Him and keep His Word have a home with Him and His Father.  This home is not broken but is built upon the foundation of the apostles and prophets with Christ Jesus as the chief cornerstone.  This home is always here, always for you. Everything has been prepared, everything is ready.  It is a blood bought home and you are blood bought children.  You are not your own but you have been bought with a price.  Therefore glorify God in your bodies.  Those aren't my words, those are God's Words.  God grant us to believe this today, tomorrow, and forevermore.  AMEN!
The peace of God which surpasses all understanding keep your hearts and minds through faith in Christ Jesus.  AMEN!