April 17, 2016 — Fourth Sunday of Easter
Sermon Text: John 10:22-30
Sermon Audio:
Why are you Here?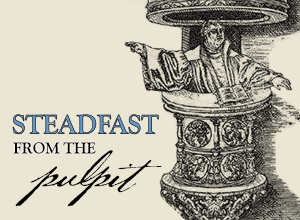 Christ is risen!  He is risen, indeed!  Alleluia!  Our text for this morning's sermon is taken from St. John's gospel account the 10th chapter.
Beloved in the Lord,
The Unbelieving Around Us
Jesus is once again in Jerusalem.  It is the festival of lights, the feast of dedication, Hanukah!  And it is winter.  But John is not giving us a weather report.  No, beloved, John is describing his world.  It was winter and the hearts of men were cold.  It was winter and the Jews were unbelieving.  It was winter and those for whom Jesus came were plotting His death.  It was winter and the coldness of the world pressed around Jesus and even gathers around Jesus not so much to receive the warmth of His heart but to trap Him in His words and condemn Him.  "Tell us plainly if you are the Christ."   They are not seeking the truth but merely a reason to cast stones.
That world then is our world today.  Though the earth is waking from its wintry sleep, trees are budding, flowers are beginning to bloom, the air is warming, critters are dancing in the fields and the birds of the air sing their morning song,  though looking around it is finally beginning to feel like spring, . . . spiritually it is still winter.  The love of many is cold.  Men abandon their wives.  Mothers abort their children, neighbors hold grudges, thieves break in and steal, sex is marketed to the masses even our children, families are torn apart, women are trying to be men, men are compelled to be more feminine, some are so confused they don't know who they are or which bathroom they should use.  Laziness abounds and everyone is entitled.  The world has gone mad and those who are not mad are called bigots, homophobes, rascists, unloving, hateful, intolerant, even mentally ill.  Yes beloved, outside these walls it's still winter.
Why are you here?
Our text this morning is written that you may believe that Jesus is the Christ and by believing have eternal life in His name.  The Jews did not believe.  Winter held their hearts.  You are not to be like the Jews in our text.  Is John preaching to the choir?  Yes, yes he is!  If you don't preach to the choir pretty soon there will be no choir.  Is John preaching to you?  Yes, yes he is.  If you're not listening to God's Word preached pretty soon you will not be believing and by not believing you will not have life in His name.  Thomas would not believe unless he saw and touched the risen Jesus.  The disciples did not know it was the Lord until they heard His voice.  Today, if you hear His voice do not harden your hearts like your forefathers did in the wilderness and many perished forever.
The Jews in our text pressed about Jesus.  They heard Him. They saw Him. Some no doubt even rubbed elbows with Him but they were not His sheep because they did not believe. They did not believe what they heard and they did not believe what they saw.  Why are you here?  What are you listening for?  What are you looking for?   Who are you really following?  For whom does your heart beat?
Take this time to examine yourself.  It is an easy thing to come to Church and go through the motions to rub elbows with the sheep.  Maybe some of you are here because your friends are here.  Maybe some of you are here because your children are here or your husband or wife are here.  Maybe some of you come here because you're lonely.  Maybe some of you are here for the pastor, or for Sunday school, or the music program, or you've been scheduled to usher, set up the altar, provide snacks between services or greet the others coming and going.  Maybe some are here out of habit.  Maybe, you don't know why you're here. Maybe you're lost and seeking something more out of life, a bit if "chicken soup for the soul" perhaps. What are you seeking? Maybe the coldness of the world is getting to you and you just want the warmth of being around like minded people.
The crowds had many and various reasons for gathering around Jesus.  Some wanted healing.  Others wanted to be blessed.  Some came for the bread and the fish, others wanted to follow a revolutionary.  Some sought glory.  All wanted to avoid suffering.   The last wanted to be first. The least wanted to be accepted. The "righteous" wanted to be praised.  Why are you here?  What are you looking for?  Are you here because you have to be or because you want to be? Are you here to listen or to speak? Are you here to learn or to teach? Are you here seeking truth or experience?  These are good questions to be asking yourself?
My Works bear Testimony about Me
Jesus knows why the Jews approached Him in our text.  He knows why you're here today.  And because He knows He speaks.  Because despite the many and various reasons for your being here Jesus would have you draw near to Him with believing hearts and by believing that He is the Christ have life in His name.  That's why Jesus points the Jews and us back to what He's already said and done for them and for us.  His works give testimony to who He is?  Behold, the works of the Lord for you!  Look at the depths of His love for you and for all people!  Gaze upon the cross and see that God so loved the world that He gave His only-begotten Son that all who believe have everlasting life.  Jesus has come for sinners.  Jesus has entered the winter of our world to bring the light and life of His salvation to people like you and me. His life, death, and resurrection are the fruit of His heart toward you and me and all the world!  The Shepherd gives His life for the sheep that the sheep may share in His life for eternity!  Its for this reason that He was born and for this reason that He was crucified, that He who knew no sin might become sin, and offering Himself on the tree of the cross make full atonement, paid in full, nothing more to be added, nothing more for you to give, and having done so rise on the third day.  His life is lived on behalf of all lives.  His death He dies to destroy death forever and for everyone.
For three long days the grave did its worst
until all its strength by God was dispersed.
He who gives life did death undergo
and in its conquest His might He did show!
Mighty indeed is our Good Shepherd!  For our redeemer burst from the tomb even from death dispelling its gloom!  The winter of this world is melted by the passion of our God and Lord, the one whom Thomas beheld and touched, the one whom the apostles saw and heard, even the one who calls unto each and every one of you, each and every soul bitten by the frost of sin and the coldness of death!
The Voice of Mercy
It matters not beloved, why you're here.  It matters only that you hear and believe.  Jesus says, "My sheep hear my voice, I know them, and they follow me."  Listen to the voice of your Good Shepherd!  Lend your ears to heart of your God!  He is gracious and merciful, slow to anger and abounding in steadfast love.  Jesus has come for sinners and it is sinners who gather round about Him to receive from Him the forgiveness of sins, life and salvation.  Believe His Word, what He says about who you are and what He says about what He's done for you.  His Word of Law is spoken to peel away the false reasons for your approach, that you not trust in yourself or the strength of men, that your heart melt in the warmth of His presence.  His gospel is given to quicken hearts anew and burn within the love of God, love for God and love for your neighbor, your wife or husband, your sons and daughters, your mothers and fathers, your friends and colleagues, even your enemies.  This wintry world we love in does not love, indeed cannot love, because it does not know God who is love, the God who in Love reconciled us to Himself through the giving of Son!
As His dearly loved flock let us heed the voice of our shepherd and draw nearer to Him.  Let us hang on every Word that proceeds from the mouth of God. For His Word is the bread of life, food that satisfies the hungry heart and it is living water, drink that slakes the thirsting soul.  Let us seek from Him the right things, godly things, things that endure, things that deliver that Word to our hearts.  Let us bathe in the waters of our baptism, feast at the table of His supper, and approach with open ears, ears that hear the mercy of God in absolution.  And let us follow our Good Shepherd as He leads us in paths of righteousness.  Hearing leads to believing and believing leads to following and following shares the love of God with our neighbor, serving God and neighbor with works of love, that same love we ourselves have received!
Safe and Secure in the Savior's Hands
Beloved in the Lord, our text this morning is written that you may believe that Jesus is the Christ and by believing have eternal life in His name.  The Jews in our text did not believe and so they did not follow.  The approached Jesus for the wrong reasons.  You on the other hand are not to be like these Jews or the wintry souls that surround you day in and day in your vocation.  No!  You are given this morning to hear the Shepherd's voice and follow Him and Him alone!  Those who hear and believe rest secure in the palm of the Savior's hands.  No one can snatch them out.  No, not one thing!  "Who shall separate us from the love of Christ? Shall tribulation, or distress, or persecution, or famine, or nakedness, or danger, or sword? As it is written, "For your sake we are being killed all the day long; we are regarded as sheep to be slaughtered." 37 No, in all these things we are more than conquerors through him who loved us. 38 For I am sure that neither death nor life, nor angels nor rulers, nor things present nor things to come, nor powers, 39 nor height nor depth, nor anything else in all creation, will be able to separate us from the love of God in Christ Jesus our Lord. (Rom 8:36-39 ESV)  Christ is risen!  He is risen, indeed!  Alleluia!  AMEN!
The peace of God which surpasses all understanding keep your heart and mind through faith in Christ Jesus.  AMEN!