This was originally posted over on LutheranCatechism.com. Be sure to check that site for assistance in teaching your kids or students the Small Catechism and related topics. You can also like the LutheranCatechism group on facebook.
Elk River Printing of Sidney, Montana has delivered 100 sets of Small Catechism memory cards for Trinity Lutheran Church, Sidney, Montana.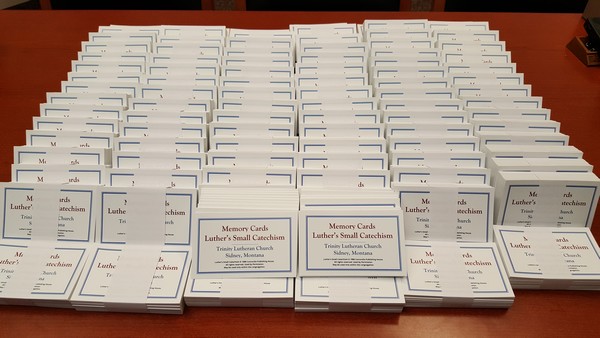 These have been designed and ordered printed by me (TR Halvorson) in my role as Christian Education Director of the congregation. These cards use the 1986 CPH translation, which is permitted by the general copyright license from CPH, because these cards arise from within and are to be consumed within the single congregation. (Our sister congregation, St. John Lutheran Church, in Fairview, Montana will not be able to use them because they did not arise from within that congregation.)
These sets will be put into index card cases and given to children in Wednesday School, Sunday School, and confirmation. They will be given to adults new to Lutheran teaching.