"The Transfiguration–and Exodus–of Our Lord" (Luke 9:28-36)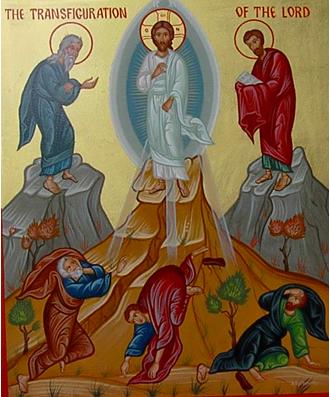 Today is the Transfiguration of Our Lord. This is the festival we celebrate every year on the last Sunday after the Epiphany. We have seen Christ's glory as the incarnate Son of God being manifested throughout the Epiphany season, beginning with the visit of the wise men on Epiphany itself. At the Baptism of Our Lord, Christ's messiahship was attested and affirmed by the Holy Spirit descending on him in the form of a dove and the voice of the Father coming from heaven, "You are my beloved Son; with you I am well pleased." Then we saw Jesus at the wedding at Cana, providing new wine, the best wine, for the new covenant he was establishing. In the Nazareth synagogue, Jesus read a prophecy of the Messiah to come and declared, "Today this Scripture is fulfilled in your hearing." And in his ministry we have seen Jesus doing just that–proclaiming good news, setting at liberty those who are oppressed.
Now today the Epiphany season reaches its climax. It is the Transfiguration of Our Lord, that momentous occasion when Jesus was manifested in his glory as God's Son before his disciples Peter, James, and John. Moses and Elijah show up, to make clear that Jesus is the one they were pointing ahead to. And once again the voice of the Father comes, "This is my Son, my Chosen One; listen to him!" Truly a mountaintop experience!
But today I want you to notice that this is not only about the transfiguration of our Lord, it is also about his exodus. Don't worry, I'll explain. And we'll also see how this all relates to us. And so our theme this morning: "The Transfiguration–and Exodus–of Our Lord."
Our text is the Holy Gospel for this day, from Luke chapter 9. Matthew, Mark, and Luke all record this event of Christ's transfiguration. And there are many things in common among the three accounts, obviously. It's the same basic story. But each one may have a distinctive way to describe something or bring in a detail that the other accounts do not have. Such is the case today with Luke's narrative. All of the accounts tell us that the Old Testament figures Moses and Elijah were standing alongside Jesus and talking with him. But only Luke tells us what they were talking about. And that is where we get to this matter of the exodus–Christ's exodus.
Now when we hear the word "exodus," we naturally think of Moses, and rightly so. We even call the second book of Moses "Exodus," because that is where we read about the exodus event. The exodus of the people of Israel from Egypt, brought about by the Lord God, under the leadership of Moses–this is really the "big story" of the whole Old Testament. It's God's signature act of deliverance, in Israel's history, to bring his people out of slavery in Egypt and up into the Promised Land.
"So what does this have to do with the Transfiguration and with Jesus and with his supposed 'exodus'? I don't see the word 'exodus' anywhere in this text." Oh, yes, you do. It's just that it's hidden under the English. We saw where it says, "And behold, two men were talking with him, Moses and Elijah, who appeared in glory." OK, so far, so good. Nothing new here, nothing different from what we find in Matthew or Mark. But then Luke adds this detail, telling us what Moses and Elijah were talking with Jesus about. It's in verse 31, where it says that they "spoke of his departure, which he was about to accomplish at Jerusalem."
"They spoke of his departure." Guess what the Greek word is here for "departure"? That's right, you guessed it: "exodus." Moses and Elijah were talking with Jesus about his "exodus," that is, his "departure, which he was about to accomplish at Jerusalem."
Now what kind of sense does that make? How is Jesus going to accomplish an "exodus"? What does it mean by "his departure"? And what does that mean for us?
Well, the word "exodus" literally means "the way out." Moses led the children of Israel on the way out of their slavery in Egypt. And if we look at the story of that exodus, that way out, we will begin to understand how Jesus would accomplish an even greater exodus, for us.
OK, so the people of Israel were in slavery, in bondage. And they couldn't get out. Pharaoh and the Egyptians had control over them. There was no escape, no way out.
This is parallel to our situation. We were in bondage, in slavery, slaves to sin and death and the devil. Satan had control of us. We were in his domain. And there was no way out. We were trapped, stuck in our sins, lost and condemned sinners, with only the grave and hell waiting before us. And so it would remain, unless God would intervene.
The Lord God did intervene with the Israelites. God in his mercy remembered his covenant he made with Abraham, Isaac, and Jacob. And he came down and visited his people to redeem them, to set them free. He called Moses to do the job.
In an even greater way, God sent his own Son, Jesus Christ, to do the redeeming, setting-free job, not just for Israel, but for the whole world. Our Lord Jesus Christ came down from heaven for us men and for our salvation. He is the one greater than Moses, anointed and appointed to do an even greater work. "This is my Son, my Chosen One," the Father says of him.
Now how would this redeeming work be done? How would the setting free be accomplished? With Israel, it happened with the Passover. After a series of plagues, the Lord finally sent the angel of death throughout Egypt, to strike down the firstborn in every home. And the homes of the Israelites would not have been spared, except for one thing. The Lord provided a way of escape, a way for death to pass over their homes. God told Moses to tell the Israelites to take a lamb without blemish and to sacrifice it and to spread the blood of the lamb on the doorposts of their homes, as a sign for death to pass over. And so it was.
In a far surpassing way, Jesus himself is the Passover lamb by which our lives are spared. His holy blood marks us as those spared from death. Jesus is the perfect sacrifice, without any spot or blemish of sin. And yet he dies in our place, shedding his blood on the wood of the cross, marking us as forgiven. God sees Christ's holy blood, and death passes over.
The plague of the death of the firstborn of Egypt was the reason Pharaoh finally let the Lord's people go. He was defeated. His power was shattered. His grip and hold on the people had come to an end.
So it is for us. Christ's death spelled the end of Satan's power over us. The devil has lost his grip and hold on us.
Now we have a way out. Just as Israel came out of Egypt and passed through the water of the Red Sea safely, so we have come out of the devil's domain and passed through the waters of Holy Baptism. God has acted to save us. We have been baptized into Christ, and he will lead us forward to the Promised Land of eternal life in heaven.
And on the way, Jesus will lead us and feed us, he will guard and guide us, he will intercede for us and forgive our sins, and he will bring us safely to our destination. Moses led Israel to Mount Sinai, where the Lord gave his people a way of life, to live as his holy people. He gave Israel the tabernacle, the place of his dwelling, where sinners could come to have their sins forgiven. The pillar of cloud led the way forward on the way to the Promised Land. And the Lord provided manna in the wilderness, to feed the people on their way.
So also Jesus does for us. We have been given the gift of the Holy Spirit, so that we would live as God's holy people, a people set apart to do his will. The Lord has provided the means of grace, Word and Sacrament, so that our sins would be forgiven when we stumble and fall. Jesus is interceding for us, praying for us, watching over us. He wants us to make it home safely. Jesus feeds us with his very own body and blood, to strengthen and nourish us, in faith toward God and in fervent love toward one another. The Lord's Supper is our "waybread" to strengthen us on our journey. God's word guides us on our way, points us in the right direction. "Thy word is a lamp unto my feet and a light unto my path."
Do you see? All of what God did in the exodus for Israel, he does in an even greater way in the exodus that Jesus accomplishes, for us, in Jerusalem. Christ goes there, to Jerusalem, to bring it about. The journey intensifies from this point on, from the time of his transfiguration. For right from this point, Jesus will set his face to go to Jerusalem. That is the Lenten journey we are about to take with Jesus over the coming weeks. It will take us to Jerusalem, to Holy Week, where and when Jesus will accomplish this amazing exodus. In his death and resurrection, in his ascension and his return to the Father, Jesus accomplishes it. All of it, to lead us out of our Egypt and on into the Promised Land.
Dear friends, Jesus is our exodus. He is our way out, the way out of death and sin and the devil's grip. Jesus is our way to, the way to the Father, the way, the truth, and the life. The way leads through the cross, but we know that it leads to glory. And the festival we are celebrating today, the Transfiguration of Our Lord, shows us that it is indeed God's own Son who is accomplishing this exodus for us. "This is my Son, my Chosen One; listen to him!"