December 20 – Advent IV
Sermon Text — Luke 1:39-45
Audio —
Come back later for audio of this sermon.
It's All About the Babies!
Grace, mercy, and peace be unto you from God our Father and from our Lord and savior, Jesus Christ.  AMEN!  Our text for this morning's sermon is taken from St. Luke's gospel account the first chapter.
Beloved in the Lord,
News of a Child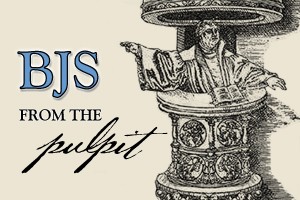 It's all about the babies.  We see and hear the mothers, in our text but have no doubt, this text is all about the babies. That's way it is with our God.  Whenever He wishes to work big things for His people He does so through the sending of a baby.  Adam and Eve sinned in the garden and what does God do?  He promises them a baby, one who would be born of Eve's seed, who with bruised heel would crush the serpent's head.  In calling Abram out of idolatry what does God promise?  He promises a baby.  The seed of Abraham would be a blessing to the nations.  The same is true for Isaac and Jacob and Judah and Boaz and Obed, and David.  David wants to build a house and God promises a house with an everlasting king.  He promises a baby.  Even Ahaz, David's son, refusing the opportunity to ask the Lord of a sign, is given a sign from Isaiah.  And what sign does God give, what promise does God make that reveals His faithfulness in times of trial, tribulation, war, and spiritual chaos?  He promises a baby.  "Behold, a virgin shall conceive and bear a son and he shall be called Emmanuel."  Yes, beloved, when God sets about to work His wonders for His people He first and foremost does it through a baby!
When Mary departs Nazareth for the hill country of Judah it's because of the Baby.  She is with child without the help of a man.  She is promised to Joseph but she has not been given to him.  The child she bears is God's promise to her and Joseph both, to Zachariah and Elizabeth, to Adam and Eve, David and Solomon, Isaiah and Ahaz, to you and me.  All of the promises of God are planted in Mary's womb just awaiting the fullness of time to come.  So, Mary departs from Nazareth to the hill country for Judah because Elizabeth is there and she too is with child. She who was called barren is barren no more.  Their meeting in our text is all about the babies, all about the wondrous things God has done and is doing in these tiny little miracles growing within them.
Why Me?  Why Us?
Elizabeth asks the question we should all be asking, "Why is this granted to me that the Mother of my Lord should come to me?"  Why would God give such a gift?  What's He thinking?  A Baby?  The world is going to hell and God sends a baby, two babies?  Two women, who shouldn't be, are pregnant?  How is that going to change anything?  Ours is a cold world, a violent world, a world where babies are aborted, abused, neglected, abandoned, exploited, sold, a world where families are torn asunder by divorce, where babies are tossed back and forth for "visitation" time, a world where children are stolen away, kept as possessions, coveted as attention getters.  Babies are vulnerable, powerless, small, even smaller than small, itsy bitsy teeny wheeny sort of small.  What could a baby do?  What can two babies do?  What can a pregnant woman do?
Our Human heart is as cold as our world.  Out of the heart come all of these evils.  And such evils are not as foreign to our lives as we'd like to think. Walking the ways of the world we walk the way of Old Adam.  Old Adam is always hiding things.  He's a thief, a murderer and a coward.  We steal from God and neighbor, we hate and hurt and harm in the depths of our inner most beings.  And then we hide it away.  We don't want to look at it. We don't want to talk about it. We don't want anyone else to mention it. In fact, we'd really like someone to say we're right in such behavior.   But we know we're neither right nor righteous.  We are sinners.  So why would the Mother of the Lord come to us?  Why come to Elizabeth? Why come to anyone.  Who among us is worthy to receive such a greeting?  Not me.  Not you.
The Hiddenness of God
Which is precisely why God sends these two babies.  Every baby since Cain has pointed to this child of Mary.  And every baby since Christmas has been reminder of God's gift 2000 years ago.  Every Baby has a spiritual and theological purpose!  And its all because of this One Baby, this One child conceived by the Spirit and born of the Virgin.  That's why John leaps in the womb. That's why Elizabeth is filled with the Holy Spirit, and that's why Mary sings her Magnificat!  It's all because of Jesus!  It's all because God in His wondrous majesty has decided that the best way, the holy and purest way to defeat the coldness of sin and death in the world, and in us, is through the giving of His Son as a baby.  Even the most cowardly of cowards is not afraid of a baby!  By becoming small, by hiding His divine majesty in the flesh of Jesus, God draws near without frightening us away.  He draws near to save us, to save you, to save any and all who receive Him by faith and welcome Him aright.
Thus His nativity is given us to warm the heart and prepare us for the days ahead. For first born of these two will serve the second born.  John is the friend of the bridegroom.  He prepares the way.  He preaches repentance and points us to the child fully grown.  Behold the Lamb of God who takes away the sin of the world!  His tongue proclaiming the wonders of the Christ. His finger directing the way to salvation.  One pointing to the other.  The Other leading the way through death and the grave by going first, taking our sins, and suffering our penalty.  Jesus suffers under Pontius Pilate is crucified, dead and buried.  And Jesus is risen!
The God who became so small for you and me and the world, took upon Himself the burden and guilt we could not bear. He ascended the tree and covered Himself in blood and suffering.  In middle of such suffering God hides Himself, that you and I find Him to be a merciful Father who forgives sins and justifies sinners through the death and resurrection of His Son.  What began with a Baby is finished on a cross.  What was undertaking in humility triumphs through humiliation.  What was conceived in Nazareth is resurrected in Jerusalem.  What was promised in Eden is born in Bethlehem, crucified outside the city gates, and raised on the third day!
A Visitation for You
Thus Mary's visitation is for you.  Because it's not about Mary or Elizabeth.  It's all about the babies.  And these babies are sent to work God's Wonders in your heart.  Your heart is no different than the hearts of those around you, no different than the world you live in.  The coldness of sin has tainted every thought, word, and deed.  Confession is far from your lips because confession hurts our pride.  But look upon the Child of Mary.  God is not so proud as to avoid becoming so small!  Behold His great love for you.  He does not come to frighten, nor to judge, not even to wag His finger in pious criticism.  NO!  He comes so small in order to approach so gently.  He is meek and lowly, gentle in heart and desiring to bring the warmth of God's love and mercy to your heart.
Think on such things beloved!  For what can humble a man's heart more than a baby?  What can tug on his ears more than a child's cooing or crying?  What can make the big and the strong stand still, bend low and even crawl around on the floor making sounds and noises that would be embarrassing in any other context?  Only a baby!  Babies pull on the heart like no other and for that reason, by grasping at our hair, tugging on our beards, with no words but only sounds, with no power but rather with complete and utter vulnerability and dependence, they transform complex brutes into simple lovers of humanity, and with this child, this once conceived by the Holy Spirit and born of the Virgin Mary, lovers of the God who became flesh for us.  Do you see beloved? Do you see the wisdom of our God in the sending of His Son as a baby? Do you see that all of this is all about the babies?  Even today, even in our babies, all babies are all about this Baby, this Baby who was born for the redemption of all humanity; every man, women, and child both born and unborn, even you!
Blessed is the One who Believes
Beloved in the Lord, we are not worthy to receive such a greeting.  Nevertheless, God in His great love for us has sent His messengers to the far reaches of the globe to tell the message of Christ's birth.  The message of the gospel is the power of God unto salvation.  We need to be saved.  This salvation is not earned, it's not purchased, it's not accomplished by anything we could ever say or do or decide.  It is a gift. This baby is a gift.  Jesus is a gift.  Salvation is a gift.  God woos sinners by giving gifts and His gifts are here for you today.  Blessed is the one who believes that those things spoken to them will be fulfilled – not in the way we imagine, but in the hiddenness of God's means of grace.  Blessed indeed are they who believe the promises of God are hidden in water and bread and wine and the voice of His Sent One.  Blessed indeed are those who believe that through these simple and humble things God works His wonders, saves sinners, and warms the hearts of His children.  Yes, beloved, today is all about the babies.  AMEN!
The peace of God which surpasses all understanding keep your heart and mind through faith in Christ Jesus.  AMEN!