December 13, 2015 — Advent III
The Plan and Purpose of God
Sermon Text — Luke 7:18-35
Audio —
Grace, mercy, and peace be unto you from God our Father and from our Lord and Savior, Jesus Christ. AMEN!  Our text for this morning's sermon is taken from St. Luke's gospel account the 7th chapter.
Beloved in the Lord,
The Struggle with Reality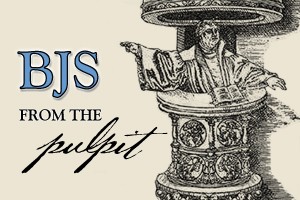 God has a plan, a purpose for John.  God has a plan and purpose for you.  Right now, John's eyes are preaching a sermon that John's heart struggles to bear.  Everything he sees tells not of God's grace but of God's judgement.  Your eyes are preaching to you this morning.  What do you see? What is real?  John is struggling with reality.  What are your struggles? John is in prison.  Though he was faithful heralding the advent of the Messiah he sits in a dungeon.  Everything around him is cold and dark and seemingly unjust.   But God has a plan and purpose for John.
God has a plan and purpose for you – though everything around you seems cold and dark and seemingly unjust,
though the world seems upside down,
though common sense isn't so common,
though we live at a time when men think they're women and women think they're men,
though families are clearly broken the world hails such divorce as a means to liberation,
though what is obviously alive, whose beating heart can be heard and seen in the womb, we live in a world that refuses to call a thing what it is, a world that refuses to embrace God's plan for life and instead denies reality.  John's dungeon is our world and God's plan and purpose for John is God's plan and purpose for you and me.
But rather than question the meaning of what John sees, John questions the identity of Jesus.  John's dilemma is not a social dilemma, he's not trying to understand why such injustice is happening to him.   John is trying to understand why Jesus hasn't done anything about it!  Are you the Christ, or should we wait for another?"  as if to say, "Are you the Christ or Not?"  Or should I just sit here in my cell and wait for someone else to set the captives free?  John didn't understand God's plan or purpose.  Do you?
Rejecting the Plan of God
God's plan and purpose is centered in the sending of His Son.  On that we can all agree.  Things get sticky and icky when we start talking about to whom did God send His Son.  The scandal surrounding Jesus wasn't so much that John proclaimed Him the Messiah but that this Messiah was hanging around with sinners and tax collectors.  You see  the Jews knew and believed that the Messiah was coming.  But they were hoping for a vengeful Messiah.
When Jesus answers John's disciples what does He say, to what does He point?  He says, "Go and tell John what you saw and what you heard.  The blind receive their sign, the lame walk, the lepers are cleansed, the deaf hear, the dead are raised and the poor are evangelized."  Jesus identifies the plan and purpose of God with the least of these His brethren.  Jesus quotes Isaiah nearly verbatim as evidence that the Messianic age is come in Himself.  The Scripture is fulfilled in their sight and in their hearing!  But it's not what Jesus quotes that is the scandal, it's what He doesn't quote.  Jesus doesn't refer to any sort of vengeance.  His first advent was not a vengeful one.  Jesus came to heal, rescue and save – not judge or damn.
In a world where everything is backwards, upside down, suffering gender identity disorders, same-sex attraction, irrational public discourse, threats to our liberties from our own government, terrorist attacks, economic meltdowns, an influx of migrants and refugees, not to mention our own sins and failures that we have to deal with, both those we've done and not done, those we've suffered or suffered upon others it can be very easy to doubt God's plan and purpose for us. It can be very easy to wonder about what we believe and whom we believe in.  Why hasn't Jesus done anything about this?   What sort of savior is He, anyway?  Is He the one, or is there another?
Least in the Kingdom
God has a plan and purpose for John and for you.  It is centered in Jesus, but not a power-hungery, sword wielding, chariot driving sort of Jesus.  No, it is centered in the sort of Jesus who makes friends with tax collectors, touches lepers, forgives women caught in adultery and suffers the little children to come to Him.  He is gracious to Samaritan women and comforts grieving fathers with the hope of the resurrection.  His hand is stretched out to help and lift up, not to strike nor to take down.  He has come to be one in solidarity with humanity from the least to the greatest, from the smallest to the tallest, from the infants in the womb to the aged on their death bed.  There is no one for whom Jesus has not come.  Jesus is God's plan and purpose for everyone, for John in prison and you and me in the midst of this chaotic world.
And thus the scandal.  A Jesus that is for everyone is a Jesus that is for them, those sort of people, the people we don't want to like, let alone love, people like refugees or migrants, people like terrorists or politicians, people who murder babies and lie about a war on women.  A Jesus that is for everyone is a Jesus that is for them too.
But if Jesus were not for them then why would He be for you and me?  You see, God so loved the world, everyone, the good, the bad, the ugly, the liberal, the conservative, the terrorist, and the peacemaker, the adulterer and the homosexual, the divorcee and the orphan, everyone, the world, you and me, that He gave His only begotten Son.  God's plan and purpose for you to repent and believe in Jesus, God's Son, the Son who takes away the sin of the world, crucifies them in His own flesh and rises on the third day.  He is the fulfillment of all prophecy, the Word made flesh, Abram's seed, David's House, Solomon's Temple, Job's redeemer, Isaiah's suffering servant, and John's bleeding Lamb!  And He is for worst of sinners.
Receiving the Plan of God
The Pharisees and scribes could not bear such a Christ. They rejected the plan and purpose of God because the plan and purpose of God included sinners and tax collectors.  They did not receive John's baptism for the forgiveness of sin nor did they follow the one whom John foretold.  Rejecting John they rejected Jesus and remained divorced from their God and their neighbors.  For John did not tickle their ears as they hoped.  He didn't appease their self-esteem.  He didn't tell funny stories about cats or tug on their hearts about liberating the oppressed. John wasn't dressed in fine clothing or lounging about in the palaces of Jerusalem sporting His bright shiny white teeth.  No, John was the prophet foretold long ago, "Behold I send my messenger ahead of you who will prepare the way before you."  John preached reality.  And that reality is that all humanity needs to repent and be baptized.  That was true then and it is true now.
Christ is come for sinners.  That is God's plan and purpose for the world.  It is the overarching, metanarrative of our world and all reality!  Everything that happens in our world, everything that happens in your life, through either the activity or the passivity of God, is part of God's forming and fashioning such circumstances to bring you to repentance and refine your faith which is more precious than Gold!  You are both a member of this world and a sinner for whom Christ died and rose again. Thus, it is God's plan and purpose for you.  There is no one left out.  There is no one who doesn't need Jesus.
The reality of the matter is, you can play the fool by rejecting this plan and purpose of God through stubborn unbelief and persistent disobedience – like the scribes and Pharisees.  Or, you can "declare God Just" and wisely bow before the Word of God, humble yourself in His presence and acknowledge the truth of your heart, confess your sins and receive God's mercy by grace through faith in His incarnate absolution.
Wisdom is Justified in Her Children
Beloved in the Lord, Wisdom is justified by all her children. And we children of wisdom are a most unlikely folk.  Thus the scandal of Christianity that our God would send His Son to highways and the by-ways, calling unto the fool, the sinner, the tax collector and adulterer, the lover of boys and the homosexual, the murderer and the liars, to those steeped in sin, calling and inviting them and us all to the feast!  Jesus is the redeemer of the worthless, the justifier of sinners, the savior of all who are under a curse.  His plan and purpose for you is no different than it was for John.  He is working all things for the good of those who love, all things for the good of His beloved bride, the church.  Thus He does not come in vengeance, but mercy, not with sword to slay, but with bread and wine to feast and give life.  He comes for you.
Wisdom is justified by all her children.  Her children are the baptized and the baptized declare God just by receiving God's salvation by grace through faith in Christ.  This declaration is twofold.  As often as you eat this bread and drink this cup your proclaim the Lord's death until He comes.  You acknowledge God's justice in saving you through Christ Jesus.  And having received such a gift you declare God's heart to the world through your vocation.  God's plan and purpose for you is all part of His plan and purpose for those around you.  He saves you that being saved you are sent to your neighbor.  You are His little Christ to those in your household, those in your workplace, those in your school, those in your neighborhood, community, etc. wherever you should go, wherever the Lord, should lead you, even prison if necessary.  Blessed is the one who is not scandalized by a Savior who identifies with sinners.  Blessed is the one who sees Jesus as the Coming One, the bringer of mercy, compassion, and forgiveness.  AMEN!
The peace of God which surpasses all understanding keep your heart and mind through faith in Christ Jesus.  AMEN!