The Gospel Notes for Advent 3 of the Historic One-Year Lectionary is now available. You may download the Color PDF, the Black and White PDF, the Bi-Fold Color PDF, or the Bi-Fold Black and White PDF.
The bi-fold version is a "booklet form" that folds and inserts nicely inside a standard bulletin. The standard version can be printed double-sided on a 8 1/2 x 11″ sheet, and possibly folded as well for distribution through bulletins, or put on the narthex table for distribution.
Additional one-year lectionary Gospel Notes can be found here. If you would like to receive an email each week, please fill out the registration form here. This educational resource is provided by Steadfast in the Parish.
---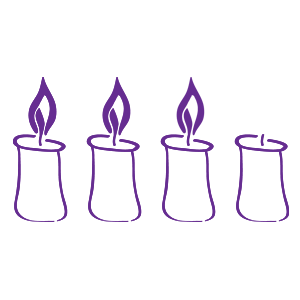 Advent 3: Gaudete / Rejoice
by: Rev. Roberto E. Rojas, Jr.
Collect of the Day:
Lord Jesus Christ, we implore You to hear our prayers and to lighten the darkness of our hearts by Your gracious visitation; for You live and reign with the Father and the Holy Spirit, one God, now and forever. Amen.
Introit:
Psalm 85:1-2, 6, 8 (antiphon: Philippians 4:4-5) — Rejoice in the Lord always
Psalm:
Psalm 85 (antiphon: v. 9) — Salvation is near to those who fear Him
Old Testament Reading:
Isaiah 40:1-8 (9-10) — Comfort for God's People
Gradual:
Psalm 80:1-2 — Give ear, O Shepherd of Israel
Epistle:
1 Corinthians 4:1-5 — The Ministry of the Apostles
Verse:
Rev. 8:2b — Stir up your might and come to save us.
Author and Date:
Matthew Levi the apostle around AD 50. This is the sending of John's disciples to the Christ and the Testimony of Jesus concerning John the Baptist (Matthew 11:2-19;
Luke 7:18-35).
---
You may download the Color PDF the Black and White PDF, the Bi-Fold Color PDF, or the Bi-Fold Black and White PDF.
We hope you find these notes useful and help us with sharing them with others. Be sure to contact us if you have questions or suggestions on how to improve these, or if you might be interested in helping us produce some of these.
It appears you don't have a PDF plugin for this browser. Use the link above\ to access the PDF file.