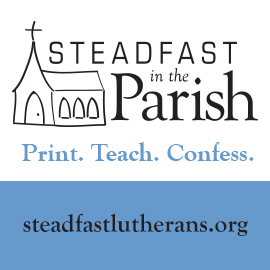 Brothers of John the Steadfast is pleased to announce the availability of a devotional, Cause for Great Joy, from Steadfast in the Parish!
This Advent and Christmas devotional was written by the pastors at Our Savior Lutheran Church in Cheyenne, Wyoming. It is focused on the Advent and Christmas hymns of Paul Gerhardt as they are found in LSB and TLH. Each day goes through a stanza of the hymn, a supporting Scripture passage, a short devotional thought, and then a brief prayer. It is designed to be used as a part of your household's normal devotional or "family altar" time.
This is a 44-page devotional with a page for every day from Advent 1 through the 12th Day of Christmas (Nov 29th through Jan 5th).
It can be sent to your Kindle for family devotions, or you can print it out either in sheet or booklet form. Churches can print it and leave it out on the table for their parishioners.
Get the devotional by clicking here.
More resources from Steadfast in the Parish can be found here.