Sermon Text — Mark 9:31-37
Proper 20 — September 20, 2015
Audio —
Grace, mercy and peace be unto you from God our Father and from our Lord and Savior, Jesus Christ.  AMEN!  Our text for this morning's sermon is taken from St. Mark's gospel account the 9th chapter.
Beloved in the Lord,
Intro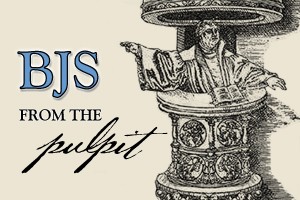 Ricky Bobby was no Christian.  From the day he was born in back of his father's '69 Chevelle he was on own.  Living by his father's creed, "If you aint first you're last" Ricky Bobby did everything he could to impress the father who abandoned him.  He lived the fast life, on the track and in the world.  He cared for no one and accumulated things and people for himself.  From his "smokin' hot wife and two sons, Walker and Texas Ranger" to his best friend Cal, Ricky came first and everyone else came second.  And if you aint first you're last.  He won races.  He had the big house and all the endorsements.  He loved those little French pancakes but was too proud to call it what it was.  He'd rather have his arm broken than say, "I love crepes."  He had the world at his fingertips, giving thanks to his own little cute and cuddly Jesus, Lying in his manger listening to baby Mozart.  But what good is it to have the world if you forfeit your soul.  Ricky Bobby was no Christian, he was your typical American Christian.
Living the Ricky Bobby Life
I say typical American Christian because too often we are living by his creed.  "If you aint first, you're last."  No one wants to be last.  Everyone wants to be first and we do everything we can to be like Ricky.  We want the big house. We want the fast cars. We want the good looking wife or the rich and famous husband.   And the We want the perfect family.  We want the ability to be rude and get what we want without any criticism from those around us, neither caring nor repenting of our stepping on or stepping over those who get in our way.  We want the loyalty of those around us without sharing that same loyalty.  We want the Ricky Bobby life.  Which may explain our nations infatuation with Donald Trump or any politicians who promise us the good life.  We don't see it in ourselves because truth be told, we're not that funny.
Servant of Self
The disciples were arguing amongst themselves about who would be greatest.  They were closest to Jesus – the Christ, the Son of the living God.  Jesus was going to Jerusalem.  Jesus would be the King who sets things right.  And they would be right there basking in His glory.  Power, wealth and all the world's rsources would be at their fingertips with all the world's adulation at feet.  They too wanted the Ricky Bobby life.   They wanted what every person wants, what you and I too often strive for.
But what does such a life actually give us?  What do we end up with?  The pursuit of happiness has become for too many of us a pursuit of people and things.  Living by the wrong creed we live for ourselves.  And such a life is anything but funny.  The love of money is the root of all evil.  And there's too much evil in our lives.  Such a pursuit actually leads us away from the good life, the abundant life we so desperately seek.  Always chasing after the next new thing, we find ourselves looking to find new lives.  We want new bodies, healthy bodies, bodies that don't break down.  We want new marriages, new husbands and new wives, spouses that don't grow old, don't gain weight or get wringles. or argue with us about the life we're living.  We want families who provide us with pride and a sense of accomplishment, not troubles and burdens.   We want new jobs, new opportunities to acquire new things, shiny things, things that dangle around our necks or from our key chains.  We want others to look up us, to revere and respect us for these things.
But such a pursuit is riddled with false expectations.  And as such we become discontent with everything we do have.  We look around and we see the ruins of such a life:  broken hearts, broken marriages, broken families and broken lives.   We find ourselves living in homes haunted by our conscience and full of regret and fear.   Before we know it we're sitting in our cars being told to drive with a cougar in the back seat, being told to live with demonic prowlers ready to pounce at any moment.  Look at the disciples in our text.  They're already arguing about all of the things they hoped they would be and possess and none of them have any of it.  Is this how we really want to live our lives?  Is this how we want to raise our children?  Is the sort of life we want to look back on as we lay on our death bed?
Glory is Prefaced with Suffering
If Jesus is one thing, He's always real, always honest.  Jesus knows what the disciples are arguing about.  Jesus knows what your heart is chasing after, what your Old Adam is telling you to pursue.  He knows all of this because He knows the depths of your heart, even the very numbers on your head.  He knows.  And rather than let you keep going He sets you down to share with you a word, His word, the Word which give light to the dark path you're travelling.
Every time Jesus speak His speaking is an intervention in your life.  When He speaks to the disciples He is speaking to you.  And before Jesus gets to how you should live your life He teaches you about the Life He's giving for you.  Before the disciples start arguing, before He takes a child and sits the boy in His lap, before He turns your world right side up Jesus teaches about His death.
He is most certainly going to Jerusalem.
He is to be their King, the King of kings.
But He is going is to suffer.
He is going is to be betrayed.
He is going is to be condemned, crucified, dead, buried and
He is going to be raised on the third day.
Before there is glory and eternal life, there is this life under the cross.  Jesus is going to the cross because humanity wants to be first, because you want to be first to be your own Caesar, to be your own god.
He is going as the last, the least, the condemned, the damned.
He is going as the sinner of sinners for sinners.
The weight of the world's wickedness is placed on His back.
The burden of your guilt is yoked to His shoulders.
The cougar in the back seat is really no cougar but a prowling lion seeking to devour Him as it has devoured every person who's come before Him.
All your sins, all your brokenness, all your regrets, all your failures He takes upon Himself to put them death once and for all, once and for you.
Shedding His blood covers over our sins.
Dying He kills death.
Rising He justifies sinners and reconciles God to humanity.  He sets things right side up but killing the old in Himself and rising again on the third day.
All things are new on the third day.
All sins are forgiven.  All sinners are justified.  All death is vanquished.  All hell is conquered.  All humanity is redeemed.  This includes the disciples in our text, you in your pew, and all people everywhere in all time.
Without His death there is no atonement for sins.  Without His resurrection there is no justification of the sinner.  Without such a crucified and risen Christ there is no life, no good life, no abundant life, no life worth living either for ourselves or even for others.  Without the cross and empty tomb there is nothing to be happy about for there is nothing that can truly make us happy.
Living the Christian Life
That's why Jesus now takes the child unto Himself and sets him before the disciples.  To be first one must be last.  Jesus gives us a new creed, a new Word, a new world to live in.  And in this new world with His new creed, Jesus gives a new life.  You have been given this new life.  You're baptized.  The life you are to live is no longer to be in pursuit of being first, greatest, or best but rather to be lived through the receiving of Jesus.  This changes everything.  Jesus changes everything.  Rather than chase after the world we Christians are called to forsake it, to be in it, but not of it.  What we want is now to be conformed to what Jesus wants.  We want glory, but we are often called to suffer.  We want life, but Jesus calls us to take up our cross and follow Him.  We want to be cool.  But scripture says we're a peculiar people.  We want to be strong but we're taught to glory in weakness, for in our weakness, His strength is made manifest.  We want to be healthy but let's be honest.  He who says he is without sin is deceiving himself.  We're sick and we need the mercy of Christ filling our hearts. We want to be wise, but the world calls us fools.  We want the Ricky Bobby life, but Jesus offers us His life.  His life is a life of humility, considering others as greater than ourselves and serving others not as slaves but as children of God set free to love and serve our neighbor.
Servant of all
Beloved in the Lord, such service is done to Christ when we love and serve the least of these among us.  In our text Jesus shows us a child.  Who is more needy than a child?  Who is more despised in this world than children?  Men, for you to love and serve your children in the way of Christ means that you also love and serve your children's mother.  Ladies, for you to love and serve your children in the way of Christ means that you also love and serve your children's father.  When husband and wife love and serve one another children are nurtured in the love of Christ.  Families living in such love and service are then moved to love and serve other families bringing the love of Christ to all who are in need, all who are broken, all who are under the burden of sin and this world's darkness.  Where there is brokenness in our life we come to Christ for healing.  Where there is sin we come to Christ for mercy and forgiveness.  Where there is suffering, and trials and tribulations we come to Christ for strength knowing that all our burdens have been borne by Him first and that though there is trial and tribulation in the world and in our lives He has overcome the world for us and give us the victory through faith.
You see, beloved, the Christian life is not one lived for self, but is lived in Christ and for others, most especially within the family.  For many this seems too ordinary and mundane, not exciting or fun.  But in truth it is the good life, the abundant life, the life that is received from Christ and shared in our vocations with those closest to us.  And even though it is invisible to the world, even though it seems as though you could be, or should be something more extraordinary, even though it is difficult and time consuming and seemingly makes little difference, such a life is a great life!  AMEN!
The peace of God which surpasses all understanding keep your heart and mind through faith in Christ Jesus.  AMEN!