Proper 14 — August 9, 2015
Sermon Text — John 6:35-51
Audio —

Grace, mercy and peace be unto you from God our Father and from our Lord and Savior, Jesus Christ.  AMEN! Our text for this morning's sermon is taken from St. John's gospel account the 6th chapter.
Beloved in the Lord,
Carnal Man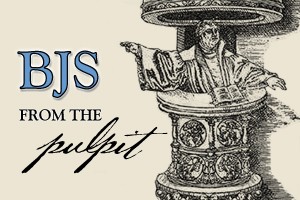 Look and listen to these crowds.  These crowds follow after Jesus with great zeal and passion.  These crowds have been overcome with spiritual fervor.  These crowds ate the loaves and the fish and had their fill.  These crowds beheld the miracle.  When Jesus departed to the other side of the sea these crowds followed along the coast line.  These crowds want more of what Jesus has to give supposing him to be giving more bread and fish.  These crowds want to make him king by force. These crowds want the majesty of Jesus' dominion without the reception of Jesus' person.  These crowds aren't following Jesus because of His Words or His heart.  These crowds are following Jesus because it seems right for them to follow the one who gives them bread.
These crowds are the epitome of carnal man.  Carnal man hungers and then seeks to fill his stomach.  Carnal man thirsts and then seeks to slake his gullet.  Whatever carnal man "feels" carnal man then sets about to satisfy his feelings, and indulge his passions as St. Paul says of the gentiles who "walk in the futility of their mind, having their understanding darkened, being alienated from the life of God, because of the ignorance that is in them, because of the blindness of their heart, who being past feeling, have given themselves over to lewdness, to work all uncleanness with greediness." (Ephesian 4:17-19)  Carnal man does not understand the things of God because the things of God are spiritually discerned.  These crowds have seen with their eyes but as Jesus says, they do not believe.  Therefore these crowds follow the way that seems right and the way that seems right is following anyone who can promise them bread not only for today, not just "daily bread" but promises them bread for tomorrow.
Craves Bread of Sin
This "carnal man" is not only those out there, those who are gentiles, those who worship other gods, those whose "god is their belly, who glory in their shame, who set their minds on earthly things" (Philippians 3:19). Carnal man is our old man, our old Adam, our fallen sinful nature.  He's not out there, but he's in here (the heart).  Even as baptized Christians we are tempted to follow what the old man in here (the heart) says.  We fail to heed scripture's admonition that the "heart is deceitful above all things and desperately sick." (Proverbs 17:9)  No one wants to believe that they're sick, not that kind of sick, not the kind of sickness that leads to death.
The crowds are craving the wrong kind of bread.  Old Adam covets the wrong kind of bread.  Your heart hungers for the wrong kind of bread.  Do not be deceived beloved, sin also has its own special bread – the "bread of death" calling to those who are lovers of pleasure and lack understanding.  Sin says, 'touch with delight secret bread and sweet waters that are stolen.' (St. Athanasius)  Such bread is the bread of the gentiles, the bread offered by the devil and the world.  It looks good for making one alive.  It feels good in the flesh.  "The bread of deceit is pleasant to a person but afterwards his mouth shall be filled with gravel." (St. Athanasius)  This bread though glazed with sugar and frostings is actually filled with maggots and mold.   It is poison.  It kills both the body and the soul.
Thus the heart that longs for such bread will
hunger for wrath and pursue vengeance,
crave possessions and be given over to greed.
Such a heart will be quick to work for a reward but slothful toward God,
it will covet glory and be filled with pride.
Its passions will be unfettered as it seeks lustly indulgence and the green goblin of envy will rule over it.
Gluttony will be the mark of its demise.  For everything carnal man's heart desires leads to sin, deadly sin, and to hell.
Flesh of Christ is Given/Sent
Jesus has not come to satisfy your old Adam.  He's come to kill him and in so doing save you from his curse. To destroy the works of the flesh Jesus has been sent from heaven to do the Father's will.  For the Father's will for you is not death, but life.  He desires "all to be saved and come to the knowledge of the truth" (1 Timothy 2:4).  Your salvation necessitates the Son's incarnation.  We are fallen in body and soul.  To redeem us God becomes man, human, body and soul, flesh and blood, like us in every way though without sin that whoever believes him may have everlasting life.
Thus the Father sets His seal upon His Son.  No one comes to the Father unless the Father who sent the Son draws him.  The Father does not draw sinners  with signs to see.  Jesus has no form or majesty that we should look at Him, no beauty that we should desire Him.  He was despised and rejected by men, a man of sorrows and acquainted with grief, and as one from whom men hid their faces He was despised and we esteemed him not." (Isaiah 53).  Carnal man follows his heart and his heart is led by his eyes.  No!  The Father does not draw us by what we see but rather by what we hear.  It was words that brought about our fall and it is by this Man's Words, Jesus, the Son of God and the Son of Mary, that will raise us up.
Words? Which words?  Words of the Law, words that tell us what to do, how to do it, when to do it and so forth?  No!  That is the way of Moses.  For "the law was given through Moses but grace and truth came through Jesus Christ." (John 1:17).  All who are taught by God are taught the Word of the Cross.  By this Word shall all peoples be drawn to God.  For here on the cross Old Adam is crucified.  Here are your sins, the sins that once ruled over you, the sins that once plagued you, the sins that darkened your minds, tainted your flesh, sullied your conscience.  Here, in the death of Jesus, sin is crucified, your sin, my sin, the world's sin.  There is no sin that has not been atoned for.  There is no transgression so vile, so evil, so depraved, so big or so small that the blood of Jesus does not cover over.   For while we were still yet sinners Christ Jesus died.  Here is the love of God for you.  Here is the sign of your salvation.  Here is the righteous one giving His own flesh and blood over to the accusations of the law in your place, saving you, redeeming you, loving you.   Here is God's Son, in flesh and blood, given for the life of the world!  In Him is life, and His life is the light of the world.  If Jesus stays dead all life is pointless, worthless,  damned forever in sin.  But death is not stronger that life.  Sin does not rule over the righteous one.  Though the serpent pierces His heel on the cross, stepping out of the tomb on Easter morning Christ crushes the serpent's head forever and ever.  The proto evangelion is fulfilled.  The promise to Adam and Eve and all their descendants is realized!
Offers Bread of Life
Thus when Jesus says, "I am the bread of life . . . this is the bread which comes down from heaven that one may eat of it and not die" He is speaking of Himself, His Word, His baptism, His supper, His absolution.  Therefore do not be like the Jews in our text, do not heed the voice of your Old Adam and murmur against such things because you lack understanding.  Understanding is not the issue.  Jesus calls for faith.  Believe now that you may understand later.  The Father seeks to draw you and all people to Himself through the Words and works of His Son.  The Son offers Himself to you through these means.
In the Gospel is the power of God unto salvation.  The promises of God are for you and your children.
In Baptism you are crucified with Christ and the life you once lived is over.  You die with Christ and you are raised with Christ.  The life you now live is no longer your own but Christ's life living in you.
In absolution sin is forgiven and the blessings of your baptism are pronounced over you once more.  Sin no longer has dominion over you.  A clean conscience is gifted you.  You are new again.
In the supper you feast on Him who gave Himself for you.  The bread of life Himself is hidden under real bread and real wine delivering into your bodies real and true resurrected flesh and blood.  Just as Christ died once and will never die again, because death no longer has dominion over Him, so also all who partake of His flesh and blood, though they die, yet shall they live.  Christ shall raise you up on the last day!  He has given you His Word and will bring it to completion.
Spiritual Man Follows Spirit to Christ, the Altar, Eternal Life
Therefore beloved, heed the voice of your Savior and do not murmur to yourselves that such things are contrary to reason.  Your reason has been corrupted by sin.  Old Adam cannot make sense of the Words and works of God.  Believe now that you may understand later.  Take the Lord at His Word and find your delight in Him.  For He alone is the source and giver of eternal life.  What does humanity truly crave, what does the soul hunger for more than truth?  What alone will satisfy the soul's desires?  Only Christ and His pure Word and Sacrament.  "Delight yourself in the Lord and He shall give you the desires of your heart.  Commit your way to the Lord; trust in Him and He will act." (Psalm 37:4-5)  Yes beloved, He will act graciously toward you.  He will not cast you off nor turn away but will deliver you from the perils of your sin and rescue you from the domain of the devil.
Therefore beloved draw near to the Lord. "He has allowed those who desire Him not only to see Him but even to touch, and eat Him, and fix their teeth in His flesh and to embrace Him and satisfy all their love.  Let us then return from this table, not like lambs – timid and frightened by the world around us – but like lions breathing fire, having become terrible to the devil, with our God's blood on our lips and His righteousness filling our hearts having received the medicine of immortality.  Let us ponder the depths of Christ's love for us and boldly proclaim the Lord's death in our lives until He returns to take us home.  He is the bread of life and whoever eats this bread shall have everlasting life.  AMEN!
The peace of God which surpasses all understanding keep your hearts and minds through faith in Christ Jesus.  AMEN!