July 12, 2015 — Proper 10
Sermon Text — Mark 6:14-27
Audio —
Grace, mercy and peace be unto you from God our Father and from our Lord and Savior, Jesus Christ.  AMEN!  Our text for this morning's (evening's) sermon is taken from St. Mark's gospel account the sixth chapter.
Beloved in the Lord,
The King and His Trophy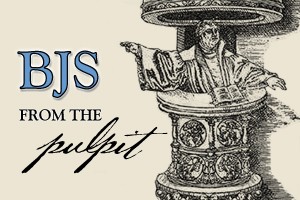 King Herod has his trophy.  "Herod Himself sent for and seized John and bound him in prison because of Herodias, the wife of his brother, to whom he is now married."  John sits behind iron bars because it pleased Herodias.  And Herod, ever wanting to keep the marriage bed secure has triumphantly brought home his bride's nemesis.  Such is the way of the kings of this world.  For they are more concerned with the passions of their flesh and the security of their indulgences than the observance of truth and the laws of nature, ignoring therefore nature's God.
So there sits John in his steely cage, the Lord's herald, the one sent out by his Master, who has yet to return to His Lord.  He remains faithful even in prison, even unto death.  King Herod likes his trophy and would often listen to him in the dungeon.  Like a child picking at a scab Herod gladly allowed John the prick his conscience.  Herodias on the other hand did not.  Such is the way with the kings of this world.  They gladly allow the word to be preached, though today they make use of politically correct bars to bind Christ's preachers.  No longer content to permit the free expression of one's religion, rulers continually attempt to purge God's Word from the public, granting in theory only the freedom to worship, cornering the preacher in his pulpit and caging Christ's Christians in a building, encircling them with their tax exempt status.
Yes, beloved, what happened to John is happening to you.  Why? Because you dare to maintain the divine decrees of marriage and the rulers of this world love to defile the marriage bed.  They, like king Herod, believe they have their trophy, tucked nicely away in a corner, silenced by political correctness and supreme court rulings.  But  . . . Herodias is not content with Herod's caging of John.  She desires his death.  She's weary of his tongue.  Her ears burn with contempt.  Her conscience is seared with guilt.  She waits patiently for an opportune time.  For Herod and this world's rulers are not sovereign but are beholden to the whims of their playmates and passions of their flesh.
The Harlot's Trap
And that time has come.  Herod throws a party.  He is celebrating himself.  All the king's men are invited.  The cultural elite and all their leading men gather for a feast.  They eat and drink and make merry.  They indulge themselves on the bounty of their prosperity.  No expense is spared.  Nothing is out of bounds.  And then out comes Salome.  The trap is set and the world watches.  The harlot has sent forth her minion, her daughter.  Neither Herod, nor Herodias object to the sensuality of this little girl.  She dances.  She allures. She appeals to the nature of the beast within.  She seduces the old Adam, rejoicing in her own defilement, inviting others to partake.  This is no waltz, beloved.  She's not tap dancing.  Were there a pole and a stage she would gladly have taken their dollar bills in place of their deviant laughter and ungodly applause.  But even that is not enough.  When offered up to half the kingdom, she asks for John's head on a platter.  Herod, though distressed at the request is beholden to his pride.  To the world, righteousness and the Word of God is worth far less than half of their dominion.
The world is watching such a dance today.  Under the guise of liberty the world rejoices in licentiousness.  All are compelled to watch.  It's on the news, paraded down our streets, taught in our universities, promoted as entertainment, held forth as literature, preached as love, heralded as freedom.  And like Herodias, the world is not content with dissenters kept behind bars.  No!  All must watch.  All must agree.  All must partake or suffer the fate of the baptizer.
But this isn't about acceptance.  What eats away at Herodias, what eats away at our world, what often burdens the psyche, is not the messenger or the message, but in reality is a guilty conscience.  Sin calls for death.  Your conscience knows this.  All men know this.  All people feel this.  The attempts to deal with the call rather than the sin.  The world loves sin.  Old Adam loves the dance.  And when the sinner cannot still their conscience Old Adam tries to silence the message.  You cannot silence the message without silencing the messenger.
In theory this would work, but this is not theory.  This is reality.  And in reality the message is written on the heart of every man, woman, and child.  This is why you feel guilty.  You have sin.  You have watched the dance.  You may even have joined in.  Your old Adam has rejoiced in what God and your conscience have said is wrong.  Maybe you're like Herod and have placed the messenger and his message in a box, categorized your spiritual failings and are trying to keep them locked away.  Maybe you tolerate a word here or a word there.  Maybe you've grown to enjoy picking at the scab on your heart, maybe you walk away when you've had enough never repenting, never hearing the whole message.  Or maybe you're like Herodias and prefer not to hear at all, full of anger and rage at the thought that your life may not be everything God wants it to be.  But your conscience will not let go of you. What do you do?  Where do you go?  Who will save you?
The Finger points to Christ
The truth is beloved, that John's message is God's message and God's message doesn't end with the Law.  The Law is written on your heart and that is the only Word that your conscience knows in its fallenness.  The message of the Law is not meant to point you to hell.  John preached to the king in order to lead him to the King of Kings.  For there is a king for you who desires to be gracious and merciful.  There is a king who loves you more than He loves Himself.  John came to herald such a king and with His voice prepare your hearts to receive Him.  The tongue may have been silenced by the executioner but the finger still points to the Lamb.  His mouth may have been stopped but His words ring with fervency in the divine liturgy.  "Behold the Lamb of God who takes away the sins of the world!"  There is your King!  He is crucified, dead, buried and risen.  He has taken the stains of your heart unto Himself, borne them in His Humanity and covered them over with holy blood.  The law calls for death, the conscience feels guilty, the heart is ashamed but there is Christ, the Holy One of God!  He dies in your place.  He suffers your guilt.  He bears your shame. He doesn't scorn the consequence of your sins but embraces it for you, even to the point of dying for you.  His death is the love of God manifested in suffering. His resurrection is the power of God unto salvation. God desires your salvation, and the salvation of every man, woman, and child!  No one is left out, not Herod, Herodias, or Salome, not the poll dancer, the prostitute the promiscuous nor even the pedophile.  Jesus dies for all sins, big sins, and little sins, deplorable sins and habitual sins, those common to our fallen nature and those common to the unnatural.  Here on the cross nature's God redeems all who rebelled against Him and nature itself.  Thus the King's word to His apostles that first Easter evening are the King's enduring Word to you and to all.  "Peace be to you!"  All who doubt such love need only behold the marks of the nails and the print of the spear.  For what the Law was powerless to accomplish God did in the sending of His Son.
The Savior and His Children
This gift is not some esoteric proclamation that can be known by nature or by experience.  The conscience requires something more certain that positive thoughts, public acceptance, or even sound of silence.  God's silence will not calm the anxious heart.  No beloved, what the world needs, what you need, is a Word, a good Word, a Word that is spoken and applied to you from above.  You need a Word that gives peace, a word that stills the anxiety and cleans the conscience.  This Word is given in your Baptism.  Under these holy waters your sins are washed away.  The record of your iniquities is cleansed.  The shame of your guilt is covered over.  You are joined with Christ who has overcome sin, death, and hell. Therefore His victory is your victory.  His righteousness is your righteousness.  His resurrection is your resurrection.  No earthly king can give such a gift.  And no worldly power can ever take it away.  For He who has begun a good work in you will bring it to completion on the last day.
Individually united to Christ you are sons and daughters of the king.  Corporately as Christ's church you are His bride whom He loves.  Your identity is not lost in the church nor are you alone in the world.  Thus, you are not given to dance like Salome or plot like Herodias in the hopes of pleasing your audience.  You are not to play the harlot or indulge in the depravity of the cultural elite in the hopes of alluring the world.  But like Jairus' daughter you have been raised from this world's death and now are sent to kings and governors, to neighbors and friends, to strangers and enemies to herald the good news of the kingdom.  And as such you will be hated for your failure to dance.  You will be persecuted for the words you speak.  You will be marginalized for your lack of entertaining value and  you will be ridiculed for your rather ordinary and plain dress.  For the world is not worthy of you and it knows this.  Rather, you will be light in the darkness and salt to a savorless culture.  You will be the incarnation of God's love to a loveless world.  Through you the world will behold faithfulness, mercy, forgiveness, compassion, self control, gentleness, and the peace which passes all understanding.  You will be Christ to the World as John was to Herod.
The King and His Feast for You
You will not be alone.  Christ will not abandon you.  For your king is a gracious and merciful king who gifts His own with a meal.  But this is no ordinary meal.  This is not the feasting which the world covets but the feasting of the children of God at the table of the Lord.  Here, from this altar, and at this rail, your King gives you Himself, His true body and His true blood for strengthening of your faith and certainty of your King's favor.  Here, the marks of His passion are delivered into your mouths that week knees are made strong, and weary hearts are given rest.  Here sins are forgiven and the resurrected Christ works His resurrection in you, for you, to serve Him in everlasting righteousness, innocence and blessedness.
Beloved in the Lord, Herod, Herodias the world today have their trophies.  We have the body and blood of our King.  These are worth more than any kingdom on earth.  These belong to the kingdom that has no end and these are for you and me and all who repent and believe in Jesus, today!  AMEN!
The peace of God which surpasses all understanding keep your heart and mind through faith in Christ Jesus.  AMEN!