June 14, 2015 — Proper 6
Sermon Text — Mark 4:26-34
Audio —
Grace, mercy, and peace be unto you from God our Father and from our Lord and Savior, Jesus Christ.  AMEN!  Our text for this morning's (evening's) sermon is taken from St. Mark's gospel account the fourth chapter.
Beloved in the Lord,
The Lord loves the Insignificant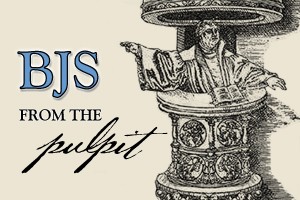 There's nothing special about Ezekiel's branch.  It's just a twig.  And there's certainly nothing extraordinary about a farmer sowing his seed.  Farmers have done that for thousands of years.  Nor is there anything especially attractive about a mustard seed.  Mustard seeds are small, very small.  Yet each of these are used by the Lord in our text to teach something quite extraordinary –  for each of these reveal the Kingdom of God.  You see the Kingdom of God isn't about the mighty, the extraordinary or the attractive.   The Kingdom of God is concerned with dead branches, common vocations, and small things.  The Lord loves the seemingly insignificant; the small, the poor, the weak, even the dead and dying.  He loves them and He makes use of them.  He loves you and He makes use of you through these same, seemingly insignificant things.  This is how the kingdom of works, this is how the kingdom of God comes among us, this is how the kingdom of God comes to you who are small, poor, weak, even dead and dying.  For the kingdom of God is not so magnificent as to ignore the common.  The kingdom of God is not so extraordinary to despise the downtrodden.  The kingdom of God is not so great as to forget the small.  In reality, it is the common, ordinary, small things which deliver not only the Kingdom, but the King Himself into hearts in need of salvation, even your heart, even my heart, even the hearts of tiny babies.
Image Obsessed Culture
You see beloved, we are a people that is captivated by our times, and for many of us, that means only our times.  We forget those who have come before us and pay little heed for those coming after us.  We are so focused on our time that we don't ever want our time to run out.
We don't want to die.
We don't want to feel like we're dying.
We don't want to look like we're dying.
We don't want to act like we dying.
We don't want to talk about our dying, or anyone else for that matter.
We don't even want to prepare for our death.
Our obsession with the appearance of life has led to an increasingly image obsessed culture one which we not only partake of but even embrace as evidenced by what we take time to prepare for.  Think about it.  What in your life is actually important enough for you to prepare for?  Sports?  Our culture goes overboard preparing for sports, from those who participate to those watch the games.  The bible teaches us that "bodily training is of some value, [but] godliness is of value in every way, as it holds promise for the present life and also for the life to come." (1Ti 4:8 ESV)  Do we take time prepare for godliness?  Why do prepare so much for sports?  Because it gives the appearance of life and vitality as it pursues the glory of victory.  What else do we prepare for?  A wedding?  Most of those preparations are trivial; the clothing, the hairstyles, the decorations, the invitations, the showers, the gifts, the cake, the reception.  All of those are for the day, not the life.  They give the appearance of new life, but actually make no provisions for that new life together.  What do you prepare for? What do most of those preparations involve?  Is it not to give the appearance of possessing things that are transient, to show others what you have, how you look, the social status you have attained?  We prepare for these things because these things are important to us.  We prepare for what is important and too often what is important to us isn't really that important to life.  Instead these give the appearance of life without godliness.  They are about image, our image, today, which we want to beautiful, extraordinary, and promising.  We make it our aim to be well pleasing to ourselves and those around us.  We want to be happy and we want it now.
The especially troubling thing is that we want God to be same way.  We want God to behold our image, our life, the life we've created for ourselves and to be pleased with us.  We want God to be pleased with the way we perceive ourselves, the way we present ourselves, the way we prepare ourselves for today, with no regrets of our past and no concern for posterity – the next generation.  It's as though the book of life were just one big facebook page and God is our greatest and best facebook friend.   An image obsessed culture wants God to delight in our works – at least the highlights – those things we delighted in.  And then we want those highlights recounted on the day of our funeral.  Even in death we want to look good lying in our casket and sound good from the pulpit, all to give the appearance of life – when in fact that life has been brought low by sin into death.
The reality is, our image is the problem.  No longer bearing the image of our creator we have inherited the image of our first father Adam.  Our "selfies" give everyone the wrong impression, especially ourselves.  We're not honest with ourselves and we're not honest with God.  Like Dorian Gray, we think we never grow old, we never do anything wrong, at least not anything wrong worthy of hell, and we never see the consequences of sin in us or what we've done to others because we never see what we're doing to those around us.  We're too concerned about our own image, too focused on ourselves, our life, our pleasure, our happiness.  Never preparing for a good death, a blessed death, as scripture calls it, we never actually prepare to live and to have life abundantly.
The Least becomes the Greatest
It's for this reason that Scripture teaches us of the small things, the common things, the ordinary things of God, things that take a long time to develop.  In the kingdom of God branches are broken, farmers sow, and seeds are buried in the earth.  God takes the broken and the common, and small and uses them to work life, to give to you and to prepare you for an eternal weight of glory that is beyond comparison. (2 Cor. 4:17)  He sets out not only to forgive and save from sin but also to restore and regenerate His image and likeness in us.  To do that He sends His Son.  Jesus is the New Adam.  He is the image of the invisible God.  In Him all things hold together. "All things were made through him, and without him was not any thing made that was made." (Joh 1:3 ESV)  He has come to "make all things New."  (Revelation 21:5)  He has come to make you new.  To make you new He must undo the old.  He must take on death, your death, every man's death and kill it.  He must take on sin, your sin, everyone's sin, and crucify it.  He must enter the grave, your grave, every man's grave, the One grave for all graves, one righteous man for all of Adam's descendants.  He must enter death and the grave and then walk out alive, walk away bursting the three day seal.
And this is what He's done for you and me and every man, woman, and child.  Though He is God of God and Light of Light, He did not despise the lowly but humbled Himself to be born of a virgin.  God became small for the smallest among us, both born and unborn, both you and your children and all who are afar off.  In Jesus, God took upon Himself the frailties of our humanity, bore our infirmities, suffered our iniquities.  He became the twig and was planted in the earth.  His Word is the seed cast to the left and to the right and bears fruit at the right time.  And He allowed Himself, the least among men, the servant of all, to be buried like a seed in the earth.  His death was pungent to the world, like a mustard seed crushed in the crucible of this world's judgement.  Yet through the tree of the cross, His Cross has become a life-giving tree beneath which the nations find shade from the heat of wrath kindled against sin.  Thus you and I and all people are to find refuge beneath the beams of this mighty cedar!  Though it appears to be an agent of death, it has been transformed by the one who hung upon it to be the sign of life.  For though Jesus died He is risen.
Image of Christ planted within You
And now the fruit of His cross has been planted in every corner of the world, planted through the preaching of the Word, casting the seed of the gospel to the north and to the south and to east and to the west, from Jerusalem and Judea, through Samarian and to all the ends of the earth.  Where the Word of Christ is proclaimed there is Christ's church.  Thus Christ's church has staked itself in the earth in order to grow and bless those who gather in its shade.  For the Church extends over the whole world like a glorious garden, tilled by the law, filled with the fragrance of Christ's resurrection, adorned by Easter lilies and Martyr's roses.   Within her gather the Father's own dear children to hear the Word of Christ and daily receive His passion for their salvation.
To gather within her fold is to draw near the Savior Himself.  For within the church is the Church's Lord speaking, baptizing, feeding, and loving His newly redeemed people.  This is for you and for all.  The Cedar has enough shade.  The Garden has enough room.  The fountains of grace can be found wherever Christ crucified is proclaimed.  This place is such a place.  And this fount is such a fount.  Here, in the waters of Baptism, beneath the tree of Christ's cross, the blood of Christ is poured out and poured over the old to wash your robes and make them white.  Here in this water with His Holy Name, you are given a new Image.  Adam's image is drowned in Christ and you are raised up a new creation.
Now, you who are baptized bear the image of Your redeemer.
You have died to sin.
Death longer has dominion over you.
Hell has no claim on you.
Your stains have been washed away.
Your sins have been taken away.  You are new.  For all who are in Christ Jesus are a new creation and the New never gets old. The New is full of life.  Though the outer nature wastes away the New is being renewed day by day.  You are being prepared fortomorrow, for eternity.  This happens today and every day that you are in Christ, gathering in His Church, feeding from His altar, bathing in His mercy, and living in His life.
Transformation not Conformation
Beloved in the Lord, just as Christ's gospel has been planted within you and daily works within you so also you are given to daily work within the world.  Scriptures teaches "Present yourselves as living sacrifices, holy and acceptable to God which is your spiritual worship.  Do not be conformed to this world, but be transformed by the renewal of your mind, that by testing you may discern what is the will of God, what is good and acceptable and perfect. (Rom 12:2 ESV).  Rather than pursuing a life devoted to our own image, making it our aim to be well pleasing to ourselves, scripture calls us to be transformed.  This transformation takes time, like the seed planted in the ground awaits its sprouting, budding, and bearing fruit, so also must we Christians take time to sprout, bud, and bear fruit.  We must prepare, do the little things, make sacrifices, choose what is godly and deny what is merely for today.  As our Lord has taken unto Himself the shame of the cross to save the world so we too must embrace the common, ordinary, not so extraordinary tasks of love towards our neighbor.  We must not be conformed to the ways of the world but be transformed by the renewing of our minds. We must think differently, live differently, see the world differently.  We must live and move and have our whole being in the light of God's Truth hiding in the shade of His Cross.
What does this mean for us our lives?  This means we will seek first the kingdom of God trusting that all these things will be added unto us as God wills and as is good for us.  This means we Christians will prepare ourselves for godliness. We will prepare for worship, the day and place we meet our savior, hear our savior, and receive from Him life that never ends.  Preparing means that we will take the necessary steps to be ready. We will not just be on time for worship but we'll be early to prepare, to pray, to examine ourselves, to seek His Word and Spirit.  And then having worshipped we should be prepared to stay, to fellowship, to enjoy the holy fellowship of Christ's people and to continue our study of God's Word and be a help and benefit to those around us.  In so doing we will allow God's Word and Spirit time to work His wonders on our hearts.  And daily we will grow in faith towards Christ and love towards one another.  For Christ is the seed planted within us.  Christ is the branch become the mighty cedar, Christ is the One who loves the broken, the insignificant, the common, and the small.  Christ is the One who loves you.  AMEN!
The peace of God with surpasses all understanding keep your heart and mind through faith in Christ Jesus.  AMEN!