May 24, 2015 — Pentecost Sunday
Sermon Text — Ezekiel 37:1-14
Audio —
In the Name X Jesus.  AMEN!
Can These Bones Live?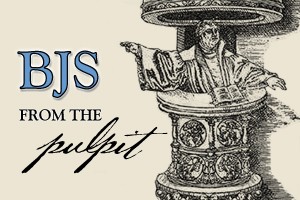 It is the Lord who opens eyes and it is the Lord who unstops ears.  He loosens tongues and causes the lame to leap.  Such is the One who brought us into being, who formed and fashioned us in the womb.  In this the psalmist delights when he sings, "For you [O Lord] formed my inward parts; you knitted me together in my mother's womb. 14 I praise you, for I am fearfully and wonderfully made. Wonderful are your works; my soul knows it very well. 15 My frame was not hidden from you, when I was being made in secret, intricately woven in the depths of the earth. 16 Your eyes saw my unformed substance; in your book were written, every one of them, the days that were formed for me, when as yet there was none of them. 17" (Psa 139:1 ESV)  This is our God, our Creator, the One who brought us into being and gave us life.  He is the God of life and not of death.
Thus the God of life leads Ezekiel by the hand in our text this morning.  He takes him by the hand in the Spirit of the Lord and sets him in the midst of the valley surrounded by bones, dry bones, very dry bones.  The land is unclean with death.  Death is the result of sin.  Ezekiel is given a vision of his people's sin, of His own sin. And Ezekiel could just as easily have been set in any land in any nation, at any time, even our own.  Behold!  Cemeteries continue to fill up.  Hospitals continue to fall short.  Diet and exercise only prolong the inevitable.  And like the zombie apocalypse too many wander about the landscape dead to God and dead to their neighbor.  Their death being a result of their sin. Their sin coming from Adam.  And like zombies they consume one another hoping to extend or gain whatever "life" they can.
And the Lord asked Ezekiel, "can these bones live?"  Ezekiel can only reply, "O Lord God, you know."  Ezekiel rests everything in the Lord's will.  Everything hangs upon God.  Life, true life, eternal life, depends on God, not Ezekiel, not Israel, not you or me or any one.
Our Bones are Dry and Our Hope is Lost
God's question to the prophet is not meant to introduce doubt but rather to give opportunity for faith.  Ezekiel answers well but we often do not.  Doubts continually afflict us.  We doubt because we walk by sight more than we wish to confess.  We see the might of our adversary and we cower.  We glimpse the strength of disease and our knees tremble.  We behold the size and scope of our cultural demise and lose hope.  In the face of social unrest we abandon our post, surrender our vocations and begin to live even more like the zombies around us.  "If you can't beat 'em join 'em." And join them we do.   We Christians go where they go, do what they do, and seek after what they seek after.   We choose to satisfy the pleasures of the flesh and pursue the happiness of this life even at the expense of neglecting the medicine of immortality given to make certain eternal life.  After all, why go against the tide, why fight an unwinnable war, why stand up in the midst of these dry bones?  We sin.  We doubt.  We sin some more and we suffer the anguish of our souls.  We become restless. We search. We seek.  We knock.  We ask.  But our seeking, knocking, and asking is in the wrong place, on the wrong doors, to the wrong people.  Thus with ancient Israel we despair.  "Our bones are dry, our Hope is lost and we ourselves are cut off."  The death that is sure to come is already at work in our flesh and we know it, . . . you know it, you feel it – which is why you want to feel better.  Which is why you want to follow your feelings.  "Be still!," says the Lord!  "Be still and know that I am God."  In other words, everything depends on God, not your feelings, not your works, not your efforts or your piety, or your intentions, not your doing this or doing that or singing this or singing that.  Everything depends on God.  Can these bones live?  O Lord God, you know.  Indeed!  God knows.  And God knows you.  He is the God of life not death.  Therefore, repent!
Prophesy
To bring life out of death, repentance out of stubbornness, the Lord doesn't give Ezekiel any special strength or power.  To turn the hearts of so many that first Pentecost the Lord doesn't give Peter, James or John to display signs in the heavens.  No, Ezekiel is told to prophesy and Peter and the 12 are given to preach.  The Lord pours out His Spirit.  For God's Word is not like the word of men, God's Word does what it says and works what He wills. God's Word is a Spirit filled Word, an inspired Word.  "It pleased God through the folly of what we preach to save those who believe. (1Co 1:21 ESV)"  Through the prophet's prophesying, by the Apostles' preaching God works His Wonders on dry bones.  He pours out His Spirit graciously and generously desiring all men to be saved and come to the knowledge of the truth.
God's preachers are not given to preach what they want. They are given to preach what they are told.  "Prophesy to these bones and say to them."  Says God to Ezekiel.  The content of such prophesy is bound to the Word of the Lord. The subject of apostolic doctrine is bound to the Word of the Lord.  There is no true prophesy apart from the Word and there is not true preaching apart from the Cross. For the gospel of God is full of the passion of God's Son.  "We preach Christ crucified!"  To bring life out of death and repentance out of stubbornness we are given to preach the blood of Christ.  For it is the blood of Christ which deals with the root of death.  In Jesus the shoot from the stump of Jesse sprouts life anew. He is perfect and righteous. He strong and holy.  Jesus is what we are not – without sin.  Yet, despite His righteous standing before God, Jesus assumed the posture of a slave.  He took the form of a servant and became obedient unto death that in His death He would die for you and me and all cursed by sin.  His death is the destruction of death.  His passion is the culmination of the Old Testament prophesies and the New Testament's fulfillment.  Everything depends on Jesus.  Everything hangs on the cross.  For there on the cross is God for you.  Do not doubt.  Do not worry.  Be still and behold the love of God for you.  Be still and know that He is God and through such labors of love He desires your eternal salvation.  His death is for your sins.  His resurrection is for your resurrection.  Jesus is the firstborn from the dead.  He is first never to die again.  Those who believe follow in His train.  Though we die, yet shall be live.  Jesus is the resurrection and the life.  This is the content of our preaching. This is the fulfillment of the prophet's Words.  Thus we preach and thus we glorify the God of heaven and earth and He who boasts is given to boast in the Lord.
You Shall Know
Note well, beloved, the doer of the verbs in our readings.  Though Ezekiel does the preaching, His preaching is merely the means for God's Working His Word in the valley of the dry bones.  Though Peter is the one speaking to the crowds, it is God who calls the nations to repentance.  We who preach are the vessels through which our God pours His Spirit upon the earth, upon you.  For what does the Word say, "I will open your graves."  "I will cause you to come up."  "I will put my Spirit in you and you shall live."  "I will place you in your own land."  "I have spoken it and performed."  What is willed by the Lord is fulfilled by the Lord through His Word.
Thus His Word is fulfilled in you through water and the Spirit.  For He saved you.  "not because of works done by [you] in righteousness, but according to his own mercy, by the washing of regeneration and renewal of the Holy Spirit, 6 whom he poured out on [you] richly through Jesus Christ [your] Savior,7 so that being justified by his grace [you] might become heirs according to the hope of eternal life. (Tit 3:5-7).  Through water and the Word the Spirit of our God has united you to the death and resurrection of Jesus Christ.  Christ's death has become your death.  Christ's resurrection has become your resurrection. Therefore what is spoken of Jesus is also spoken of you who believe and are baptized.  What is belongs to Jesus is given to you who believe and are baptized.  His righteousness is yours.  His holiness is yours.  His eternal dwelling is yours.  Heaven is yours.  Life is yours.
Such wondrous things are proclaimed by God's sent ones so that you may know.  When the Lord works these great and mighty deeds, He does so through Word and sacrament, by grace for you to receive by faith and not by sight.  He works the wonders and does the verbs.  You hear with your ears the heart of your God and you receive by faith the blessings of His labors.  By this you shall know that the Lord is your God and you are His dear child.  You shall know and be certain.  You shall know and rejoice.  You shall know and be full of hope!
The Lord has Spoken It
You shall know because the Lord has spoken it.  He's spoken it today through the preaching of His Word.  He spoke over you when you were baptized.  He daily and richly speaks it to those who call on His Name and recall His promises in the Word.  It is the nature of faith to recall the Words and promises of God.  Through these God reveals Himself to you. Through these God instills in the depths of your soul life, true life, eternal life.
Therefore beloved, on the Last Day the Lord shall speak once more.  He shall call His own by name, He shall call them from the clouds and the bones of the faithful shall rattle together.  "O dry bones, hear the Word of the Lord!"  And the Lord will breathe in these bones and call them life again.  He will put sinews on them and bring flesh upon them.  He will cover His beloved with skin and put breath into them and they shall live.  Our cemeteries will surrender their inhabitants. Our graves will be opened.  Our hospitals will be obsolete.  For none who share in the resurrection will ever be overcome by sin or death again.  They shall live forever and ever.   They shall live because these bones can live, these bones shall live, these bones will rise on the last day as a mighty and glorious army of saints redeemed by the blood of Lamb and sealed by the Spirit of our God.  These bones can live and shall live because our God is a God of life and not death, the God who calls sinners to repentance and works faith in the heart of those who hear with open ears.  Our God is the God of the resurrection!  Can these bones live?  For us, this question is not asked out of doubt, but one which glories in the God our salvation!  Yes! We say!  These bones can live!  "This is our God. We have waited for Him that he might save us. This is the LORD; we have waited for him; let us be glad and rejoice in his salvation." (Isa 25:9 ESV).  To God alone be glory.  AMEN!
The peace of God which surpasses all understanding keep your heart and mind through faith in Christ Jesus.  AMEN!