Palm Sunday — March 29, 2015
Sermon Text — John 12:12-19
Audio —
Grace, mercy and peace be unto you from God our Father and from our Lord and Savior, Jesus Christ.  AMEN!  Our text for this morning's sermon is taken from St. John's gospel account the 12th chapter.
Beloved in the Lord,
Jesus is Coming!  Hosanna!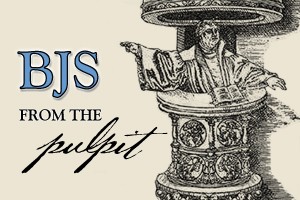 Jerusalem is abuzz with the name of Jesus.  Everyone is wondering.  Everyone is expecting.  Everyone is asking, "could He be the Christ?"  Pilgrims from all over the Empire have come to Jerusalem, come to celebrate the Passover, come today especially to select their lamb, the lamb for the sacrifice on Thursday.  The city walls cannot contain the crowds what was once 275,000 has swelled to 2.75 million.  It's no wonder some fear the crowds.  It's no wonder Rome has called in reinforcements for the festival.  Crowds can be fickle.  Fickle crowds can quickly turn into unruly mobs.  Many Jews would like nothing more than for their mob to take out Rome's legions.  That's one reason so many welcome Jesus.  They're waiting, waiting for Him to give the Word, waiting for the right moment to unsheathe their sword and gird up their loins for battle.  Jerusalem hangs on the edge of history as the one know as the Nazarene approaches.
The large crowd heard that Jesus was coming.  They knew the moment was at hand. They waved their palm branches. They laid down their cloaks.  Here He comes.  He's riding a donkey.  He's just like Solomon!  Solomon rode into Jerusalem on a donkey.  Solomon was the son of David.  "Hosanna!  Hosanna to the Son of David.  Blessed is He who comes in the Name of the Lord, even the King of Israel."  Today, their song has become our song, their hopes our hopes, their king, our King.  Thus our voices have been joined to that of saints long gone.  And our palm branches sway in the air, a perpetual welcome passed down from generation to generation as Jesus of Nazareth approaches us to be our king.
His Disciples Didn't understand
          But His disciples did not understand these things at first, nor do we.  We sing our songs. We wave our branches. We join in that which has happened for two thousand years and will continue to happen until the last day.  However understanding doesn't come from experiencing. Perception is not wrought by sight.  What we see often deceives.  And the foundation for our "knowing" is easily shaken by the events unfurling before us.  Jesus advances as our king!  But what does that mean?
Humanity is drawn to kings because humanity is drawn to power.  When the crowds went out to welcome Jesus that fateful Sunday, they lined the streets because they believe Jesus to be a man of power, great power, maybe even one in whom is the power of God.  Humanity loves power because power gets things done.  Power moves things, shapes things, changes things. Beware of the man who promises change – change requires power and to change things means to exercise power.  It is not given to humanity to believe in power.
And this is why the disciples were confused.  Indeed, Jesus did exercise power, divine power even.  He healed the sick.  He fed the hungry.  He cured the lame.  He touched lepers and made them whole.  He even raised the dead, not just once, not even twice, but three times, the last after Lazarus was dead four days!  Jesus has the power and the people want Jesus to exercise the power. We want Jesus to use His power.  And the confusing thing is that Jesus doesn't.  We don't understand.  How can He be the Messiah if He isn't powerful?  How can He change things if He doesn't use His power?  How can lead without exercising power?  What good is a Messiah who is weak – because the opposite of power is weakness.  In our world, not using power means you don't have power.  Now using power is essentially embracing weakness. Nobody likes a weakness.  Weakness fails to get things done.  Weakness doesn't change anything.  Weakness suffers and weakness dies.  Jesus comes in weakness and with the disciples we are often confused because we expect more from Jesus than humility and weakness.
Fear Not!
But if Jesus comes in weakness and humility, lowly and riding a donkey – what does this mean? What does this mean for me?  Why does Jesus approach this way?  Why in weakness and not in power?  We need power!  But what does power actually work?  It works fear – and without the right understanding, such power would work in our hearts the wrong sort of fear. Rather than evoking a reverential fear leading us to worship and adoration, any power coming from Jesus would only work terror.  No longer would we welcome as a gracious king, but as a tyrant. And Jesus will not be a tyrant.  He will not be such a king as the world expects or you believe you need.
No! Beloved, Jesus is a different King.  He's King of kings and His weakness is stronger than men's strength.
Rather than terrify those whom He loves He much prefers to woo.
Rather than ride a stallion of war, He is seated upon a beast of burden.
Rather than gather legions of men with swords, He calls women and children, sinners and tax collectors, the sick and the lame.
Rather than command an army of soldiers, He directs a choir of children singing Hosanna.
Rather than taking His place in the palace He assumes the position of servant.
Rather than executed justice from a throne He is condemned as a criminal.
He does not fight but He surrenders.
He does not defend Himself but He is silent like a lamb before its shearers.
He does not turn His back but turns the other cheek.
He does not avoid suffering but gladly and willingly bears it.
He does not consider it robbery to be equal with God, but He humbled Himself.
He does not rebuke those who mock Him but prays for them.
He does not come to judge but to be judged, not to be served, but to serve, not live at all costs but to give His life as a ransom for many, as a ransom for you.
Jesus doesn't do as we want nor as we would expect.  And this is the gospel of our Lord. For His weakness is our strength. His humiliation is our glory. His death is our life.  And His resurrection the certainty of our eternity.
Thus, by this sign He will draw all men to Himself.  When He is lifted up!  When He is crucified!  When He is weakest!  Then He is taking down our enemies.  Then He is covering over our sins.  Then He is destroying death. Then He is loving you with a divine, eternal, saving from hell sort of love because it's the love of God that gives Jesus into death for you.  Love has done this and though love appears weak, it is anything but weak.  Love that dies for His beloved is stronger than death!  Here Jesus appears weak and low and humiliated.  Yet, here Jesus is strongest and most loving for you in a way that is both gentile and powerful!
They Remembered what is Written
It's for this reason beloved that we Christians do not walk by sight – for what we see cannot give us perception and what we experience cannot give us understanding.  Even the disciples were confused by what they saw. But, after Jesus was glorified they remembered.  And it wasn't the events they remembered it was the Word written about Him.  The disciples remembered the Word which interpreted the events.  It is the Word which answers "what does this mean?" both of the events recorded in Scripture and the events experienced in our own lives. The Word gives us understanding in light of the passion of Christ our Lord.  The Word draws us nearer to Christ crucified and it delivers us from the perils of our sins.  Without the Word who would ever think that a crucified Messiah could take away sins?  But this is exactly what the Word of God gives us –a crucified messiah, a Lamb, God's Lamb who takes away the sins of the World.  Who suffers, dies, rises on the third day and is seated at the right hand of the Father.
It is the Word, beloved which is the source of our strength, our life and our salvation because it is the Word that gives us Jesus.  Though such a thing appears weak and powerless we must not let our natural understanding guide us in these matters.  When God's Word is attached to water  – that water is holy water and washes away sins and shame and gives eternal life. When God's Word is spoken by God's servant, when sins are absolved and sinners are forgiven, that word is a sure and certain word, as sure and certain as the resurrection of Jesus Himself! And when Jesus' Word says bread is His body and wine is His blood – why do we doubt?  He would not deceive or mislead us.  He gives us these gifts, these means of His grace, for our good and for our salvation.  Yes, they are common and don't seem to be that great and mighty and powerful but with His Word, the Word that brought forth creation into being, the Word that strips the cedars of Lebanon bare and makes the deer give birth,  the Word that is a powerful Word, a Word that does what it says and gives what it means, such a Word is truly a good Word, a gospel Word, a Word for the heart to trust and hold dear until the very last heartbeat.
Going After Him – Hosanna
          And so beloved, if we are to be the kind of people following after Jesus, then we are to be the kind of people who are found gathering here around His Word. We are to be the kind of people who go where the Word is preached and follow where the Word leads.  For the Word not only gives us Jesus but leads us further into the Holy of Holies, where we draw near to God Himself, bow the head, bend the knee, lift the hands like the hands of a beggar and await His good gifts.  Why do we do this, because the Word brings us Jesus, because Jesus draws near in gentleness and mercy, not just spiritually, but physically, riding as it were, beneath the bread and the wine.  His true Body and His true Blood given for us, pressed up against us to warm our heart and quicken us by grace through faith that we not only receive His love but also are empowered to share His love with those around us.  Thus as He approaches we sing:  Hosanna! Blessed is He who comes in the name of the Lord, even the King of Israel!  And we remember the scripture that is written about Him and we receive Him in the depths of our hearts and no one can take that away, not sin, not death, not devil, no one can take it away.  For when the Spirit plants home His Word and sets the believer in the Father's hand, no one can snatch them out. AMEN!
The peace of God which surpasses all understanding keep your heart and mind through faith in Christ Jesus.  AMEN!