Lent III – March 8, 2015
Sermon Text: John 2:13-25
Audio:
Grace, mercy and peace be unto you from God our Father and from our Lord and Savior, Jesus Christ.  AMEN!  Our text for this morning's sermon is taken from St. John's gospel account the second chapter.
Beloved in the Lord,
Turning Over Tables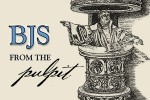 Have you ever heard a lamb roar like a lion?  Have you ever seen a lion silent like lamb? Today, the Lord whom you seek suddenly comes to His temple.  His Father's house has become a house of merchandise, money, business exchanges.  And the Lamb roars!  With cords in hand the Savior works His alien work.  He who brought grace and truth today echoes the Law.  Jesus in the temple is more like Moses on the Mountain.  The Passover of the Jews is at hand and the Jews have made the Father's house a house of trade?  What were they trading?  Money?  Goats? Lambs? And Oxen?  This is where Jesus starts.  He overturns the tables.  He lets the animals go free.  He drove them all out of the temple, drove them out of His Father's house.
Who is Jesus to do this?  That's the question put to Him by the Jews.  "Who are you, Jesus, to come in here like you're all that and more, and disturb this holy place?  Who are you to upset our exchanges?"  The Jews were upset about a few overturned tables. But was Jesus really concerned about a few moneychangers and animals destined for sacrifice?  Is this why Jesus is consumed with zeal for His Father's house?  Is Jesus really teaching His disciples to not sell things in church, you know, like to not have bake sales, or fund raisers in His church? Or is there something more going on here?
Upsetting our Exchanges
There's definitely something more going on which is the real reason the Jews get upset. And . . . it's the real reason you get upset when Jesus overturns your tables and upsets your exchanges.  Jesus isn't attacking Jerusalem's economy.  He's overturning Jerusalem's theology. You see, those animals were destined for sacrifice but as an item to barter for God's forgiveness. They were being exchanged for God's mercy. They were being offered by the people to earn God's favor.  They honored God with their lips but their hearts were far from Him.  When Jesus overturns their tables, He's overturning their theology because their theology has it backwards.
Human nature is fallen.  What the Jews were doing then continues today as many enter God's house and attempt to offer Him an exchange as though God's love and mercy were to be bartered for.  Such exchanges happen between business partners not fathers and sons.  Such exchanges often sound like the Pharisee who says, "God I thank you that I am not like other men. . . .  but I fast twice a day and give a tenth of my income."  In other words, God, here are my good works.  Here is my praise and my sacrifice.  I have decided to believe in you.  I've done my part of the exchange.  Now . . . you do your part.
There is no bargaining with God for His blessings nor for His mercy.  The Lord desires mercy and not sacrifice, a contrite and penitent heart He will not despise.  His will is to be merciful to sinners.  When Jesus overturns the tables of our theology of Glory, He overturns all of our efforts to save ourselves, to justify ourselves for God in Heaven. He overturns all of our attempts to exchange ourselves for salvation.  But "what can a man give in exchange for His soul." (Matt. 16:26)  Than answer is nothing.  For "we know a person is not justified by works of the Law." (Galatians 2:16)  That means you are not justified by works of the law.  You are not saved by your deeds done or not done.  This is upsetting because human nature, fallen as it is, always wants something to do other than repent and confess.
Destroy this Temple!
The Lamb roars in the temple as Jesus preaches like Moses.  But Jesus is not another Moses.  He's not working His proper work.  That's what makes this work in our text so strange. That's what makes the Jews and us so uncomfortable.  Jesus is working the work of the Law. Jesus is speaking with the voice of Moses.  Why? Because "through the Law comes knowledge of sin." (Romans 3:20).  And no person will be justified by the Law.  If no person is justified by the Law then how is anyone saved?  Salvation comes through the destruction of the temple.  The sign Jesus gives, is no ordinary sign, but it's a sign that accomplishes what it signifies.  The destruction of the temple is the end of the Law.  The end of the Law is accomplished in the body of God.  And so the Lamb who roars like a lion in the temple courts will soon be the Lion who silently submits to its shearers and is humiliated before the nations, before angels and demons alike, even humiliated in front of His Father.
The temple is the body of Jesus.  And the body of Jesus brings down the Law.  Standing before Pilate, humiliated before the Sanhedrin, Jesus offers no words.  He answers no questions, speaks no words of defense.  Rather, He accepts all guilt,  of all people, of all time.  He who knew no sin stands before the Law itself as the chief offender because He stands there for you.
The Lion is silent like a lamb.
Though He could roar with great might and call down 12 legions of angels, He does not.
Though He could strip the cedars of Lebanon bare with His voice, He does not.
Though He should deny us, He does not.  "He remains faithful.  For He cannot deny Himself." (2 Timothy 2:12)
And so, Judah's Lion goes silently like a Lamb.  God's Lamb takes away the sin of the world.  Jesus death is the end of the Law.  For the Law rages against humanity, accusing, condemning, damning.  But when the Law sunk its teeth in the flesh of Jesus, the Law lost its strength.  "For the sting of death is sin and the power  of sin is the Law." (1 Cor. 15:56).  When Jesus died He killed sin in His body, your sin and my sin.  He overturned the tables of our fallen religion of works and He offered the Father Himself in our place.  Jesus is the exchange given for a man's soul.  Jesus' life, Jesus' blood, and  Jesus' body are the lone offerings received by the Father.  For these are pure, and holy, without spot, stain or blemish.  These do not see decay.  No moth or rust can destroy the work Jesus has accomplished through His death and three day resurrection.
The Blessed Exchange
With the tables overturned Jesus lets the animals go free.  The exchange is no longer between business partners but a Father and a Son.  Sinners are forgiven.  You are forgiven. Mercy is poured upon you for Jesus' sake in the waters of Baptism.  What is yours by nature is taken away.  You sin is taken away.  And what is not yours is given you as a gift by grace through faith.  For the "righteousness of God has been manifested apart from the law, although the Law and the Prophets bear witness to it–22 the righteousness of God through faith in Jesus Christ for all who believe." (Rom 3:21-22 ESV)  In Christ God is both just in punishing our sins and justifying in saving sinners through His blood.  This is the proper work of our Savior and the love of God for you.
And so we approach the throne of grace, no longer to offer ourselves, our strength, merits, works, good things we've done, in exchange for our souls.  Rather, we approach in humility saying "God be merciful to me a sinner."  We draw near in faith, trusting that God in Christ has reconciled us to Himself through Jesus' death and resurrection.  And drawing near we receive grace and every blessing, not because of anything we've done, but solely on account of Christ!
This is a most blessed exchange –
when God takes away my sins and clothes me in the righteousness of His Son,
when God invites to His banquet one who is not worthy to loosen His sandals,
when God washes disobedient children and rejoices with all His angelic host in finding lost sons,
when God loves those who did not love him first.
Turning around our Worship
Beloved in the Lord, Jesus' turning over the tables in the temple is not about moneychangers, or sheep or oxen, goats or pigeons.  It's about Jesus turning over our false religion and our vain attempts to exchange something for our souls.  To do this He first roars like a lion as the Law strikes the heart with pin point accuracy.  And then He is silent like a lamb as His heart is pierced through on the cross for you and for all.
Turning over our exchanges, He turns over our hearts.  His heart poured out changes our heart.  No longer do we approach in fear, hoping to wrestle a blessing from God.  But we come before Him as a dear child draws near his or her father.  We come and we sing and we pray and we eat and we drink and we're merry together.  He offers us Himself.  We return thanks.  He delivers us from our sins.  We praise His Name before the nations.  He prepares a feast and we declare His death until He comes again.  He treats us as sons, not business partners.  For "Who is a God like you, [O Lord] pardoning iniquity and passing over transgression for the remnant of his inheritance? He does not retain his anger forever, because he delights in steadfast love.19 He will again have compassion on us; he will tread our iniquities underfoot. You will cast all our sins into the depths of the sea.  20 You will show faithfulness to Jacob and steadfast love to Abraham, as you have sworn to our fathers from the days of old.  (Mic 7:18-20 ESV)  Such are the promises of God for you today.  AMEN!
The peace of God which surpasses all understanding keep your heart and mind through faith in Christ Jesus.  AMEN!