Lent II — March 1, 2015
Sermon Text — Mark 8:27-38
Audio —
Grace, mercy and peace be unto you from God our Father and from our Lord and Savior, Jesus Christ.  AMEN!  Our text for this morning's sermon is taken from St. Mark's gospel account the 8th chapter.
Beloved in the Lord,
Satan Again!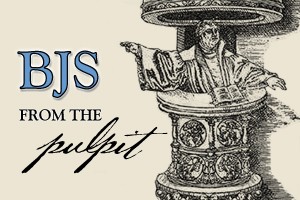 It seems that no matter where Jesus goes in the gospel of Mark there is the Devil or one of his henchman tempting, taunting, and terrorizing.  Jesus meets him in the wilderness among the wild beasts and defeats him.  Jesus runs into him in the synagogue and casts him out.  Jesus encounters him in the tombs and sets the man free. He sends them to the swine and drowns Legion in the sea.  And every time they meet, every time the Son and the Serpent do battle it is always a battle of words.  And Jesus' Words always win because Jesus' words do what they say, work what He wants, and give what He offers.  This morning is no different if you have ears to hear.
What we hear this morning is again a battle of words between Jesus and Satan.  "who do men say that I am?"  Men say Jesus is a teacher, a prophet, or John the Baptist risen from the dead.  Men get it wrong because they do not think the things of God but they think the things of men.  The world has the wrong words about Jesus.  "Who do you say that I am?"  "You are the Christ!"  Peter gets it right, not because Peter is super smart or super spiritual but because this was revealed to him by the Father in Heaven.  Peter gets it right and Peter is blessed.  Peter has the right words about who Jesus is and Jesus praises him for it.  But there is more to being Christ than Peter understands.  The Christ must suffer many things, be rejected by the chief priests and scribes, be killed and on the third day rise from the dead.  To be Christ means to be unpopular, persecuted, put to death, and in the end triumph over the enemies of man.
Here, Peter speaks for Satan.  Taking Jesus aside Peter has words with Jesus saying, "This will certainly never happen to you."  And all of a sudden Peter gets it wrong.  Peter's voice becomes the voice of the Devil because Peter's words are going against Jesus' Words.  Words that go against Jesus' words get Jesus' words wrong.   Sure, Peter was praised for know who Jesus is. But Peter is Satan for not know what Jesus does.  Getting wrong what Jesus does gets everything wrong.  Who Jesus is and what Jesus does are intimately linked together for the salvation of the world.  Get one wrong, you get the whole thing wrong and you are lost.
Thinking the thoughts of Men
Peter's mind was not on the things of God but he was thinking the things of men.  The things of men are under the dominion of another ruler – they get Jesus wrong because they are not thinking the things of God – because they are not under the dominion of God's Word. Thinking the things of men is way Old Adam wants to go.  This is the way your fallen nature wants to go because this is way that seems right, it's the way that feels right.  This wrong way, this way that seems right and feels right, this way that gets Jesus wrong, is the way we're all tempted to go if we fail to heed the words of God.  The way of the world is the works of the flesh and the works of the flesh are manifold.  "sexual immorality, impurity, sensuality, 20 idolatry, sorcery, enmity, strife, jealousy, fits of anger, rivalries, dissensions, divisions, 21 envy, drunkenness, orgies, and things like these. I warn you, as I warned you before, that those who do such things will not inherit the kingdom of God. (Gal 5:19-21 ESV)  Why such immorality along this way?   Because following a Jesus that doesn't die for sins doesn't take sin as seriously as Jesus does.  And when one doesn't take sin as seriously as Jesus does such a person doesn't take Jesus death very seriously either.  Sin deserves death.  Thinking the thoughts of men, thinking the way of Old Adam, too many of us find ourselves sounding a lot like Peter – while not denying the death and resurrection of Jesus, certainly downplaying what He's done for us and emphasizing a gentler, kinder,, less offensive, softer side to salvation.  Thinking the thoughts of men we prefer to hear about God's love, how much he loves me, how wonderful I am to Him, how proud He is to call me His own, how he rejoices over me.  Thinking the thoughts of men we don't really want to hear so much about sin, or self-denial, or suffering, and certainly not death, or even resurrection.  Those are "messy" "unloving" topics.  They offend people. They offend us. They make us uncomfortable and if there's one thing that we'll go to great lengths to provide for ourselves its comfort!  We want the easy going Jesus. The fun loving Jesus. The never get sick, never suffer or die, kind of Jesus.  In truth we want a Jesus that doesn't do what Jesus says He's come to do because we know that if we follow such a Jesus we will have to do it too – not for our salvation but simply as the cost of being His disciple.
To Be Christ is to Die and Rise
There is no room for error in Peter's Words.  Though Peter set his words against Jesus privately, Jesus doesn't keep things private.  Too much is at stake.  Getting Jesus wrong, either His person or His work is damnable.  Jesus' words to Peter are words to all who would be Jesus' disciples.  And once more Jesus' words bring clarity to cloudy theology.  "GET BEHIND ME SATAN."  Jesus calls it what it is because what it is  . . . is demonic.  It contrary to God and it's in the way of Jesus.
Nothing gets in the way of Jesus.  He is the Christ and to be Christ means that He is come to save sinners.  To save sinners means that Jesus takes sin seriously.  He takes your sin seriously.  Sin deserves death. Your sin deserves your death.  But Jesus doesn't want you to die. Jesus doesn't want you to pay for your sins.  Jesus doesn't want you to offer even one drop of your blood, one prayer of your piety, one utterance of praise.  He doesn't want you to decide.  He doesn't want you to try harder. He doesn't want you to have your best life now or to make every effort to improve your relationship with Him.  That is all of the thoughts of men and therefore demonic.  Jesus wants you to repent and believe the gospel.
And the gospel is that Jesus takes away your sins.  He who knew no sin becomes sin so that you can become the righteousness of God.  Taking away your sins, becoming sin itself, cannot survive the justice of God.  Sin deserves death.  Therefore Jesus dies – not for Himself, for the sins He carries are not His own but yours.  He dies for your sins.  He dies for the world's sins. He is not ashamed to take up His cross and carry this burden.  He is moved by love, love for God who sent Him and love for you who need Him.  Love leads Him to the cross.  Love stretches out His arms, bares His back, and offers His brow.  Love is set in place with nails and poured out upon the earth in blood.  Love gives everything to save you, to forgive you, to redeem you not with gold or silver, but His holy precious blood and His innocent suffering and death.  Love dies and Love rises on the third day because God is love and nothing triumphs over God, not sin, not death, not devil, nothing!
Thinking the thoughts of God
Love is not ashamed to draw near sinners.  Jesus has come for sinners not saints, for the sick, not the well, for the unrighteous not the holy.  He's left the 99 to seek out the lost one. He's lit His lamp and searches the whole house, every corner of the globe to find you.  He watches for insolent and ungrateful sons to abandon the pig slop and come home.  God's thoughts are not our thoughts and God's ways are not our ways.  That's why we need Him to save us, because we cannot save ourselves.  We can't think our way out of sin.  We can't work our way out sin. We can't feel our way out of sin.  We need our minds to be renewed.  We need our hearts to be regenerated.  We need our souls to be redeemed.
The Words of Jesus give such things to those who believe on His Name.  "Therefore, if anyone is in Christ he is a new creation. The old has gone and the new has come." (2 Cor. 5:14.) If anyone is in Christ he or she isn't supposed to be the same as they were before Christ. To be the same is to remain in sin thinking the thoughts of me. To be in Christ means to be different than the ways of men.  To be in Christ means to not be "conformed to this world but to be transformed by the renewal of your minds that by testing you may discern what is the will of God, what is good and acceptable and perfect." (Rom 12:2 ESV)  To be in Christ means to be regenerated by the washing of renewal and the Holy Spirit whom He's poured out upon us richly through Jesus Christ." (Titus 3:5)  To be in Christ means to be "redeemed from the earth for God and for the Lamb" (Revelation 14:3-4).
Therefore, as a Christian your desire will be for the Lord and not for sin.  Sin will no longer have dominion over you. Satan will no longer have dominion over you. Your own passions and lusts will no longer have dominion over you.  Yes, you will still sin, but such sin is not to rule you.  When sin is given to rule over you then you will have returned to your vomit and abandoned your Lord.  In all things be penitent and believe the gospel.  Return to the Lord your God and He will shower you with steadfast love and mercy.  Do not take sin lightly but rejoice in Him who calls you to die with Him and to rise with Him.
To be Christian is Follow Christ
Beloved in the Lord, this is what it means to be Christian.  It is not only to believe but it is also to work.  It is not only to know who Jesus is but also to know and believe what He's done for you.  It is not only to confess your sin but also to take up your cross and follow Him, denying yourself, your desires, passions, and lusts.  To be Christian means to be little christs.  It is your identity given you as a gift in baptism.  It is who you are and because it is who you are it is also what you do.  What you do is a reflection of who you are.  And Faith without works is dead.  You are not dead but you are alive in Christ by grace through faith.   Faith in Christ and His Word makes you Christian, and good works; bearing the cross, suffering for the Name, loving your neighbor, avoiding sin are the outward marks of the inward renewal and working of the Holy Spirit.  Therefore let your light shine before men, beloved.  And let all give glory to God alone. AMEN!
The peace of God which surpasses all understanding keep your heart and mind through faith in Christ Jesus. AMEN!