Trinity Lutheran Church, Sidney, MT
St. John Lutheran Church, Fairview, MT
1 Timothy 4
February 15, 2015
"We are beggars. This is true." These were the last written words of Martin Luther before he died in his hometown of Eisleben on January 23, 1546. This is true. We are beggars. To say that we are beggars is to confess two things: it is first to say that we have nothing. We need what God has to give to us. And, second, it means that we will take whatever it is he has to give because, after all, beggars can't be choosers. We are more than beggars. We are spiritually blind, deaf, dumb, and crippled beggars, perfectly powerless to do anything for our salvation, unable even to prepare ourselves for God's grace or accept the grace he offers to us. And yet, by the washing of regeneration and renewal by the Holy Spirit God has made us willing—more than willing—even to lap up the crumbs that fall from our Master's table. There is no difference here: for all have sinned and come short of the glory of God, and all are justified freely by his grace through the redemption that came by Christ Jesus. We are equally dependent on God's mercy and equally blessed to have it.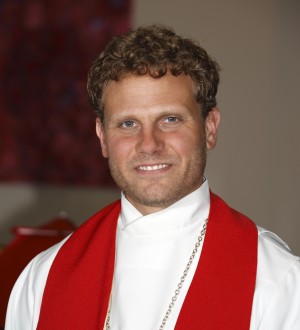 And yet, this installation service also signifies an important difference—a God ordained difference—between beggars and beggars. A quote that is often attributed to Luther, but actually came from a certain Methodist priest from British Ceylon—present day Sri Lanka—by the name of D. T. Niles, explains this difference like this: "Christianity," he says, "is one beggar telling another beggar where he found bread." The idea here is that your newly installed pastor is the one beggar, and these congregations, Trinity Lutheran Church here in Sidney and St. John Lutheran Church in Fairview, are the other beggar. The one tells other about the bread through the preaching of God's Word and the administration of the sacraments; the other is being told the good news about the bread and partakes of it through weekly church attendance.
This difference between one beggar and another is an arrangement of God, a holy institution. It was established by our resurrected Lord Jesus himself when he sent his apostles into the world with the command to baptize all nations in the name of the Father and of the Son and of the Holy Spirit and to teach them to hold onto everything he commanded them. And, through all of this, they should be certain that wherever they go the same Jesus who sent them would also be with them and their congregations with all of his grace and benefits no matter what. We call this blessed arrangement the ministry of the Word.
The difference between the one "telling" and the other "being told" does not change the fact that everybody remains a beggar. The pastor is completely unworthy of his office. Even after he has done everything Christ has told him to do, he returns to his Lord and says: "I am an unworthy servant. I have only done my duty." And the congregation, likewise, remains a beggar. Every time we pray the words of the Kyrie, "Lord have mercy upon us. Christ have mercy upon us. Lord have mercy upon us….," we are recognizing our dire need and earnest desire for the grace and forgiveness of sins bestowed through this ministry.
The ministry of the Word is a very simply arrangement from Christ's own perspective, consisting of a very simple job description which is not difficult to understand, and yet for us sinners, who must grapple with our sin, it not an easy arrangement. We hear a lot these days about how the ministry has fallen into a state of disrepute. Pastors do not hold the same place of honor they had when everybody still spoke German. (This may very well be the case.) Our culture has become increasingly anti-authoritarian, individualistic, and self-reliant. In our do-it-yourself world, people have become more resentful than ever before of the difference between pastor and people. But the real, underlying reason why people despise the office of the ministry is because they are simply too proud to beg. Like Simon the Sorcerer in Acts, chapter 9, who offered the apostles money in exchange for spiritual goods, also today religious consumers, full of religious pride, descend on our congregations intending to make a profit on temporal wares and maximize their personal benefit. You heard it all before: "What else does your church offer?" they ask. "That is, besides the Word of God. I can get that basically anywhere. But what other ministries do you have? How big and hopping is your youth program? What else do you have? Do you have contemporary worship? What's in it for me?"
Note well, dear Christians: this gimme attitude reflects a posture of rank unbelief. If you are too proud to ask God for mercy and be content with his Word every single day of your life—if you consider yourself sufficient enough to bargain with God and his saints for something other than God's Word and promise—then you will meet with total disappointment. The only wages paid to workers of human righteousness in God's free economy is eternal death: "For the wages of sin is death." But, if you will beg, "the gift of God is eternal life."
And yet, while we are just beggars, and we pray that we would remain humble and perfectly content with whatever our Lord in his mercy has to give us, this does not mean that we stoop to eat just anything that is laid before us. Beggars can't be choosers, and yet we refuse to eat slop. In fact, we demand nothing but the best. It's not because we're arrogant or contankerous or persnickety. The reason we demand the best is because our Lord gives us nothing but the best. He doesn't give us slop to eat. He graciously invites us to Mount Zion, to his holy church, where the prophet Isaiah says, "the LORD of hosts will make for all peoples a feast of rich food, a feast of well-aged wine, of rich food full of marrow, of aged wine well refined" (Isaiah 25:6). And even if we must stoop here today to eat the crumbs that fall from our Lord's table, we are confident that this is the very Bread of Life from heaven that sustains us in true and abiding faith until our end and even the resurrection of our bodies.
It isn't just a matter of taste. It's a matter of life. We live on every single word that proceeds from the mouth of the Lord. And every word points to Christ and the forgiveness of sins which he has purchased for us not with gold or silver, but with his holy precious blood and innocent suffering and death. That is why we are perfectly content to be poor—because God has chosen for Christ's sake to make us rich and continues to lavish us with forgiveness of sins, life, and salvation through the ministry of his Word and sacraments. Through faith in God's Word, we have become beneficiaries of a marvelous exchange whereby Christ has taken our poverty to himself on the cross of Calvary and given us his own righteousness in return, and with it all the riches of heaven. That is everything that God gives us. How blessed we are to beggars! And very wealthy beggars at that.
Nothing we do, no power in us, is able to add to this one thing needful. The Bible is totally sufficient—it is enough—to furnish our spiritual diet. The purity and clarity and simplicity of the faith delivered once and for all to the saints through the word of the apostles—this is an inherent purity and clarity and simplicity. No amount of theological education, no amount of preparation is required to be added to it. We do not depend on some theological recipe. The doctrine that God has revealed to us by inspiration of the Holy Spirit is able to be taught and learned by anybody, and especially those who are willing to beg. But, alas, we have entered the Age of Apathy. You might say that people do not like to be instructed. They have a bad attitude toward theological education. They are apathetic. Never has the western world seen more apathy than we see around us today. Not caring about pure doctrine is a spiritual disease. It is quite possibly the final and most destructive plague before the end of time. "Now the Spirit expressly says [in our epistle lesson] that in latter times some will depart from the faith, giving heed to deceiving spirits and doctrines of demons…"
Congregations everywhere are prey for every slick salesman to come through scratching their itching ears, "speaking lies in hypocrisy, [because] their own conscience seared with a hot iron…." They would deem you unworthy to eat the food of heaven, so they water it down with their own fables, dilute it with wives' tales, jack it full of artificial flair, and mass-produce it in their megachurches in the hope of gaining the greatest amount of people possible, but they leave their paying customers hungry and wanting and worse off than they were before. The distinction between a faithful pastor and an unfaithful pastor today will rest on his attitude towards apathy. What does he do when people stop caring? Does he scratch their itching ears? Does he meet the needs they feel rather than the needs they have? Is he a man-pleaser who would rather preach for a living and for a promising tomorrow than to fill the actual spiritual needs of their people? God has established his ministry in the church in order to keep us beggars—and to prevent his free gift from being marketed by false prophets.
Meanwhile, and with this in mind, Paul instructs Timothy, and with him every pastor in his train, not to neglect the gift that was given him by prophecy with the laying on of hands. The gift of which Paul speaks is the pastor's ordination, and specifically the God-given aptitude given him there, and leading up to then, to teach God's Word clearly and succinctly. Paul goes on to explain to Timothy that by cultivating this aptitude and giving himself entirely to the task of teaching the gospel, a preacher's progress will become evident to everybody. In the case of Pastor Preus, we are talking about thirty-six years of progress and an aptitude which, I know, will be evident here as well.
Likewise, these congregations, Trinity Lutheran and St. John Lutheran, having been instructed in the pure Word of God by Pastor Warner for ten years, have through faithful dilligence in regular worship attendence cultivated an aptitude of their own. Just as God requires an aptitude on the part of his pastors to teach God's Word correctly, he also requires an aptitude on the part of his church to be taught God's Word correctly. They should be able to examine themselves and so discern the body of Christ administered in the Lord's Supper. Our practice of closed communion assumes this. Closed communion, as you know, is the biblical and ancient practice of administering the Lord's body and blood in the Lord's Supper only to those who have been instructed in the Christian faith, have been examined in this faith, are able to examine themselves, and who have publicly confessed this faith as their own.
Yet, all of these things—aptitude, progress, diligence, experience—do not necessarily make us Christians. They are certainly not what make us beggars. In fact, sometimes our best efforts to fulfill the office produce a tension between our duty and our own personal salation. Christ instructed Peter in John 21, and with him every pastor he sends: "Feed my sheep." Notice, he does not say: "Feed yourself." At least that's not what makes a pastor a pastor. The ministry of the Word does not depend on the faith of the pastor. And yet, if the pastor is going to remain a faithful beggar, he must also believe what he teaches. St. Paul, who understands this conflict very well, adds the following instructions to Pastor Timothy: "If you instruct the brethren in these things, [that is, the pure doctrine] you will be a good minister of Jesus Christ, nourished in the words of faith and of the good doctrine which you have carefully followed." Timothy, and every pastor, teaches for himself too. And if he will continue preaching it, he must consume it, imbibe it, believe it, for in so doing, he exercises himself towards true godliness.
It is a privilege for me to have had my pastor as my own father. My mother and father taught us kids what they, too, believed. And while we knew from the inside, at least to some degree, how difficult a job being a pastor could be, I became a pastor anyway, and seven of my brothers, too, because we love this stuff. By God's grace, we are not ashamed of the gospel we preach. And that is always how the prophet's mantle is passed down to the prophet's sons. The same principle holds for every Christian home. Fathers and mothers are called by God to teach their children God's Word—to hold devotions after dinner, bring their children to church regularly, avail themselves of the means of grace and instruction in the Word, and talk about Jesus with their kids on a daily basis. This is the duty of both parents, but especially the father! Fathers, if your children can watch the one they look up to and call "Daddy" humble himself and beg, you will do them a greater service than anything else you could ever do for them. If you love the gospel, they, too, will love it.
What St. Paul says to every pastor may be says to parents as well: "Take heed to yourself and to the doctrine. Continue in them, for in doing this you will save both yourself and those who hear you." Yes, dear Christians, doctrine saves. The doctrine that distinguishes us as Lutherans is the doctrine that saves us from our sins because it at its center is the teaching that God has forgiven us all of our sins, that is, declared us righteous for the sake of Christ, whose perfect obedience to the law and bitter agony and death on the cross in our place have fully appeased our Father in heaven, covered our shame, and cleansed our afflicted consciences through faith in his Word.
This doctrine of justification is the central article of all Christian teaching; "it is the sacred ocean into which all other doctrines flow; it is the treasure chest of our faith which keeps all other teachings safe and unharmed." That is why we will confess it and, with the help of God, hold on to it till this generation passes away. "For to this end," says St. Paul, "we both labor and suffer reproach, because we trust in the living God, who is the Savior of all men, especially of those who believe." But if you ever worry that you have not labored enough or suffered enough, if you fear that your faith is not strong enough to withstand, then I tell you look away from your heart. Look to Christ. Look to the blood which he poured out for you on Calvary for the forgiveness not only of your sins but the sins of the whole world.
Dad, I have something on my heart that I've been meaning to tell you for the last 36 years. And now that the opportunity has come, I have nothing to tell you that you and Mom did not already teach me when I was a child. Now that I fill the same office you fill, and by God's sheer grace, necessity has been laid upon me: I am bound to preach the gospel that I believe. What a privilege it is to share with you—one beggar to another—the Bread of Life that nourishes the soul—to preach and teach what we ourselves cherish more than any other treasure and earth. What an awesome job we have! What a terrific honor it is to preach the gospel. I can think of nothing more fulfilling, nothing more satisfying, than to comfort fellow beggars with the forgiveness of sin I so sorely need myself.
By way of conclusion, I will tell you and your congregation one more thing that I learned from you and which has served me well in my ministry. What makes you a Christian pastor is precisely what makes you a Lutheran pastor. Likewise, what makes these congregations Christian congregations is what makes them Lutheran congregation. We are beggars, yes, but we are Lutheran beggers. That's why we expect nothing but the best. That's all God gives. And, for Christ's sake, that is exactly what we get. Let us pray:
One thing needful! This one treasure Teach me, Savior, to esteem; Other things may promise pleasure, But are never what they seem; They prove to be burdens that vex us and chafe us, And true lasting happiness never vouchsafe us; This one precious treasure, that all else exceeds, Gives joy above measure and fills all my needs (ELH: 182)
Amen.