"Depart in Peace" (Luke 2:22-40)
Are you ready to go? What I mean is, are you ready to leave? No, I don't mean right at this very moment. It would be nice if you would stick around till the end of the service. But then, at the end of the service, will you be ready to leave? By that I mean, will you be ready to leave in peace, satisfied and content and ready for whatever comes next?
What makes you ready to leave, to leave any situation? For instance, this year is coming to a close. Are you ready to put 2014 behind you and move on to whatever 2015 may bring? What makes you ready to leave, even to leave this life? That day could happen any day, you know, any hour. Are you ready to go? If the Lord were to decide to call you home, even today, would you be ready? If not, why not? If so, what would make the difference?
Today in the Holy Gospel we meet a man who was ready to go. He was ready for whatever might happen next. And we find out in this text why he was ready, what made the difference. The man's name is Simeon, and I think we can learn something from him today about what it means to "Depart in Peace."
Let's set the scene. It's forty days after the birth of Christ. We're in Jerusalem. We're going to the temple. Why? Because forty days after the birth of a firstborn son, the father and mother were supposed to go to the temple and offer up a sacrifice to the Lord. It's in the Law of Moses. Because the firstborn sons of Israel were spared from death at the time of the Passover in Egypt, those boys were to be dedicated to the Lord and his service. Theoretically, they were supposed to serve at the temple. But the Lord God set apart the whole tribe of Levi to be kind of the "designated hitters" to take the place of the boys from the other tribes. Only, on this occasion, there is a firstborn son from the tribe of Judah, the tribe of kings, coming into the temple, who will also go on to be the Priest Supreme, making the ultimate sacrifice for all people. Do you see him? Joseph and Mary are carrying him into the temple now.
What? You say you can't tell which couple carrying a baby into the temple is the one I'm talking about? Yeah, I know, that's the point. There was nothing special, no special effects, no halos, to distinguish the Holy Family of Joseph, Mary, and baby Jesus from all the other families there that day. And that's how it would have appeared to Simeon, too, had the Lord not given him a special revelation by the Holy Spirit.
"Now there was a man in Jerusalem, whose name was Simeon, and this man was righteous and devout, waiting for the consolation of Israel, and the Holy Spirit was upon him. And it had been revealed to him by the Holy Spirit that he would not see death before he had seen the Lord's Christ. And he came in the Spirit into the temple, and when the parents brought in the child Jesus, to do for him according to the custom of the Law, he took him up in his arms and blessed God."
Simeon was waiting for "the consolation of Israel," it says. He was waiting for the comfort the Lord had promised to his people. "Comfort, comfort my people," the prophet had spoken centuries before, and Simeon was waiting and wanting to see the fulfillment of that promise. Now, here it comes. The consolation, the comfort, is being carried in right before his eyes.
The consolation comes in the person of this little baby. The Holy Spirit reveals to Simeon that he is seeing the Lord's Christ. This is the Messiah, the Christ, the promised deliverer-king, who will bring in God's kingdom of comfort and consolation. Promise fulfilled. The Lord had told Simeon he would not die before the arrival of the Messiah. Now the Christ has come. Simeon thanks God for fulfilling this special promise to him, and so now Simeon–presumably an old man–now Simeon is ready to see death, if that is what is in store for him.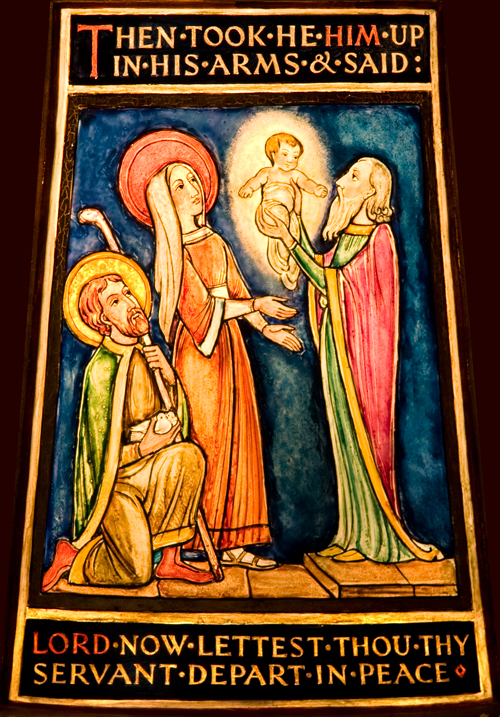 Simeon takes the little baby in his arms and utters this beautiful psalm of praise: "Lord, now you are letting your servant depart in peace, according to your word; for my eyes have seen your salvation that you have prepared in the presence of all peoples, a light for revelation to the Gentiles, and for glory to your people Israel."
Now here's what it means to be ready to depart in peace. It's to know and to experience the salvation that the Lord has prepared and promised. That's what Simeon experienced when he saw that baby with his own eyes and held him in his arms. Because of this salvation, come in the person of Christ, now Simeon knew he was at peace and ready for whatever might come next, even his own death. Now he could depart in peace.
How would that peace, that salvation, that consolation, come about? That's where our text goes next. Joseph and Mary marveled at what Simeon said about their baby. And Simeon blesses them and says to Mary his mother: "Behold, this child is appointed for the fall and rising of many in Israel, and for a sign that is opposed (and a sword will pierce through your own soul also), so that thoughts from many hearts may be revealed."
The consolation will come through conflict. The salvation will come through suffering and sorrow. The peace will come through a cross. Mother Mary will experience sorrow, like a sword piercing her soul, when one day she will see her son suffering shame and humiliation and death on a cross. But that is how the salvation will come. Jesus Christ, Son of God and son of Mary, true God and true man, will suffer and die for the sins of all men, winning our forgiveness. And with Christ's sacrificial death comes the salvation, the peace, and the consolation we need so very much.
So how is it with you, dear friends? Are you ready to depart in peace? Can you say with Simeon, "Yes, Lord, I'm ready to go, I'm ready for whatever comes next"?
Now you may not have laid your eyes on the infant Christ, being carried into the temple. You have not held that little baby in your arms. But here's what you do have. You have the same word of God given to Simeon. Your ears have heard the word of the Lord. Your eyes have seen, with the eyes of faith, what God has laid before you: the path of peace, leading all the way to heaven, through faith in Jesus Christ. And you have received, and you will receive once again today, the very body and blood of your Savior in his Holy Sacrament. Dear Christian, Simeon has nothing on you. You are just as blessed. You are just as comforted. You are just as ready to go.
You know, that is why the church sings Simeon's song right after receiving the Lord's body and blood in the Sacrament and right before the end of the service. It's because we can identify with what Simeon experienced. We have received the same Savior. And so we sing Simeon's song, the Nunc Dimittis. "Nunc Dimittis" is simply the Latin title for the opening words, "Now you let depart": "Lord, now lettest Thou Thy servant depart in peace according to Thy word, for mine eyes have seen Thy salvation." Yes, we can say this too! And we do! With joy and gladness we praise God for the salvation that comes to us, freely and fully, in the person of Christ Jesus our Lord.
Now we can face whatever comes to us this week, or in this year to come. Whether that means health issues, financial issues, broken relationships, struggles with depression or loneliness–whatever comes our way, we are ready. Even death, if the Lord should decide it's our time to go. We are ready. Not because of our merits. But because of the Lord's Christ, Jesus Christ, the infant Messiah, the man dying on the cross, the risen Savior. This is the one who speaks to us his words of peace. This is the one who has the words of eternal life. And this is God's promise to you, that you have forgiveness and peace–and with them, everlasting life–because of this Jesus Christ.
What hope for the new year! What peace that surpasses all understanding! What joy to know this Savior! What blessing it brings to you and your family and to this congregation! Nothing else is like it. Nothing else can fill the void and vacuum you would have apart from Christ. But with Christ we are ready to face whatever comes our way.
Simeon, we hear you! Your song is our song too. For Christ has come into this temple, and the Holy Spirit has revealed him to us here also. Now we are ready to depart in peace.