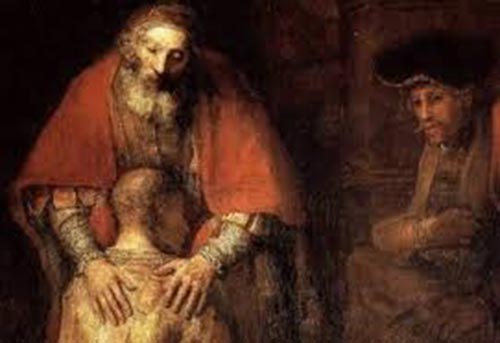 True unity is found only in pure doctrine. This is because the center of all Christian doctrine is the death of Christ for the forgiveness of sins. True unity is found in the gospel. To forgive your neighbor when he sins against you is to confess what you believe: the gospel. To refuse to forgive your neighbor is to say that you do not believe the gospel. It is to say, "Jesus is accursed." But St. Paul says, "no one, having the Holy Spirit, says, 'Jesus is accursed.'" Therefore, to refuse to forgive your neighbor who sins against you is to prove that you do not have the gift of the Holy Spirit; that is, that you do not have that faith which clings to the forgiveness of sins for Jesus' sake. To reject the reality of the forgiveness of sins is to reject the gospel. Whether that forgiveness is God toward you or you toward your neighbor, to reject the forgiveness of sins is to reject Christ, who has earned it for all people.
The forgiveness of our sins that comes from God does not depend upon us first forgiving our neighbor. We pray, "Forgive us our trespasses as we forgive those who trespass against us." We don't pray, "because we forgive those who trespass against us." In the same way, God does not forgive us because we first believed it. Rather, as he forgives us, he gives us the faith to trust him that what he says is true. And those who believe that God has indeed forgiven them will gladly forgive others who sin against them. That's simply a fact. As St. Paul says, with the heart one believes and is justified, and with the mouth one confesses and is saved. To receive from God the forgiveness of sins is to believe the gospel that Christ has died for your sins. To forgive your neighbor when he sins against you is to confess that God accepted Jesus' payment for our sins by raising him from the dead.
The wall of hostility that stands between you and your neighbor was destroyed when Jesus broke down the wall of hostility that stood between us and our righteous God. Listen to what St. Paul says in Ephesians chapter 2:
But now in Christ Jesus you who once were far off have been brought near by the blood of Christ. For he himself is our peace, who has made us both one and has broken down in his flesh the dividing wall of hostility by abolishing the law of commandments expressed in ordinances, that he might create in himself one new man in place of the two, so making peace, and might reconcile us both to God in one body through the cross, thereby killing the hostility. And he came and preached peace to you who were far off and peace to those who were near. For through him we both have access in one Spirit to the Father. So then you are no longer strangers and aliens, but you are fellow citizens with the saints and members of the household of God, built on the foundation of the apostles and prophets, Christ Jesus himself being the cornerstone, in whom the whole structure, being joined together, grows into a holy temple in the Lord. In him you also are being built together into a dwelling place for God by the Spirit. (Eph 2:13-22)
This doctrine of the apostles and prophets is what unites all of you. This is your fellowship. Your fellowship is not founded on any kind of political organization, nor is it founded on any organization that is put together by the church. Your unity is not founded on your common interests, similar occupations, or even that you have kids the same age. Your unity and your fellowship with one another is founded on the doctrine of the apostles and prophets. And this doctrine teaches you that your Savior, Jesus, took on your sin that separates you from God. He took on the commandment that rightly accused you, and he broke down that wall of enmity, that wall of hostility, between you and God. And therefore, he has broken down all enmity between you and your brother next to you. To forgive your brother when he sins against you, therefore, is to confess the pure doctrine of the gospel. When parents discipline their children and teach them to say they are sorry when they sin, they teach them the comfort of the gospel when they forgive them.
And so you teach each other the comfort of the gospel when you forgive each other. When you restore your neighbor who has fallen into sin, you proclaim the praises of your God who called you out of darkness and into his marvelous light.
Yes, to forgive your neighbor when he sins against you is to confess the gospel. The wicked servant in Jesus' parable had no faith in his heart. And so he denied the gospel by refusing to forgive his neighbor. When that wicked servant was brought before the king, he did not ask him for mercy. Instead, he asked him for patience. He would pay him back, so he claimed. Even though he owed the king a debt that no one could pay, he still claimed that he could make it up to him with his own works. But his master had much more than patience. He had mercy. He forgave the wicked servant his entire debt.
This is what God has done for all mankind. He has sent his Son to be a sacrifice for our sins, and not ours only, but for the sins of the whole world. John the Baptist called Jesus the Lamb of God who sakes away the sin of the world. He didn't take away the sin only of his elect. He didn't take away the sin only of those who would believe. No, he took away the sin of the whole world. St. Paul says that God was in Christ reconciling the world to himself, not counting their trespasses against them. So what about those who do not believe? Did God not show them mercy? Did God not put their sin upon Jesus? Of course he did! So, as St. Paul says, let God be true and every man a liar. God loved the world, and so gave his only begotten Son. It is because of this that those who believe in him will not perish but have eternal life. Those who do not have faith in this good news do not receive the good news. They are like the wicked servant who denied his master's mercy. Even though God gives them everything in his gospel, because of their unbelief they end up with nothing.
The king in Jesus' parable was true. He was faithful. He was merciful. The servant was a liar. He was a hypocrite. He did not believe, and so he did not confess. Instead of confessing reconciliation, he held onto the grudge he had against his fellow servant. He was therefore condemned, left to carry his own debt.
Those who confess the gospel forgive their neighbors. Now, what if your neighbor refuses to repent after you have confronted him? Then do as Jesus says. Take two or three other witnesses to confront him. If he still doesn't repent, then bring it to the church, and if he does not listen to his brothers in Christ, then count him as an unbeliever. So if your brother refuses to repent, do you not forgive him? Well, he certainly doesn't receive it on account of his unbelief and impenitence. But that does not mean that you have the right to think evil in your heart against him. Jesus tells us to love our enemies. Pray for his repentance! Pray that God would protect his life and spare him! Pray that God would have mercy upon him! Pray that God would bless him with good health too!
A Christian who shows mercy to his enemy confesses that that he himself is a beggar in need of God's mercy.
So, do you struggle to forgive your neighbor? What about when your son or daughter treats you with disrespect, or your father is too harsh toward you? What about when your employer treats you unfairly? Your neighbor says something cruel or hurtful to you, harms your reputation, your property, or even your own health. Do you struggle to forgive your neighbor? Then that means that you struggle to believe the gospel. If you stew in anger against your neighbor, not desiring to reconcile with him, then you are stricken with doubt. St. John says that he who says he loves God but hates his brother is a liar. For how can you love God whom you cannot see if you hate your brother whom you can see. If you struggle against this, then repent. Go to your brother who has sinned against you. Seek him out, and seek reconciliation. And pray to God, "I believe, Lord. Help my unbelief." This is something that we all must do every day. We must always repent for our sin of doubting God's faithfulness. We repent of our doubts that are made manifest in the way we treat our neighbor.
Peter gave Jesus a number, the number seven. That's a complete number. Four represents the world, the four corners of the earth, and three represents God. And so the number for God is 777 while the number for the beast is 666, since it falls short and is only an imposter. So Peter gives Jesus the number seven, the perfect number. Jesus multiplies that number by ten. Ten is a complete number. Then he multiplies it again by seven.  So our Lord is not saying that if your brother sins against you 491 times, then you don't have to forgive him. He is saying that as long as you believe in the forgiveness of sins, then you will forgive your brother who sins against you.
And this is how the life of the Christian is. A Christian believes in the forgiveness of sins, and so he confesses it. He struggles against his own sin, even falls into sin. He repents, and he hears from God again the forgiveness of his sins. He believes with the faith that God has given him. And so, being forgiven, he confesses the gospel. And as he struggles against doubt, he continues to cling to the forgiveness of sins given to him for Jesus' sake.
Jesus says that God will condemn those who do not forgive their neighbor from their heart. It is with the heart that one believes and is justified. And so forgiving our neighbor from the heart means confessing that which calms and forgives our sin-stained hearts.
So maybe your neighbor sinned against you, and you forgave him, but what he did or said to you still haunts you. You might say, "I will forgive him, but I won't forget it." Well, then you don't actually forgive him. We have not generated faith within our own hearts by some kind of free will. Instead, God has softened our stony hearts and given us the free gift of forgiveness, life, and salvation. We therefore don't find our own forgiveness that we give in our own hearts. We rather find it in the forgiveness that God has given us. We find it in that forgiveness that we believe with our hearts, and so are justified before God. We find it not in our own righteous desires to forgive, but in the righteousness of Jesus, who was obedient to God in our stead and offered to him that perfect sacrifice for sins.
So when you find that the sin of your neighbor whom you forgave still brings anger to your mind, then forgive him again in your heart, and so believe the gospel. Come again to hear from God through his chosen minister the forgiveness of sins. Confess with your fellow saints that you believe in the forgiveness of sins and the life everlasting. Come to eat the body and blood of Jesus given and shed for the forgiveness of your sins. Come and hear God's Word, and meditate in your reading of the Bible at home that God has set his anger against you aside for Jesus' sake.
We confess this truth together, and we therefore have fellowship with one another. We sing hymns to each other that teach us this truth. We sing psalms that reveal this truth to us. And so we sing, "Oh Lamb of God that taketh away the sin of the world, have mercy upon us." This is where true unity is found. And as the Psalmist says:
Behold, how good and pleasant it is when brothers dwell in unity! … For there the LORD has commanded the blessing, life forevermore. (Psalm 133)
Let us pray:
May God bestow on us His grace and favor
To please Him with our behavior
And live as brethren here in love and union
Nor repent this blest Communion!
O Lord, have mercy!
Let not Thy good Spirit forsake us;
Grant that heavenly-minded He make us;
Give Thy Church, Lord, to see
Days of peace and unity:
O Lord, have mercy! Amen.