March 21, 2014
Dear Friends of Luther Academy,
Grace and peace be yours from our Lord Jesus Christ!
I write you today to plead for your prayers to our heavenly Father and also your support of the first Luther Academy Theological Conference in Madagascar planned for July 14-18, 2014!
The Malagasy Lutheran Church ha a rich and impressive history dating back to the arrival of the first Norwegian missionaries in the 1860's. Since that time, the Malagasy Lutheran Church has grown into a vibrant church of approximately four million members. Our Malagasy brothers and sisters want to be faithful Lutherans, holding fast to God's Word and reading out to the hurting neighbor in mercy. It has been my privilege to take several groups of students from Concordia Theological Seminary to Madagascar on "Mercy Mission Expeditions" over the last few years under the sponsorship of the Lutheran Church-Missouri Synod. Now I have accepted the invitation of Luther Academy to serve as the regional fellow for Madagascar. In this capacity it is envisioned that I will take a team of pastors to Madagascar each year to conduct a theological conference for Malagasy Lutheran pastors.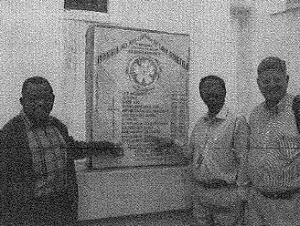 Pastors for the Malagasy Lutheran Church are trained at six regional seminaries and one graduate seminary on the island. Recently we have welcomed graduate students from Madagascar at our seminaries in Fort Wayne and Saint Louis. Even as I write this letter, Dr. Matthew Harrison and Dr. Albert Collver are concluding a visit with Malagasy Lutheran leaders to explore conversations between our church bodies. Many Malagasy Lutherans are deeply troubled by the liberal trajectory of their partners in the Lutheran World Federation and the Evangelical Lutheran church in America not only on the issues of homosexuality but also a decided movement away from an understanding of the Holy Scriptures: God's utterly trustworthy Word. Thus far, the Malagasy Lutheran Church has resisted pressures from North America and Europe to ordain women to the pastoral office. Repeatedly, I have heard from Malagasy Lutherans of their deep desire for sound Lutheran teaching.
Now, under the direction of Luther Academy and with support like yours, we have an opportunity to provide such teaching at a critical moment in the life of the Malagasy Lutheran Church. God willing, I will go to Madagascar this July with three team members to present a conference around the theme, "Luther as Pastor." The team members are Pastor Even Goeglein (Faith Lutheran Church, Rogue River, Oregon), Pastor Chris Hull (Christ Lutheran Church, Normal, Illinois) and Pastor Bryan Wolfmueller (Hope Lutheran Church, aurora, Colorado). We will provide lectures on such topics as:
Luther on Pastoral Formation: Oratio, Meditato, Tentatio (Prof. Pless)
The Small Catechism as Framework for Luther's Pastoral Care (Prof. Pless)
Luther's Use of Law and Gospel in the Consolation of the Terrified Conscience (Pastor Wolfmueller)
Luther of the Preaching of the Cross (Pastor Hull)
Luther on Baptism, Absolution, and the Lord's Supper as Means of Pastoral Care (Pastor Goeglein)
Madagascar is considered one of the poorest countries in the world. Pastors are struggled financially with little or no opportunity for continuing education. Luther Academy is providing a desperately needed service in hosting this conference. Your generous support will enable us to go forward with this vital mission opportunity in the name of Christ Jesus. Please consider a gift indicating on the envelope or check "Madagascar Conference and let others know about our work. The need is great and the opportunities are many in Madagascar. Your support will make a difference.
In Christ,
Prof. John T. Pless
Luther Academy Fellow for Madagascar
---
Here is the PDF of the actual letter: