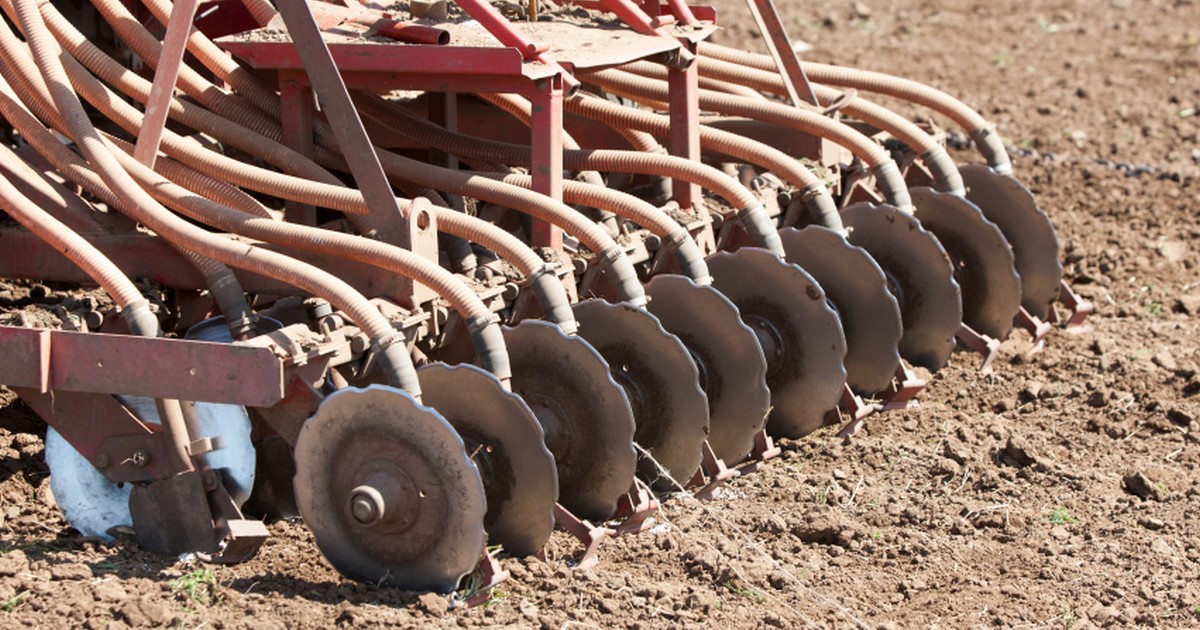 The first time my Dad sent me out seeding alone, a feeling of pessimism overcame me. That night I said, "How can we expect a green, leafy, lush crop from this? We are dropping dry seed through dead iron machinery into dirt." He said, "It's made to work."
That gave me something to think about. There is a Maker. He made seed and soil. He made them work. He could have made things some other way, but He chose this. In creation, "God said, 'Let the earth bring forth grass, the herb that yields seed.'" (Genesis 1:11). God's Word made it happen.
It is the same with baptism. The natural question is, "how can new life come from plain water? How can water do such great things?" Had it not been for God's Word, it wouldn't.
God could have said whatever He wanted. But once He did say, "Baptism now saves you" (1 Peter 3:21), it does. The Word makes baptism do what it does. Without the Word, there would be only water and no baptism.
The Word does in the new creation what it did in the first creation. In the first creation, the Word created life. In the new creation, the Word creates new life when by faith we use the means God said to use. He told the Apostles to baptize in the whole world.
God speaks of what He does in baptism repeatedly because it's important. "He saved us … by the washing of regeneration and renewal of the Holy Spirit." (Titus 3:5) "We were buried therefore with him by baptism into death, in order that, just as Christ was raised from the dead by the glory of the Father, we too might walk in newness of life." (Romans 6:4)
It works because God is at work. "Having been buried with him in baptism, in which you were also raised with him through faith in the powerful working of God, who raised him from the dead. And you, who were dead in your trespasses … God made alive together with him, having forgiven us all our trespasses." (Colossians 2:12-13)
The story of Naaman pictures baptism. He had leprosy. He came to the prophet Elisha to be cured. Elisha told him to wash in the Jordan River seven times. The Jordan was a dirty river. Naaman was angry. He could not see how that would work. But his servants said, "it is a great word the prophet has spoken to you." (2 Kings 5:13) Naaman was looking only at the water. His servants were looking at the Word with the water. "So he went down and dipped himself seven times in the Jordan, according to the word of the man of God, and his flesh was restored like the flesh of a little child, and he was clean." (2 Kings 5:14) Because of the Word of God, the water of baptism does this for us spiritually, even though it looks as foolish as washing in the Jordan River.
"As many of you as were baptized into Christ have put on Christ." (Galatians 3:24-27) In this putting on (ενεδυσασθε, to sink into a garment,1 we are sunk into the clothing of Christ's righteousness.2 The usage is Hebraic, as in Isaiah 61:10:3
I will greatly rejoice in the LORD; my soul shall exult in my God, for he has clothed me with the garments of salvation; he has covered me with the robe of righteousness, as a bridegroom decks himself like a priest with a beautiful headdress, and as a bride adorns herself with her jewels.
And then, the farmer in me says, get a load of the next verse:
For as the earth brings forth its sprouts, and as a garden causes what is sown in it to sprout up, so the Lord GOD will cause righteousness and praise to sprout up before all the nations. (Isaiah 61:11)
We have come full circle. The Lord makes seed and soil work. The Lord makes the water of Baptism work.
He that believes and is baptized
Shall see the Lord's salvation
Baptized into the death of Christ
He is a new creation
Through Christ's redemption he shall stand
Among the glorious heavenly band
Of every tribe and nation4
For another article on Baptism, see "Jesus Visited Doc Martin's Surgery."
________________________
1. Thayer's Greek Definitions, enduo.
2. Martin Luther, A Commentary on St. Paul's Epistle to the Galatians, pp. 346-47 (Grand Rapids: Baker Book House, 1979); R. C. H. Lenksi, The Interpretation of St. Paul's Epistles to the Galatians, Ephesians, and Philippians, pp. 187-88 (Minneapolis: Augsburg Publishing House, 1937).
3. Lenski, pp. 187-88.
4. Thomas Hansen Kringo (1634-1703), tr. George Alfred Taylor Rygh (1860-1943) in Service Book and Hymnal (Minneapolis: Augsburg Publishing House, 1958), p. 259.
This article Copyright © 2014 Synoptic Text Information Services, Inc. All rights reserved.
Associate Editor's Note:  With this post we want to welcome T. R. Halvorson to our regular writing crew here at BJS.  He will be adding to our already excellent group of laymen who confess the faith here on the site.  A little more about T. R.:
T. R. Halvorson was born in Sidney, Montana on July 14, 1953, baptized on November 8, 1953 at Pella Evangelical Lutheran Church in Sidney, Montana, and confirmed by the Rev. Dr. Casper B. Nervig,  D.D., author of Christian Truth and Religious Delusions and Catechism Cathedral, at First Lutheran Church (ALC), in Williston, North Dakota in 1968. He was married on April 7, 1979 to Marilyn Hope Leastman. He has been farming at Wildrose, North Dakota since he was 14 years old, has a degree in Accounting from the University of North Dakota, and  a Juris Doctor from the University of Montana School of Law. He has been practicing law since 1978 and presently is Deputy County Attorney in Sidney, Montana currently prosecuting everything from stop sign violations to capital murder, as well as representing the County Commission and county departments with Bakken oil boom issues. He has been a computer programmer (nCodian Division of Synoptic Text Information Services, Inc.), an author of articles, book chapters, monographs, and a book (Law of the Super Searchers) about online legal research, information quality, and information liabilities (synoptictext.com/ceo-publications.htm), a conference speaker, continuing legal education instructor, and a consultant to industry in online legal information. After the defection of the American Lutheran Church from the doctrine of Scripture, he spent many years in Americanized Evangelicalism (Christian & Missionary Alliance) for the sake of its orthodox view of Scripture, while continuing to read the Book of Concord (Tappert), Pieper, von Loewenich, Aulen, Hallesby, and Walther. Through the ministry of Rev. Dr. Matthew Richard (LCMS) and the institution of weekly and monthly Confessional Reading Groups by Rev. David Warner, Pastor, Trinity Lutheran Church (LCMS), Sidney, Montana, he, his wife, and all of their children and grandchildren have returned home to the Lutheran church. He is among the authors of the religion column in the Sidney Herald where he presents catechetical truths.