Do you have a daily devotional plan? If you don't, let me suggest what I am doing this year. It's pretty simple. Basically, I'm reading one chapter of the New Testament every weekday (M-F), two psalms every Saturday, and one psalm every Sunday. Plus prayers. That's about it. And now for the details.
There are 261 weekdays this year. There are 260 chapters in the New Testament. So one chapter per weekday, and it's almost an exact fit. What about the extra day? You can either start tomorrow, skip a day, or you can do what I'll do: Take the longest chapter in the NT, which is Luke 1 (80 verses), and divide it roughly in half–one day, 1:1-38; the next day, 1:39-80–and you come out at 261.
As for reading the Psalms on the weekends, there are 52 Saturdays and 52 Sundays this year. If you do two psalms on Saturdays and one psalm on Sundays, you end up with 156 psalms. But there are only 150 psalms. So you might do what I'm going to do: Take the longest psalm, Psalm 119 (176 verses), and divide it into seven sections, treating each section as a psalm: 119:1-24, 25-48, 49-72, 73-96, 97-120, 121-144, and 145-176. That way you come out at 156.
My devotional format goes like this:
Invocation
Apostles' Creed
Reading
Prayers
Lord's Prayer
Pretty simple. And short enough to be manageable.
Now, of course, there are other things you could add into your daily routine, perhaps at other times of the day: e.g., reading through the Old Testament, saying (by heart) a portion of the Small Catechism each day, reading through the Book of Concord (see the reading guide on p. xxxiv in the Readers' Edition).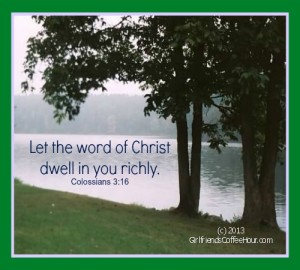 But I've found over the years that it's best to not bite off more than you can chew. Build your way up to what you can manage. Otherwise, you might fall behind, get frustrated, give up, and get stuck on a guilt trip. Better to have a small plan that you actually do than to have too big of a plan that you give up on.
"And whatever you do, in word or deed, do everything in the name of the Lord Jesus, giving thanks to God the Father through him."
–Colossians 3:17