On Saturday, October 23, two Chicago area chapters of The Brothers of John the Steadfast got together for a manly breakfast and a manly discussion of the future of the LCMS. Fifty-one people from five different churches were in attendance, mostly from the two host chapters, St. Paul, Lockport and Bethany Naperville.
The group heard from a panel consisting of Rev. Roger Gallup (Bethlehem Lutheran Church, River Grove, Illinois), Cantor Phillip Magness (Bethany, Naperville) and Rev. Tim Rossow (Bethany, Naperville). Rev. Rossow functioned as the moderator but also contributed to the discussion. Rev. Gallup and Cantor Magness offered unique perspectives on the future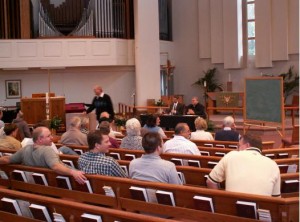 of the LCMS. Rev. Gallup used his encyclopedic knowledge of the synod and its various groups as a basis for looking to what lies ahead. Cantor Magness on the other hand, used President Harrison's new triad of themes (Witness, Mercy, Life Together) as the basis for the optimistic picture he painted of the future of the LCMS.
Rev. Gallup opened the discussion with an insightful analysis of the different "political" groups within the synod, how they have functioned in the past and how they might stack up in the future. The opening ten minutes that he spent in front of the chalkboard outlining those groups was priceless. (An audio tape of the conference is attached to this post.)
Overall, it was a great morning of BJS fellowship and learning. Stay tuned here to the blogsite for more updates on chapter happenings around the country.
[podcast]https://steadfastlutherans.org/mp3/BJS_Panel_October_23_2010.mp3[/podcast]