One of the goals of The Brothers of John the Steadfast is to educate about and promote the historic and traditional liturgy of the church. We welcome posts from our readers to that end.
At Bethany Lutheran Church and School in Naperville, we have been making a concerted effort in the last few years to organize our church dinners and get-togethers around the festival services of the church year. We are seeking to put the feast back into church festival. One of our new traditions is our annual Ascension feast.
We were pleased to have 200 people for church and dinner last night.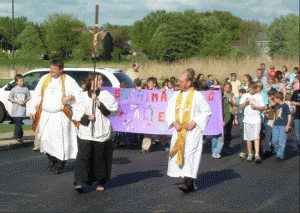 We make it  a full afternoon and evening of activities. We start after school with activities for children. They make banners and noisemakers that are then used for our Ascension Parade around the church grounds and past some of the neighborhood houses. Our Day School Principal and Teachers volunteer to organize the activities for the children. At 5:30 PM we then march around the church grounds with parents and others cheering the parade in honor of our Lord's ascension into heaven and his gracoius ruling over all the universe. We all then process into the sanctuary for the Divine Service with both a children's choir and the senior choir assisting the peoples' song.
After dinner we all head into the gymnasium for a the feast. This year it was down home food – fried chicken, hush puppies, baked beans, cole slaw and sundaes for dessert.
If your congregation does not celebrate the Festival of the Ascension we recommend you talk to your pastor and ask him to restore this ancient tradition. If you do celebrate it, consider adding the feast back into the festival.