I wish you could all have the experiences I am having meeting  confessional Lutherans around the country.  There are some wonderful confessional  pastors and laymen out there. This week my wife and I are out in the Pacific Northwest visiting family and I am using it as an opportunity to spend some time with the confessional folks  around Seattle.
Earlier this week I introduced you to Scott Diekmann from Puyallup, Washington. Today I would like to introduce you to a pair of Messiah Lutheran Churches and their pastors: Messiah, Seattle and her pastor Ernie Lassman and also  Messiah, Marysville and her pastor, Kurt Onken. Each of them will be featured in future "Steadfast Parish of the Month" articles so this will just be a sneak peak.
Thanksgiving morning we spent with Pastor Lassman and his congregation singing Matins. I was introduced to Messiah by BJS website regular Jim Pierce. Jim lives toward downtown but drives a ways to get to Messiah in the Wedgewood neighborhood of north central Seattle. (More on Jim next week.)  Pastor Lassman has been there over 20 years and has catechized the congregation well. They speak and sing the liturgy as if it were an old comfortable sweater keeping them warm in the temperate but damp and chilly Northwest. Vicar Zicklar preached a fine textual sermon that properly distinguished law and gospel. (My wife said he was much farther along than I was at the same point in my vicarage, but what do pastors wives know?)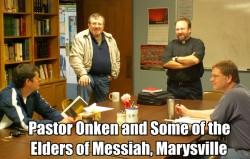 This morning I drove up to Marysville, Washington where I met Pastor Kurt Onken and  some of his elders at another Messiah Lutheran Church. As a part of their elders meeting, Pastor Onken was leading them through Matt Harrison's paper "It's Time." I was struck by the fact that the baptismal font was front and center. So many churches have the baptismal font set out of the way in a corner of the sanctuary but for Messiah Marysville, it is right up front which makes a clear statement that this is one of the means of grace where by God brings us the forgiveness of sins. I was also encouraged to hear that the men's Bible breakfast is looking at starting a chapter of BJS at Messiah Marysville.
Sadly the Pacific Northwest District is not a bastion of confessional Lutheranism but at least in Marysville and the Wedgewood neighborhood of Seattle, one can find the liturgy practiced and law and gospel properly distinguished. We encourage you Brothers of John the Steadfast and all our readers to be encouraged and to keep supporting the growth in knowledge in the Lutheran Confessions.