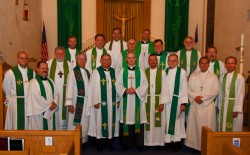 In thanksgiving to the Triune God, Father, Son and Holy Spirit, Pastor Todd Wilken was installed as Assistant Pastor of Trinity on October 5, 2008. Pastor Wilken graduated from Concordia Seminary, St. Louis in 1990, and was called to serve as pastor of Holy Cross Lutheran Church in Sugar Loaf Township, IL, where He served for nine years. In 1999 he was called to host the radio program Issues, Etc. and later the nationally syndicated Sunday Night Issues, Etc. He continues to host Issues, Etc. as an independent radio program, since its cancellation by the Lutheran Church – Missouri Synod in March 2008.
Pastor Wilken and his wife Maria have two children, Emma and Solomon. The Wilken family live in Waterloo and have been members of Trinity since May 2007.
Pastor Wilken accepts the Call of Trinity congregation with thanksgiving to Jesus Christ, the Lord of the Church.