"Putting Out the Fire (Ablaze) with the Cold Waters of Baptism"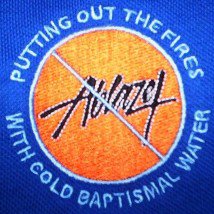 That is the subtitle of satirical southerner Frank Gillespie's blog – "Putting Out the Fire". The reason I am highlighting it this morning is not only because of the clever name but more importantly because of two posts by Frank that you ought to read.
The first  post is Frank's  testimony to the wonders of the new "Treasury of Daily Prayer" published by CPH. As with so much of the really great stuff coming out of CPH in the last few years, it was under the guidance of Rev. Paul McCain, the webmaster of our  favorite website and a must read for all Brothers of John the Steadfast – www.bookofconcord.com.
The second post you ought to read at Frank's place is a scary one that features a liturgy for abortion. These are difficult days within the LCMS and of course outside of our denomination as well. You can read this one and weep but then gird your loins with the Word of God and stand steadfast against these Satanic forces, and maybe do so with a little daily help from the "Treasury of Daily Prayer."
Pastor Rossow
Read 517 times