General Theme -- "The Article"
Our theme this year is justification, clearly confessed in Article IV of the Augsburg Confession. Luther confessed that justification by faith is "the article on which the church stands or falls" meaning that errors in justification will cause great errors elsewhere and the loss of true doctrine and true faith. As everyone is marking the 500th Anniversary of the Reformation this year, it's time to hear about this foundational article of our confession.

Also they teach that men cannot be justified before God by their own strength, merits, or works, but are freely justified for 2] Christ's sake, through faith, when they believe that they are received into favor, and that their sins are forgiven for Christ's sake, who, by His death, has made satisfaction for our sins. 3] This faith God imputes for righteousness in His sight. Rom. 3 and 4.

Speakers --
Rev. Mark Preus - Justification in Song
Rev. Rolf Preus - Justification
Rev. James May - Justification in Mission
Rev. Brian Kachelmaier - The Grace of Justification vs. the Grace of Self-Justification


CHILDCARE PROVIDED -- Bring the kids. We will have childcare provided (optional).


REGISTER EARLY -- Conference is limited to 250 registrants; don't miss out on the conference in 2017!
CONFERENCE REGISTRATION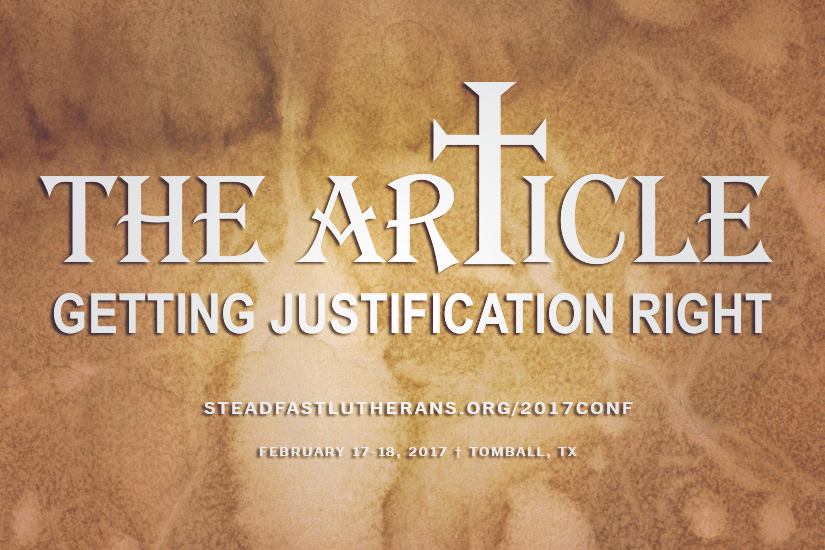 Please fill out the following information to register for this conference. By providing your phone and email address you let us contact you to arrange for additional events at the conference.
After you fill out the form and click Submit, you will be taken to a confirmation page that you may print out and send with a check, or pay immediately with the PayPal "Pay Now" button.
If you prefer, you may register by print out this form and register by mail before January 20, 2017 (the address is on the form).
Childcare is available for those bringing children to the conference.

Register Early - Conference is limited to 250 registrants; don't miss out on the conference in 2017!
Conference Schedule
Hotel Information
Conference Promotion
NOTE: Save on your registration fees by using Early Registration.
Register and pay by December 31st to take advantage of this.