The Gospel Notes for the Transfiguration of our Lord or the Fifth Sunday after the Epiphany from the Lutheran Service Book's One-Year Lectionary is now available. Additionally, we've made available readings for the Purification of Mary, celebrated on Feb 2nd.
There are three separate sets that have been prepared as follows; your church may use one or more of these:
The Transfiguration of our Lord (Feb. 5th) PDF's: Normal, Bi-Fold, or Half-page Legal.
The Fifth Sunday after the Epiphany (Feb. 5th) PDF's: Color, B/W, Bi-folds: Color, B/W, or Half-Page Legal Color, B/W.
The Purification of Mary (Feb. 2nd) PDF's: Color, B/W, Bi-folds: Color, B/W, or Half-Page Legal Color, B/W.
The bi-fold version is a "booklet form" that folds and inserts nicely inside a standard bulletin. The standard version can be printed double-sided on a 8½ x 11″ sheet, and folded for distribution through bulletins, or put on the narthex table for distribution.
The Legal Half-Page is designed for those parishes who already have the readings in their bulletins, this lets you print these notes on a legal (8½ x 14″) sheet, cut it in half, and insert it in your bulletins. It removes the left column from the other formats, and makes it so one double-sided sheet can be inserted.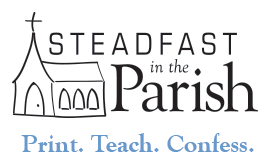 Additional one-year lectionary Gospel Notes can be found here. If you would like to receive an email each week, please fill out the registration form here. This educational resource is provided by Steadfast in the Parish.