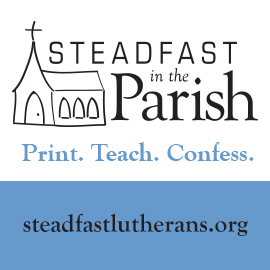 Laymen: Would you like to be able to focus on the content of your pastor's sermon without being distracted by the dozens of questions that pop into your mind about what the text is about?
Pastors: Would you like a free ready-to-print resource to give to your members that connects them to the cycle of the church year and prepares them to hear the weekly sermon?
Introducing Gospel Notes, a weekly study guide for laymen to use to prepare for each Sunday in the historic one-year lectionary. Each Gospel Notes page is a single sheet, double-sided, available in color or in black-and-white, and is beautifully formatted with graphics and text layout that is immediately ready to print. Pages are written and edited by confessional Lutheran pastors, and they conform to the high expectation of confessional faithfulness that people have come to expect from the Brothers of John the Steadfast. An email list even allows you to receive a copy each week in your inbox!
What kind of helps are found on each page?
Each Gospel Notes page will contain the name of the Sunday, and if the Sunday has a Latin name there will also be an English translation. All of the readings, the Introit, the Verse, and the Collect are printed on the front with a brief summary. The Gospel text, which ordinarily serves as the basis for the weekly sermon, is printed with background (isagogical) information and a brief commentary to help laymen understand what the Gospel text is about.
How will this help me better understand the sermon?
It is easier to understand what a Gospel text is about if you have an understanding of the surrounding texts, intended audience, Old Testament allusions and references, cultural background, and parallel texts. If you understand the basic meaning of the text, you can listen more closely to how your pastor explains this text and preaches it to his own congregation — not at all to sit in judgment over him, but to hear more clearly how he is applying this text to you in particular.
How can I make Gospel Notes available to members of my congregation?
We think Gospel Notes are so helpful that we hope you print them out a week ahead and make them available for members and visitors to take home with them to prepare for next Sunday. If you would like to avoid the expense of printing, you might also consider adding a link either to the PDF or online version to emails sent out to your members. You can also share links on your congregation's social media sites with ease!
I have small children at home and would like to start teaching them the Faith. How could I use Gospel Notes with my family?
With young children, consider breaking up the Gospel text into small chunks that you can discuss throughout the week. Take advantage of that time in the evening after supper when everyone is still at the table — you can have a short prayer and then discuss a couple of verses from next week's Gospel reading. Discuss any new or difficult words and help children understand what they mean. As children get older, they might be able to memorize a key verse from that reading and recite it to the family on Saturday night.